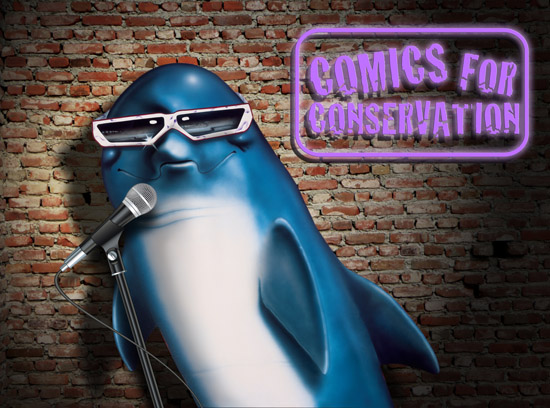 Comics love irony. So you might think that there would be truckloads of good jokes floating around about our environment. After all, you've got global warming, melting polar ice caps and millions of cows whose flatulence create less than desirable methane levels.
But surprisingly or -- for some audiences, I suppose -- fortunately, America's comics have been far too silent on the issue.
Until now.
Now, the world can tremble. Because the comics are rising up. We've banded together in an unholy union of snarkiness, glib reactions, and an unprecedented amount of humor largely centered around what we do in our bathrooms to get people talking about conservation.

It's called Comics for Conversation. And it's folks like Jon Lovitz, John Pinette, David Alan Grier, Rachel "Bombshell Rae" Bradley, Aries Spears, Chris Titus, "Cash Cab's" Ben Bailey, and every other comedian with an opinion, including yours truly, from Improv Clubs around the country. We even found Yakov Smirnov hiding out in Branson, Missouri.
Are the comics' facts straight? Not always.
Is their hair combed?
Who cares! Hell I got rid of mine!
But what we're doing is making folks take a second look at some of the behaviors that we take for granted. This year our theme is water conservation. The comics task was to support the National Mayor's Challenge for Water Conservation, April 1-30, a city by city effort of the Wyland Foundation and Toyota and others to get people to make pledges to reduce their water use throughout the month of April, thereby saving our planet from shriveling into a dry rock unable to support comedy / life.
Comedian John Pinette got off to a fast start by addressing the large percentage of people in the nation that insist on a 45 minute shower each day. By John's reckoning (and presumably by personal experience), it takes roughly 28 minutes to wash an elephant.
Don't ask John how he came by this information.
In the toilet category, comedian Ben Bailey vowed to leave all toilet flushing to the next person who stumbled upon his "gift" -- a modern take, I suppose, on the concept of paying good deeds forward. And Aries Spears turns things over to Jay-Z in a personal appeal to water hogs.
I suppose I could go on. That's we comedians do best. The point is I've never seen so many comics gleefully telling jokes from the comfort of their own bathroom. Somewhere in between all of those visits to the porcelain god, there is a message. It's this. Water is precious, valuable and integral to life. Don't take it for granted! Do something today to save it so that its there for you tomorrow.