I hate flying. I do it anyway, but I hate it. I've done it a lot, out of necessity. I did it during my music business days, criss-crossing America and Europe on tour. I did it when I lived in Beirut and flew in and out of the war zone (out to escape the fighting, in when ceasefires took hold). I've flown from New York to Perth, halfway around the world (my wife is from there).
I joke that I come from a good anti-flying pedigree -- my aunt wrote Fear of Flying. Erica may have been referring to a different kind of flying, but the title aptly describes my family's attitude toward hurtling through the air in a sardine can at 500 MPH.
Which brings me to the topic of this post: there's a plane in the river under my window. I live in lower Manhattan and if I thought I'd escaped the craziness of Beirut, this neighborhood has proven to be equally prone to life's darkest surprises. September 11th, 2001 created the crater that I walk past everyday. Wall Street is a few blocks away, where for the past year shades of the Depression are back.
And this evening, a plane rests in the river near the beautiful, peaceful parks and walkways of Battery Park City.
Here are two photos I snapped earlier: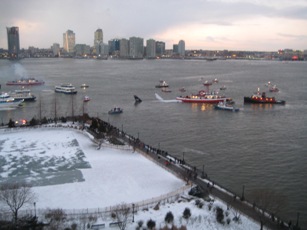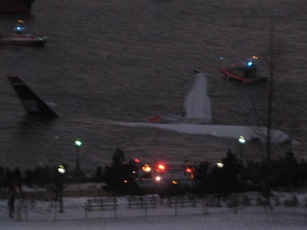 It is remarkable and wonderful that nobody died, thanks to the selflessness and professionalism of the pilots and crew and emergency workers.
Why do some people hate flying? My guess is because we don't want to watch death hurtling at us as we sit there, helpless. But of course that's exactly the position we're all in, flying or not.
SUBSCRIBE TO & FOLLOW THE MORNING EMAIL
The Morning Email helps you start your workday with everything you need to know: breaking news, entertainment and a dash of fun. Learn more