Just look at the 2009-2010 New York Knicks.
The Knicks' relentless and misguided wooing efforts of next summer's most coveted free agent, LeBron James, and early season losses to some rather anemic teams, are making the movie's fictitious 2002 NBA Championship seem like a laughable matter -- only New York's faithful aren't laughing.
All this chatter about looking ahead while botching up current games and past decisions is driving the King away from a New York throne.
Who says you can't lose what you never had? The Knicks accomplish this task in 10 days: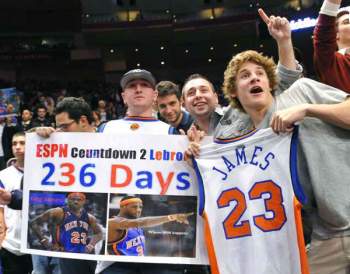 Day 1: Build a house without a foundation. Creating cap space by trading away expensive under-performers is acceptable. Acquiring LeBron James without a quality, existing supporting cast is not. Wilson Chandler is a serviceable player and Danilo Gallinari is only a few years away from stardom; coupled together, however, the pair doesn't set the table for landing a player of LeBron's caliber. The Knicks will have to successfully pick up a capable running mate for LeBron to ponder the move as a viable alternative.
Day 2: Pass on potential Rookie of the Year, Brandon Jennings. With all due respect to Jordan Hill, the Knicks' forgoing of Brandon Jennings may prevent LeBron James from donning the blue and orange. A stretch? I don't think so. All great scorers desire a heady floor general that can get them the ball in the right place at the right time. Chris Duhon is not getting the job done, and Jordan Hill doesn't fit that role.
Day 3: Start off the season with a 1-6 record. Greatness attracts greatness. Getting trounced by the Milwaukee Bucks attracts nothing but a ton of salty comments on Twitter. For example: "Why do the Knicks look so much better in practice? Because they're playing the Knicks." You get the point: A dismal season will not lure LBJ23 to The Garden.
Day 4: Yankees Win the World Series. New York is the most crowded media market in the world, and already has several sports superstars dripping with attention: Think Derek Jeter, Jorge Posada, Alex Rodriguez, and Mariano Rivera. LeBron saw the parade, and he knows how the local media reacts to losing. Why, then, would the King bolt Cleveland where he's the sole focus of sports media attention to compete with the boys in pinstripes?
Day 5: Put on a lot of make-up. Listen, I understand the Knicks haven't had a winning season or playoff appearance since 2000-2001, but desperation is not attractive. Sports Illustrated's Paul Forrestor likens LeBron's recent red carpet treatment to a "home seller trying desperately to peddle a fixer-upper. The Knicks emptied all the paint cans and window cleaner they could find on the property to sell the idea of playing in Gotham to the most wanted homebuyer in the NBA, LeBron James." You can bring out all the stars and stops, but at the end of the day, or season in this matter, LeBron is looking to join a winner. You can't put lipstick on the standings.
Day 6: Plug Jay-Z in his ear. LeBron is as "Real as it Gets" and New York fans are hoping he's "On to the Next One," but let this serve as a "Reminder:" Jay-Z, who we all know is tight with the King, has a different "Blueprint" in mind for LeBron -- and it involves that "other" local team, the NJ Nets. Jay-Z's influence does not help the Knicks' cause.
Day 7: Cry in front of his friends. New York fans are disarmingly loud, unashamedly outspoken, and sometimes whiny (myself included). Unsurprisingly, our favorite digital hangouts have become a pity party for why we're struggling and why we need number 23 in uniform. LeBron may not be on Twitter or Facebook, but he hears you crying and it doesn't help the situation.
Day 8: Act like he needs you. For all the lore and legend that New York bears, LeBron doesn't need the Big Apple to become a global icon. In fact, the 24-year-old already has staggering brand awareness and jersey sales in Europe and China, and he's won an Olympic gold medal. LeBron's legacy will be measured by the amount of titles he wins, not by the size of stage he plays on. We -- and I say this as a fan -- need LeBron more than he needs us. Let's not get it twisted.
Day 9: Ask him "Whatcha thinking?" How many times can New York's media ask LeBron the seemingly never-ending free agency question before he grows tired of the option? Trust me, the King knows you've pawned off Jamal Crawford and Zach Randolph to create cap space for his courtship; and asking the same question repeatedly is an obvious turn-off. Right, guys?
Day 10: Piss off your current team. According to the NY Daily News, a few Knicks "have been so soured by their experience in New York that if James were to solicit their advice about playing for the Knicks, they would not give him a favorable scouting report." Overlooking a season may help loyal fans grieve, but it doesn't create a cohesive culture or foster positive feelings amongst your current employees. This strategy could backfire.
SUBSCRIBE TO & FOLLOW THE MORNING EMAIL
The Morning Email helps you start your workday with everything you need to know: breaking news, entertainment and a dash of fun. Learn more