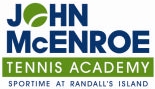 It's warmer outside, and the French Open's on television. You know what that means: Tennis season has arrived in the Northeast.
With that in mind, tennis Hall of Famer John McEnroe announced on Wednesday that he will open an academy at the new $18 million dollar Sportime Complex, which is a key part of the massive rededication to community athletic fields on Randall's Island (under the RFK / Triborough Bridge for those who don't know).
The complex, open less than a year, is also the home to the New York Sportimes of WorldTeamTennis, who play their home season during July in the 2,500 seat stadium there. Sportime is the largest operator of tennis and fitness clubs in New York, with 18 from Long island to Albany.

McEnroe's Academy will be different than most sports-specific schools. He is looking to draw from well-rounded young people in the Tri-state area, who will go to school regularly and then come and train in both tennis and conditioning at the Academy with McEnroe and his staff. It won't be tennis 24/7; it will be balanced, the same way McEnroe said he learned the game. His brother Mark will run the day-to-day operations (although McEnroe will be there teaching and observing every student), along with Claude Okin, a native New Yorker who is CEO of all Sportime clubs.
Also, in order to give kids in the area a chance, the Hall of Famer announced he will hold two full days of open tryouts, July 14 for boys and July 19 for girls, with the best players getting scholarships to the Academy, which will officially open in September. Never one to pull any punches, McEnroe had lots to say about the Academy, the USTA and other things sports-related (including LeBron and the Knicks) during the announcement.
Here are some highlights.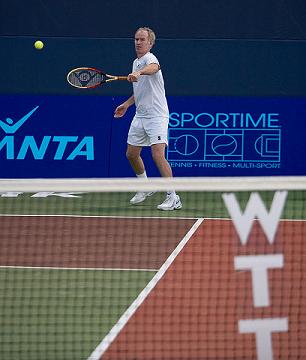 On why he started John McEnroe Tennis Academy (JMTA):
"If you know me, this is something I've wanted for a long time, having grown up in the New York area and seeing tennis somewhat disintegrate here. The buzz we used to have at the Port Washington Tennis Academy, and subsequently playing at the US Open...so it seemed only natural for me to put together a tennis academy in the N.Y. area. I used to play other sports on Randall's Island, High School at Trinity. They've put in hundreds of millions of dollars, including this tennis facility. It's great for the City of New York."
"I'm living proof of someone who can live 'a normal life,' go to school and play other sports, and succeed in tennis."
"The aim is to have an academy at Randall's Island along lines of the Academy I grew up with: my brothers were there, Vitas Gerulaitis, Peter Fleming. I don't know of a player from this area who has made it in the last 25 years."
On why it has been difficult to recruit elite tennis players in the NYC area:
"I think people follow what was successful in the past. They are influenced rather easily; they think you need to live someplace like Bollettieri, leave your parents at age six or eight. We're looking to provide a different option, similar to what I had at Port Washington."
On the role of education at tennis academies:
"I would encourage kids to remain in school. I expect some individuals will talk about home schooling, and we will do our best to make sure they succeed if they don't make it to the level they or their parents believe they would in tennis."
"I'm living proof of someone who went to school in Manhattan, and even went to a year of college, which would be sacrilegious at this time. But look at a guy like Isner, an example of someone who matured later, he spent all four years of college eligibility, he's playing his best, coming into his own at a later age. Of course, not everyone will be 6'9 but he's exactly the type that I would like to target, enjoys success and in a better position to handle it emotionally."
On the JMTA as competition to USTA and its programs:
"It would appear on paper that we are competing, but I would say that according to the charter of the USTA, it is to help tennis in as many ways possible and to provide grants for people in all different types of situations, so as far as I'm concerned, they should be helping us."

On whether the opening of the JMTA is a criticism of how the USTA has developed tennis players:
"I hope to provide a type of inspiration for young kids. Maybe I'm biased, but when I came into the sport in the '70s and '80s, it seemed like a great time for the sport. More kids are playing now, at least; we need to get them to continue to play. The USTA makes an obscene amount of money for one tournament. They have a $150 million portfolio; I'm not sure what they are supposed to be doing with that money. "
"For many years, I talked to the USTA about this type of thing at the Tennis Center, naming it the John McEnroe Tennis Academy, but I was unable to get through. Now I have this tremendous opportunity to work with Claude and his people on a facility that is as good or better than the Tennis Center. With the tens of millions they make in a single year, I would think that it's in their best interest and the sport's best interest to welcome us with open arms and provide us with money that they provide other programs."
On NBA Star LeBron James's free agency and the possibility that he might join the NY Knicks:
"I would give him a free lesson at JMTA anytime he wants. He's probably pretty good at tennis, a big serve."
"It's not only important for the Knicks, but for the next five, 10 years, the city needs LeBron as much as the Knicks do. It would give the city an unbelievable buzz. I also hope he can bring his friends, Dwyane Wade or (Chris) Bosh with him, too. We need to end the suffering."
On the possibility of expanding the Academy beyond New York:
"The Tri-state area is where we're starting. It's where we're focused. I did see at the Academy, growing up, sometimes there were kids form Eastern Europe, Australia. I don't want to close the door, as they could provide the competition for both sides. But we're focusing on the New York area now."
SUBSCRIBE TO & FOLLOW THE MORNING EMAIL
The Morning Email helps you start your workday with everything you need to know: breaking news, entertainment and a dash of fun. Learn more