Switch2Health Corp. Partners with Paul Pierce; An Interview with their CEO, Seth Tropper
NYSportsJournalism.com recently announced that "Paul Pierce, captain of the NBA's Boston Celtics, has formed an alliance with Switch2Health Corp. (S2H) to help promote health and wellness among adults and kids. Pierce will take an equity stake in the venture, serve on the board, advise the company on healthy lifestyle programs for children and actively promote the S2H brand through his own Truth on Health Initiative and FitClub34 from Harvard Pilgrim."
I had the chance to catch up with S2H co-founder and CEO, Seth Tropper, yesterday and ask him some questions about his company, the alliance with Paul Pierce and the issues surrounding childhood obesity.
Below is a transcript of our conversation. Click here to read Seth's bio.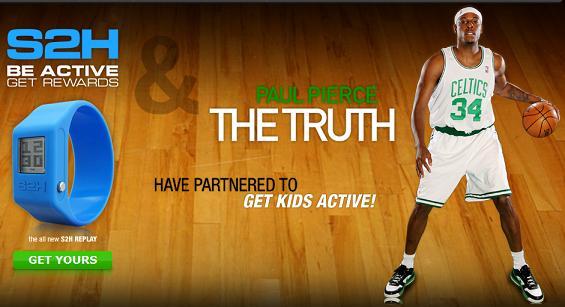 PRC: Take us back to the idea phase of your S2H business. What inspired you to create solutions for the obesity epidemic?
Seth Tropper: My business partner, Amado Batour, and I, spent approximately 1.5 years researching the issues surrounding obesity and being overweight and we were horrified by the statistics, especially as they relate to youth. While there are several contributing factors, lack of physical activity is clearly a large one. Why exercise? We believe it comes down to personal motivation, and Switch2Health aims to motivate individuals to be physically active by rewarding them for such activity.

PRC: S2H appears to be unique in its approach where it not only creates products to monitor physical activity, but you actually reward results. How does this work?
Seth Tropper: While a key challenge is in motivating individuals to be physically active, S2H offers a fun, engaging and innovative solution for businesses, organizations and consumers. Our product, the S2H REPLAY (an "activity reward band") quantifies physical activity and reveals a unique reward code upon completion of 60 minutes of physical activity (i.e. jogging, running, dancing, sports, jump-rope). Users enter the code on S2H.COM, earn and accumulate points toward great rewards and more. The message is simple - Be Active, Get Rewards!
PRC: Participation in youth sports was once a popular outlet for kids to live an active lifestyle. Now kids are bombarded with sedentary distractions like gaming, social networking and watching inordinate amounts of television. How do we counter this problem and how does S2H integrate health and wellness into such activities, particularly social networking?
Seth Tropper: Embrace change, don't resist it. We live in an era of electronic communication, social networking and interactive online communities. However, there must be a balance; and perhaps we could utilize this technology to our advantage. While our society is clearly lacking physical activity, perhaps it is such mainstream technology which will enable us to educate and engage a large number of our youth and do so quickly.
"...medical experts are now warning that for the first time in the history of our nation, the next generation may be on track to having a shorter lifespan than this generation, and their parents" - First Lady Michelle Obama, October 2009
PRC: You've recently partnered with NBA World Champion, Paul Pierce. What does this relationship mean to S2H and how does your alignment with Paul advance your mission?
Seth Tropper: The mission of Paul Pierce's Truth on Health Initiative and FitClub34 from Harvard Pilgrim is incredibly synergistic with the mission of Switch2Health, and together we aim to positively impact the lives of many children around the country and hopefully around the globe. Pierce, having an equity stake in the company, is a board member, and will actively promote the S2H brand and advise the company on health lifestyle programs for children. As part of the partnership, the S2H REPLAY will be incorporated into Pierce's FitClub34, the main component of the NBA All-Star's Truth on Health Initiative, which empowers young people to lead healthier lives. FitClub34, a fan club-turned-fit club, will use the device to track participants' exercise progress and provide incentives and prizes through S2H's rewards program.
PRC: Where does motivation fit into the picture when it comes to getting on the right path to good health. Do you feel that rewards are a good motivator over the long-term, or do rewards incent people to get active in the beginning until exercise and physical activity become habits?
Seth Tropper: If I were to suggest to a group of adults that they should be physically active because they will live longer, feel better, etc.; the message may go in one ear and out the other. If I were to say, "If you maintain a certain lifestyle of physical activity you will receive $200 of your monthly healthcare cost," their ears will perk up.
If I were to suggest to a group of children that they should be physically active because they will live longer, feel better, be smarter, etc.; the message is similar to "do your homework" or "take out the garbage". Yet, if I were to say be physically active and earn rewards such as iTunes downloads, movie tickets, and gift cards, not only will their ears perk up, but they will smile and start running around the block. I have witnessed this and it's great.

We must change behavior to enable individuals to lead a healthier lifestyle. When I travel, I first call Continental because I want to rack-up frequent flyer miles. When I go to the store, I use American Express so I can get points. I am conditioned. Yes, I believe rewards are a great way to motivate individuals (from children to adults) to be physically active; and ultimately overtime these individuals will feel better about themselves and continue with their healthier lifestyle.
PRC: I see that you've worked with a range of organizations, including some sports entertainment properties like the Harlem Globetrotters and NFL 60. Talk to us about your B2B solution.
Seth Tropper: The S2H REPLAY and Rewards Platform lends itself to a great business solution whereby supporting Incentive Programs, including interactive promotions, customer loyalty and corporate health and wellness programs. Such incentive programs may be utilized in a variety of industries such as sports, charities, healthcare, pharma, education, corporate wellness, retail, entertainment and more. The solution (of branded REPLAY bands and a rewards platform) will promote the companies message or brand; drive traffic to their website; and reward their customers or employees for physical activity.
PRC: Obesity has become a national challenge and while the solution to the problem 'seems' so simple, the complexities of life often get in the way. In your opinion, what is the best first step for an individual to take action?
Seth Tropper: Obesity is a real issue in America and is a growing concern around the globe. While the solution does in fact appear to be so simple, how can it? - when 65% of Americans are overweight or obese; 2 billion people worldwide are overweight or obese; and in America, childhood obesity doubled since the 1970ss and tripled since the 1960s. Yes, the complexities of life often get in the way - not enough time to prepare healthy food; too much time playing video games or watching television; reduced physical education time in school programs;
So, what steps can I take? As with my rule in life - always have a long term goal, yet set several short-term milestones along the way. Rome was not built in a day... do not expect change overnight. Set weekly and monthly goals towards a healthier lifestyle, which should include increased physical activity, better eating habits and stress management, among other things.
PRC: What does ultimate success look like for S2H? How do you know your work is making an impact?
Seth Tropper: As a visionary, I aim high and want to change the world. Success for S2H is going to sleep each night knowing that we are motivating children to be physically active, and while difficult to measure, perhaps one of these children may very well avoid health risks, now or in their adult life because S2H keeps them active...
Is S2H making an impact? S2H encourages 60 minutes of physical activity per day, which is in accordance with recommendations of the Centers for Disease Control (CDC). During testing and trial programs in 2009, S2H was responsible for motivating individuals to engage in more than 12,000 hours of physical activity; and is targeting more than 100,000 hours of physical activity in 2010.
Follow Peter Robert Casey on Twitter: www.twitter.com/Peter_R_Casey