Brenda Holloway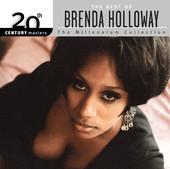 '60s R&B-soul singer/songwriter and multi-instrumentalist Brenda Holloway grew up in the storied Watts neighborhood of Los Angeles. Her girlhood years were flooded with music, singing in church, and playing the violin, flute, and piano. At 16 Brenda issued her first single, and within a year Berry Gordy signed her to Motown. From there, Holloway was in orbit, opening for the Beatles at Shea Stadium, stamping the charts, and amassing her trove. Collaborations include Hal Davis, Smokey Robinson, Mary Wells, Lamont Dozier, Brian Holland, Edward Holland, Cliff Richard, and Joe Cocker. Holloway's "You've Made Me So Very Happy," co-penned with her sister Patrice, became a smash for '70s rock phenom Blood Sweat and Tears. The soulstress continues to this day to give us song. Revisit this chansonnier with her 1967 classic "You've Made Me So Very Happy," from 20th Century Masters -- The Millennium Collection: The Best of Brenda Holloway.
Buy: iTunes.com

Song: You've Made Me So Very Happy (Single)

Album: 20th Century Masters -- The Millennium Collection: The Best of Brenda Holloway
Bombino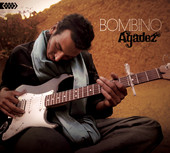 Singer/songwriter/guitarist Bombino (a.k.a. Goumar Almoctar) was born in Niger at the hit of the '80s. Cut from Tuareg cloth (a nomadic people), the desert-dweller was raised amidst uprisings and suppressions. His family fled to Algeria, then Burkina Faso, in his tweens, where he picked up guitar, a symbol of Tuareg freedom. Upon returning to Niger in 1993, young Goumar held fast to his dream, recording with his band Tidawt. Soon after releasing his solo debut in 2004, he found himself in the company of Keith Richards and Charlie Watts for a remake of "Hey Negrita." By the late aughts, guitar was banned in Niger and unrest led to the execution of two of his bandmates, sending Bombino into self-imposed exile. By 2010, the sand had settled in peace and Bombino returned home, welcomed back by the local sultan. Discover "Assalam Felawan (Peace to You)," from Bombino's Agadez.
Buy: iTunes.com

Song: Assalam Felawan (Peace to You)
J Roddy Walston & The Business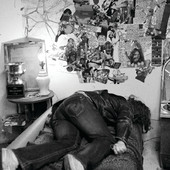 Charm City's J Roddy Walston & The Business got together in 2006, when Southern-born singer/songwriter J Roddy Walston moved east. Walston, a burst of sonic impulse, learned piano on his church-going grandma's knee in Cleveland, Tennessee, and later added guitar. His hard-driving efforts found the perfect complement in Business men Steve "The Sleeve" Colmus (drums), Billy C. Gordon (guitar), and Logan Davis (bass). The group has a near-handful of recordings to date and a passel of dedicated fans known as "J-Rowdies." It's all old-school swagger stuffed inside the speed of sound. Get "Use Your Language," from their eponymous 2010 album J Roddy Walston & The Business.
Buy: iTunes.com

Artist: J Roddy Walston & The Business

Album: J Roddy Walston & The Business
Homer & Jethro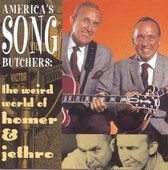 Country lampoon act Homer & Jethro is the double-edged brainchild of Henry D. Haynes (guitar) and Kenneth C. Burns (mandolin). The comedy duo got their start on Knoxville radio in 1936 while still teenagers. After serving their country in WWII and returning in two pieces, they got back to work, making their bones as song parodists on local radio and club circuits. Going on to record for King and RCA Records, they became regulars on television and earned a Grammy for best musical comedy performance in 1959. Shared stages/collaborations include Chet Atkins, Spike Jones, Slim Wilson, June Carter, and Johnny Cash. Rediscover these Country Music Hall of Famers with the 1955 title "Let Me Go, Blubber," from Homer & Jethro's America's Song Butchers.
Buy: iTunes.com

Album: America's Song Butchers
Robert Francis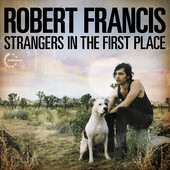 Singer/songwriter Robert Francis was born in the late '80s and raised in a house of music -- a classical-record producer/sheet-music dynasty. Robert hit the ivories in very early boyhood, and then took up guitar. Soon after, family friend Ry Cooder bestowed a guitar upon him, and in time he went on to study with Red Hot Chili Pepper guitarist John Frusciante. Wanderlust struck Robert in his junior year of high school, and he set out to make his mark. Three full-lengths later, his collaborations/shared stages have grown to include John Butler, Dave Sardy, Hello Stranger, Priscilla Ahn, and Juliette Commagere. Mr. Francis gives us something to feel about. Open your ears to "Heroin Lovers," from his 2012 Strangers in the First Place.
Buy: iTunes.com

Album: Strangers in the First Place
Zap Mama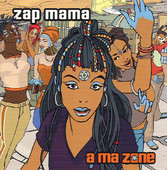 Belgian vocal outfit Zap Mama was founded at the hit of the '90s by Congolese front woman Maria Daulne as an a cappella group, later adding instrumentation. The ensemble marries the world of pygmy onomatopoeic vocal practice with an amalgam of genres -- R&B, pop, hip-hop, choral styles, complemented by some heavenly yodeling. By 1992, Zap Mama inked with Luaka Bop, championed by the label's co-founder and Talking Heads captain David Byrne. The choir followed up with eight releases. Shared stages/collaborations include 10,000 Maniacs, Mark Hollander, Vincent Crenis, G. Love, Vincent Cassel, Bilal, Sylvie Nawasadio, Sabine Kabongo, Marie Alonso, and Sally Nyolo. Make way for "Gissié," from Zap Mama's 1999 A Ma Zone.
Buy: iTunes.com
SUBSCRIBE AND FOLLOW
Get top stories and blog posts emailed to me each day. Newsletters may offer personalized content or advertisements.
Learn more