Marianne Faithfull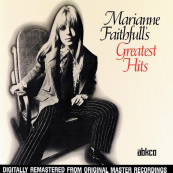 The '60s rock icon/"it" girl Marianne Faithfull was born into an aristocratic English/Austrian family. Faithfull, an accomplished songwriter and performer, has a loyal following among rock-'n'-roll nobility, where she served as an adored muse and inspiration. After recording pop hits in the heyday of the British Invasion, she survived a stormy stretch of the '70s and emerged as a New Wave diva by the '80s. Her collaborations include Angelo Badalamenti, Daniel Lanois, Mick Jagger, Jack Bruce, and the Vienna Radio Symphony. Faithfull's delicate voice and haunting delivery on "Tomorrow's Calling," from Marianne Faithfull's Greatest Hits, sings angelically of "promises new."
Buy: iTunes
Genre: Rock
Artist: Marianne Faithfull
Song: Tomorrow's Calling
Album: Marianne Faithfull's Greatest Hits
James Brown

Soul-master singer and showstopper James Brown was born in 1933 in South Carolina. Amidst the Great Depression, young James was raised in a hurricane of poverty by his great aunt in Georgia. He picked up his flamboyant showmanship performing in church, and by the age of 20, Brown founded his first gospel group, The Famous Flames, which caught the attention of Little Richard. That fateful meeting led to Brown's 1956 hit "Please, Please, Please," which sold 3 million units. Brown became a legend in the 1960s as the Godfather of Soul and a superstar of the Civil Rights movement. He was inducted into the Rock and Roll Hall of Fame in 1986 and passed away in December 2006. This multi-Grammy artist/"the hardest working man in showbiz" bequeaths us countless treasures, including the title "Funky President (People It's Bad)," from James Brown: Make It Funky--The Big Payback 1971-1975.
Buy: iTunes
Genre: Funk/Soul
Artist: James Brown
Song: Funky President (People It's Bad)
Album: James Brown: Make It Funky--The Big Payback 1971-1975
Sufjan Stevens


Detroit-born Singer/songwriter, storyteller, and multi-instrumentalist (oboe, recorder, banjo, guitar, vibraphone, bass, drums, piano) Sufjan Stevens was born in 1975, one of three children. It was during college he fell into himself, tapping the infinity of his imagination. Stevens moved to New York City in the late '90s, where he attended the New School's master's program in writing, then found his musical home back in his native Midwest, this time Illinois. The title "Presidents & Magistrates," from his 2003 release Michigan, is all beauty. Currently touring worldwide.
Buy: iTunes
Genre: Alternative
Artist: Sufjan Stevens
Song: Presidents & Magistrates
Album: Michigan
Steely Dan


Steely Dan is a storm of edgy elegance and perfection. Queens, New York-born guitarist Walter Becker and Passaic, New Jersey, native pianist/vocalist Donald Fagen met at Bard College in the late '60s. By the early '70s, they placed a song with Barbra Streisand and then teamed up with producer Gary Katz. In 1972, Steely Dan (named for, um, a "device" in a William S. Burroughs novel) released their seriously genius debut Can't Buy a Thrill. These multi-Grammy winners were inducted into the Rock and Roll Hall of Fame in 2001. Collaborations include Rick Derringer, Wayne Shorter, Mark Knopfler, and Lee Ritenour. The title "Change of the Guard," from Can't Buy a Thrill, is classic grade-A workmanship.
Buy: iTunes
Genre: Rock
Artist: Steely Dan
Song: Change of the Guard
Album: Can't Buy a Thrill
Speckled Red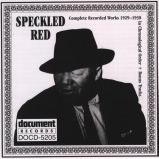 Boogie-woogie jazz pianist Speckled Red was born Rufus Perryman in Monroe, Louisiana, in 1892, one of eight children. His younger brother Willie (a.k.a. Piano Red and then Dr. Feelgood) was also a piano player. Speckled Red was a spitfire and known for his indelicate, rhyming tongue. In his early 20s, Red was discovered playing in lowlife joints, eventually making his bones in Memphis, where in 1929 he made his first hit record. Red's career flagged in the Depression, but in the '40s he moved to St. Louis and played the local club scene for nearly a decade. By the '50s, he was rediscovered by blues connoisseurs, recorded a batch of sides, then toured America and Europe. Red passed away in 1973 and leaves us this cryptic ode "We Got to Get That Fixed," from the collection Speckled Red 1929-1938.
Buy: iTunes
Genre: Blues
Artist: Speckled Red
Song: We Got to Get That Fixed
Album: Speckled Red 1929-1938
Rufus Wainwright


Singer/pianist Rufus Wainwright was born in 1973 in Rhinebeck, New York, into a royal family of music (singer/songwriter parents Loudon Wainwright III and Kate McGarrigle and sister Martha). Raised by his mother in Montreal, Rufus took up piano at the age of 6 and by his early teens he toured with his mother's band, The McGarrigle Sisters and Family. By 1996 Wainwright signed with DreamWorks and has recorded six albums to date. His rendition of "Chicago," from Rufus Does Judy at Carnegie Hall Live (currently nominated for a Grammy), raises the bar on great voices.
Buy: iTunes
Genre: Pop
Artist: Rufus Wainwright
Song: Chicago
Album: Rufus Does Judy at Carnegie Hall Live