Plus/Minus


Plus/Minus is the Brooklyn-based organic-electronic outfit founded in 1991 as a side project by members of indie rock band Versus. Plus/Minus has now outlasted its parent act by seven years. Current lineup is James Baluyut (guitar, vocals), Chris Deaner (drums), and Patrick Ramos (guitar, keys). There's been a revolving door bass policy since original member Margaret McCartney left in 2002. The band's credits include four albums, three EPs, and a track in the film Wicker Park. Collectively, the members have collaborated with Kelly Clarkson, Mark Robinson of Teenbeat Records, and The Adults. Their sound is indie-luscious. The title "Far Into the Fields," from the 2003 project Holding Patterns, is high wattage. Currently touring the Northeast.
Buy: iTunes
Genre: Rock
Artist: Plus/Minus
Song: Far Into the Fields
Album: Holding PatternsTour: Visit
Thomas Dolby


Synth-pop icon and producer/artist/film composer/inventor Thomas Dolby was born Thomas Morgan Robertson in Egypt while his British academic parents were on an archaeological dig, in 1958. Initially setting off to study meteorology at college, his interests turned to electronics and music gear. By 18, Dolby started to design and construct his own synthesizers, program computers, and learn guitar and piano. Some of his collaborations include Lene Lovich, Herbie Hancock, Stevie Wonder, George Clinton, Dusty Springfield, Joni Mitchell, and Ofra Haza. Dolby, founder of Web-music software makers Headspace and Beatnik, Inc., was recognized for his innovations with a Yahoo Lifetime Achievement award in 1998; he's also received several Grammy nominations and has shown his work at the Guggenheim Soho. The title "Screen Kiss," from his 1984 release The Flat Earth, still sounds like magic.
Buy: iTunes
Genre: Pop
Artist: Thomas Dolby
Song: Screen Kiss
Album: The Flat Earth
Marin Alsop


Conductor/violinist Marin Alsop was born in New York City in 1956 into a musical home, with both her parents seated in the New York City Ballet's orchestra. Alsop's first instrument was the piano, and by the age of 7 she turned to the violin. By the age of 9, after witnessing the great Leonard Bernstein with the New York Philharmonic, her mission was set, and her father bought her conducting batons. Alsop attended Yale and Juilliard. In 2007 she became the first female commander in chief of a major American symphony orchestra, in Baltimore. Alsop's accolades include Gramophone's 2005 Artist of the Year award, the Royal Philharmonic Society's Conductor's Award that same year, and a MacArthur Fellowship (the "Genius" grant). Beethoven's "Second Movement," from the 2003 compilation Music to Die For, performed by the Czecho-Slovak Radio Symphony Orchestra and conducted by Alsop, is totally gorgeous.
Buy: iTunes
Genre: Classical
Artist: Marin Alsop
Song: Second Movement
Album: Music to Die For
Melody Gardot

The voice of Melody Gardot is something to take in and keep. Born in New Jersey in 1985, she is clarity and reserve. Her path included piano and fashion studies and at the age of 19 a terrible accident. Gardot, hit by a car whilst riding her bicycle, was left for dead on the side of the road. After months of recovery in the hospital, music became her healer and her third hand. The accident left her sensitive to noise and light, and she now wears dark glasses and walks with a cane. Her gentle voice is a force. The title track from her 2006 release Worrisome Heart is pure grade-A.
Buy: iTunes
Genre: Jazz
Artist: Melody Gardot
Song: Worrisome Heart
Album: Worrisome Heart
Ojos de Brujo


Ojos de Brujo (Eyes of the Wizard) is a Gypsy-Afro-Cuban hip-hop flamenco orchestra from Barcelona, Spain. The core of the group comprises Xavi Turull (percussion), Ramon Gimenez (guitar), Marina Abad (vocals), Sergio Ramos (drums), Maxwell Wright (percussion/vocals), Paco Lomena (guitar), Javi Martin (bass), and DJ Panko. They've been joined by Senegalese MC Faada Freddy, Cuba's Roberto Carcasses, and Prithpal Rajput of Asian Dub Foundation, Son de la Frontera's Raul Rodriguez, and flamenco-guitar master Pepe Habichuela, among many others. Ojos de Brujo's style speaks with a mysticism embracing the sounds of cultures East and West. The title "Nana," from their 2006 release Techari, is highly romantic.
Buy: iTunes
Genre: World
Artist: Ojos de Brujo
Song: Nana
Album: Techari
Pixies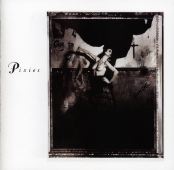 The Pixies are the deeply influential art-rock punk-tinged quartette founded in Boston in 1986. Original lineup: Black Francis, Joey Santiago, Kim Deal, and David Lovering. The Pixies are of alt-rock royalty, and their sound had a huge impact on the work of Kurt Cobain, Radiohead, and PJ Harvey, among others. They toured with Throwing Muses and U2 before their breakup in 1993. The Pixies reunited in 2004, only to disband earlier this year. The title "Brick Is Red," from their 1988 first full-length release Surfer Rosa, produced by Steve Albini, will rattle your bones.
Buy: iTunes
Genre: Rock
Artist: Pixies
Song: Brick Is Red
Album: Surfer Rosa