Marc Neikrug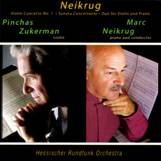 Classical maestro Marc Neikrug, a fourth-generation musician, was born in New York City to cellist parents. He is the only American composer to be commissioned by the Deutsche Oper Berlin (for Los Alamos), and his opera Through Roses is an acclaimed study of the Holocaust. Neikrug has had four major works performed by the New York Philharmonic, including his second symphony conducted by Alan Gilbert. His works have been performed by the Los Angeles Philharmonic, BBC Symphony, and Cleveland Orchestra. Collaborations include Zubin Mehta, Loren Maazel, Jaqueline Du Pre, Lynn Harrell, Susan Graham, David Zinman, and Pinchas Zukerman. Accolades include three ASCAP awards and a Golden Bear. Neikrug is enjoying a 13-year run as artistic director of the world renowned Santa Fe Chamber Music Festival. With over 30 important releases to collect, start with "Duo for Violin and Piano: Senza Misura," from the 2007 collection Neikrug, featuring the Hessischer Rundfunk Orchestra and Pinchas Zukerman.

Buy: iTunes
Genre: Classical
Artist: Marc Neikrug
Song: Duo for Violin and Piano: Senza Misura
Album: Neikrug
Spoon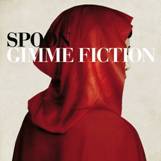 Spoon is the Austin, Texas, rock squadron of Britt Daniel, Jim Eno, Eric Harvey, and Rob Pope. Founded in the early '90s, the band has unleashed dozens of releases to date. Their tasteful, hook-laden songs resonate with delicious distraction. Spoon is "shut your mouth and listen" great. Get "My Mathematical Mind," from their 2005 project Gimme Fiction.
Tanya Tucker

Spitfire doyenne of country Tanya Tucker was born in Seminole, Texas, on the cusp of the '60s, raised on the love of horses and music. A mere 13 years later, Tanya inked a deal with Columbia Records and exploded with legendary hit "Delta Dawn." Within two years, she landed a Grammy nom and the cover of Rolling Stone (caption: "Hi, I'm Tanya Tucker, I'm 15, You're Gonna Hear From Me"). Tucker's registered 50 top 40 country singles and 24 full-length albums. Collaborations include Robert Redford, Dolly Parton, and Glen Campbell. Among her accolades are a Grammy, two Country Music Association Awards, two Academy of Country Music Awards, and three CMT awards. An avid horsewoman, Tucker has collected two KSCS Fair Celebrity Cutting Championships. Revisit this lady of song with "Lovesick Blues," from her 2009 release My Turn.
Buy: iTunes
Genre: Country
Artist: Tanya Tucker
Song: Lovesick Blues
Album: My Turn
Nara Leão


Bossa nova star Nara Leão was born in Brazil in 1942. At the age of 12, Nara picked up the guitar, and by her late teens, she stood at the door of a musical revolution headed by João Gilberto, Vinicius de Moraes, and Antônio Carlos Jobim. Leão joined Sergio Mendes on his early '60s tour. As the military boot-heel stomped on Brazil, Leão took to expressing her political views in song. In the early '70s, she relocated to Paris to start a family. Diagnosed with cancer in the late '70s, this bold talent worked on until her death in 1989. Leão leaves a score of treasures to collect. Get started with the 1971 title "Chega de Saudade," from the collection Pure Bossa Nova: A View on the Music of Nara Leão.

Buy: iTunes
Genre: Bossa nova
Artist: Nara Leão
Song: Chega de Saudade
Album: Pure Bossa Nova: A View on the Music of Nara Leão
Kodo


Kodo is the Japanese taiko-drum orchestra founded in 1981. This troupe of 40 has a mystical power of sound. With nearly a dozen albums to date, Kodo has partnered with a remix army--including Bill Laswell, Kasz, David Beal, DJ Krush, David Baron, Lindsay Jehan, and Kevin Yost--for the electric collection Sai-Soi: The Remix Project. Start with the inventive, electric 1999 title "Wax On."

Buy: iTunes
Genre: World
Artist: Kodo
Song: Wax On
Album: Sai-Soi: The Remix Project
Elmore James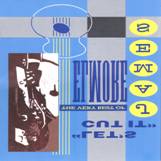 Bluesman Elmore James was born in Richland, Mississippi, in 1918 into a childhood of uprootedness and poverty, never knowing his real father. After a boyhood filled with folk instruments, Elmore picked up guitar and started earning coin. By the end of the Depression, he moved to Greenville, where he played with Sonny Boy Williamson. After serving his country in WWII, James returned to his music. By the early '50s, he cut his first side, moved to Chicago, and went on to make records for the Chess and Flair labels. James' collaborations include Arthur Crudup, Johnny Temple, and Luther Huff. James, who suffered a weak heart for years, passed from complications in 1963. With a cornucopia of tracks to collect, remember this icon with the 1955 recording of "Dust My Blues," from Let's Cut It--The Very Best of Elmore James.
Buy: iTunes
Genre: Blues
Artist: Elmore James
Song: Dust My Blues
Album: Let's Cut It--The Very Best of Elmore James
SUBSCRIBE AND FOLLOW
Get top stories and blog posts emailed to me each day. Newsletters may offer personalized content or advertisements.
Learn more