Dog Ears is the new music blog showcasing artists and music deserving to be heard. Legendary producer and 14 time Grammy winner Phil Ramone and recording artist Danielle Evin unearth a treasure chest of current, classic, undiscovered or rediscovered music on The Huffington Post.
Dog Ears hears music that others don't.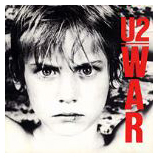 "War" was and still is a very important album. 2008 will be the 25th anniversary of this 1983 classic. U2 has always been about change for the better. Enjoy "New Year's Day" on New Year's Day. Play it loud!
Buy: iTunes
Genre: Rock
Artist: U2
Song: New Years Day
Album: War 1983
Producer: Steve Lillywhite
Video: YouTube Video
This week we lost one of the great jazz legends, Oscar Peterson. Now he re-joins Ella Fitzgerald. In tribute, to this incomparable pair, revisit this great performance of "Midnight Sun" (circa 1974/1975) from Ella and Oscar.
Buy: Alibris
Genre: Jazz
Artist: Oscar Peterson and Ella Fitzgerald
Song: Midnight Sun
Album: Ella and Oscar
The Polyphonic Spree is a band of nearly twenty. The album "Together We're Heavy" (recorded in 2003) includes songs from their music game "The Quest For The Rest". "The Quest..." is beautifully animated and fun to play. Check out "Suitcase Calling" and "Hold Me Now".
Buy: iTunes
Genre: Symphonic / Alternative Pop
Artist: The Polyphonic Spree
Songs: Suitcase Calling & Hold Me Now
Album: Together We're Heavy
Producer: Eric Drew Feldman and The Speekers
Game: Play it!
Robert Walden Cassotto was a most determined young rising artist. In order to succeed he felt he should acquire a pop star sounding name. Walking in the Bronx one night contemplating his dilemma, he saw a neon sign for a Chinese restaurant called Mandarin. Three letters were not lit. What was left was D-A-R-I-N, thus the birth of super star Bobby Darin. For the holiday revisit Bobby Darin's "Christmas Auld Lang Syne".
Buy: Amazon.com
Genre: Vocal
Artist: Bobby Darin
Song: Christmas Auld Lang Syne
Album: The 25th Day of December with Bobby Darin 1960
Arranged by: Bobby Scott
The Staple Singers created a sound coming from rhythm & blues, gospel and soul generating a force in American music. "Respect Yourself" is a timeless message. Written by Luther Ingram and Mack Rice. May these words be realized.
Buy: iTunes
Genre: American / Soul / Gospel
Artist: The Staple Singers
Song: Respect Yourself
Album: Be Altitude: Respect Yourself 1971
Producer: Al Bell
Video: YouTube Video
Zukerman Chamber Players

Our love of music allows us to find great classics. This collection's Mozart String Quintet - in D Major, K. 593 and Dvorak's String Quintet E Major, Op. 97 features the wonderful artistry of Zuckerman's Chamber Players led by Pinchas Zukerman. "It's romantic and beautiful", said Maestro Zukerman.
Mr. Zukerman also conducts the Pittsburgh, Atlanta, and Colorado Symphonies this season, in addition to concerto appearances with the New York Philharmonic, Chicago Symphony and Cincinnati Symphony. He conducts and plays concerti with London's Royal Philharmonic Orchestra both in Italy and on the Orchestra's highly anticipated U.S. tour in January 2008.
Buy: Altara Music Internationally Distributed
Artist: Pinchas Zukerman and The Zukerman Chamber Players
Album: DVORAK AND MOZART STRING QUINTETS 2007 Mozart (String Quintet - in D Major, K. 593) and Dvorak (String Quintet E Major, Op. 97).
Producer: Philip Traugott
SUBSCRIBE AND FOLLOW
Get top stories and blog posts emailed to me each day. Newsletters may offer personalized content or advertisements.
Learn more