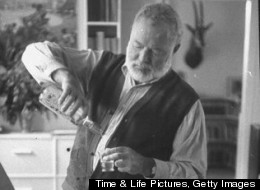 TO HAVE AND HAVE ANOTHER is a cocktail lover's guide to the life and works of Ernest Hemingway. Just as those drinks add depth, character and nuance to the scenes he was describing, they also add to the biography of one you might call, with apologies to Dos Equis, the original World's Most Interesting Man.
I remember my first Hemingway drink: I was reading Islands in the Stream, and I was on Sanibel Island, Florida. I had coconuts, I had limes, I had gin, and I had bitters, so I made a Green Isaac's Special. I then re-read that scene where David fights the sailfish. Damn, that was a good drink. That's when I began collecting drink references, excerpts, anecdotes, and more.
A high school graduate, Hemingway attended "the university of the world." From the battlefield to the bullfight, from Paris to Venice to Madrid to Kilimanjaro to Key West to Cuba, Hemingway lived globally but ate and drank locally, to get the flavor of the place. "Don't bother with churches, government buildings or city squares, if you want to know about a culture, spend a night in its bars," he's quoted as saying.
A wine aficionado calls it terroir, the flavor of the region. Hemingway's descriptive style offers that additional perspective, allowing the reader another way to become immersed in the scene. As a history buff, I wanted to know more, the geographical, cultural and historical context. As a food and drink enthusiast, I also wanted to know how to make them, taste them for myself.
In The Sun Also Rises, Jake Barnes has a Jack Rose while waiting in vain for Brett. In A Farewell to Arms, Frederic Henry has a couple of "cool and clean" Martinis; they made him "feel civilized." And in For Whom the Bell Tolls, it is the ritual of dripped absinthe that gives Robert Jordan's temporary solace from the rigors of war: "One cup of it took the place of the evening papers, of all the old evenings in cafés, of all chestnut trees that would be in bloom now in this month.... of all the things he had enjoyed and forgotten and that came back to him when he tasted that opaque, bitter, tongue-numbing, brain-warming, stomach-warming, idea-changing liquid alchemy."
I wanted to know more about that Jack Rose, to drink a Martini and feel those same feelings, to experience the ritual of absinthe, to put myself in those scenes, if only for a moment.
I somewhat soberly note that Hemingway drank too much, likely shortening his life. His was a life full of pain, both emotional and physical, and alcohol was often his anesthetic. Hemingway "explained the nights of drinking as a necessary counterforce to the daily bouts of writing which left him as whipped, wrung out, and empty as a used dishrag." It was a "release," "the irresponsibility that comes after the terrible responsibility of writing." I don't celebrate his excesses, or apologize for his flaws. TO HAVE AND HAVE ANOTHER is meant as a celebration of both his life and his writing. It's not about how much he drank, but what he was drinking, and how he wrote about it. I hope my book will enhance your enjoyment of Hemingway, and allow you to embrace the terroir and taste the scene. Cheers!
Hemingway's Favorite Cocktails
1 ¾ oz dry London style gin 1/8 oz French dry vermouth Stir well in a mixing glass with plenty of ice, strain into a chilled cocktail glass. Garnish with a couple of frozen Spanish cocktail onions, or a chilled garlic onion. Hemingway sometimes garnished his Martini with thinly sliced onion. He liked them dry, and bloody cold. In a 1947 letter to his publisher, Charles Scribner, he describes his modus operandi: "We have real Gordon's Gin at 50 bucks a case and real Noilly Prat and have found a way of making ice in the deep-freeze in tennis ball tubes that comes out 15 degrees below zero and with the glasses frozen too makes the coldest martini in the world. Just enough vermouth to cover the bottom of the glass, ounce 3/4 of gin, and the Spanish cocktail onions very crisp and also 15 degrees below zero when they go in the glass."

Dripped Absinthe 1 ½ oz Absinthe 1 cube sugar (optional, Hemingway did not use it) Small pitcher ice water Slotted Absinthe spoon Place a sugar cube on a slotted absinthe spoon atop a small glass of absinthe. Slowly drip ice water onto the sugar to dissolve it. When it has reached the desired strength or sweetness, both matters of taste, sip it slowly. Hemingway was one of many writers to partake of absinthe, and he viscerally describes its effects on the drinker. In For Whom the Bell Tolls, it's described as a medicine that "cures everything," and will retrieve "all the things he had enjoyed and forgotten and that came back to him when he tasted that opaque, bitter, tongue-numbing, brain-warming, stomach-warming, idea- changing liquid alchemy." Whiskey is fine, but it "does not curl around inside of you the way absinthe does … There is nothing like absinthe."

2 oz white rum 1 teaspoon grapefruit juice 1 teaspoon maraschino liqueur ½ oz fresh lime juice "Frappe" (chip or crush) some ice, add to shaker, then add remaining ingredients. Shake well, then pour contents of shaker into a chilled cocktail glass. Hemingway fell in love with the Daiquiri at Havana's Floridita, where master bartender Constantino Ribalaigua perfected the drink in the 1930s. That's where Hemingway comes in. Often. Though he lived across the Stream in Key West, he was regularly visiting Havana to write and to fish. And drink. By 1937 he had his own special sugarless Daiquiri on the menu, the misspelled "E. Henmiway Special." This drink later morphed into the larger Papa Doble. Note that the recipe loses something in translation: limes become lemons, be warned! The Daiquiri steals the show in the second book of Islands in the Stream, where Thomas Hudson enjoys more than a few "double frozen daiquiris, the great ones that Constante made, that had no taste of alcohol and felt, as you drank them, the way downhill glacier skiing feels running through powder snow and, after the sixth and eighth, felt like downhill glacier skiing feels when you are running unroped."

2 oz London Dry Gin 4 oz green coconut water (not milk) Juice of one lime (about 1 oz) 2-4 dashes Angostura Bitters, to taste Shake all ingredients well with ice, transfer contents of shaker into a Collins glass, adding more ice as needed. Garnish with a lime wedge or peel. Hemingway discovered the joys of mixing gin, lime, and coconut water during his Key West days (1928-1940). In a 1931 letter, he noted, "this is really going to be the hell of a fine house; the lawn is coming well, figs on the fig tree, coconuts on the trees and plenty of limes. Will plant more limes and coconuts. Wish you could plant a gin tree." The Green Isaac's Special is found in Islands in the Stream, named for two islands near Bimini, Great Isaac and Little Isaac Cay. "Where Thomas Hudson lay on the mattress his head was in the shade cast by the platform at the forward end of the flying bridge where the controls were and when Eddy came aft with the tall cold drink made of gin, lime juice, green coconut water, and chipped ice with just enough Angostura bitters to give it a rusty, rose color, he held the drink in the shadow so the ice would not melt while he looked out over the sea."

1 oz Dry Gin 1 oz Campari 1 oz Italian (sweet) Vermouth Add all ingredients to an Old Fashioned glass filled with ice. Stir. Garnish with orange peel or wedge. This is one of several Campari-based drinks in the book. As a young correspondent, Hemingway described aperitifs as "those tall, bright red or yellow drinks that are poured from two or three bottles from hurried waiters during the hour before lunch and the hour before dinner, when all Paris gathers at the cafes to poison themselves to a cheerful pre-eating glow. The aperitifs are all patented mixtures, contain a high percentage of alcohol and bitters, have a basic taste like a brass doorknob." He eventually acquired a taste for them, especially Campari. We find this delightful drink in Across the River and Into the Trees: "In the bar, sitting at the first table as he came in, there was a post-war rich from Milan, fat and hard as only Milanese can be, sitting with his expensive looking and extremely desirable mistress. They were drinking negronis, a combination of two sweet vermouths and seltzer water, and the Colonel wondered how much taxes the man had escaped to buy that sleek girl in her long mink coat and the convertible he had seen the chauffeur take up the long, winding ramp, to lock away."

2 oz Whiskey (Scotch, bourbon, rye, up to you) 4 oz seltzer/sparkling water (Hemingway loved Perrier) Fill a Highball glass with ice, add ingredients, stir, serve. Option, garnish with a wedge (or peel) of lemon or lime. The Whiskey & Soda (often called Scotch & Soda) was one of Hemingway's favorite drinks, mentioned more times than any other. He wove it into some classic scenes: "Only suckers worry. But he can knock the worry if he takes a Scotch and soda. The hell with what the doctor says. So he rings for one and the steward comes sleepily, and as he drinks it, the speculator is not a sucker now; except for death." To Have and Have Not "He sipped the whiskey and Perrier again and looked out the door at the late summer day. He was cooling out as he always did and the giant killer made things better." The Garden of Eden

For a pitcher: 4 ½ oz rum 12 oz hard apple cider 2 oz fresh lime juice 2 teaspoons sugar Fill a pitcher with ice, add all ingredients, stir well. Serve on ice in Collins or Highball glasses, garnish with lime wedge or peel. Serves 2-3 Hemingway kept a detailed log while on fishing trips, whether he was on his own boat, the Pilar, or on Josie Russell's Anita. They're great fun to read, with passages such as, "To make matters worse, a drunk, Harris and his crew of inebriates, circled the Pilar, raising a bad swell and endangering both boats and passengers. Harris owned the rod and line E.H. was salvaging. An insulting bastard." Or: "The first fish hit from behind, sticking his bill clean out of the water and wagging it... Could not see how the last fish hit, it was a hard, smashing strike." Or, "[s]upper over, we sat for a long while out on the afterdeck in the dark, enjoying the calm and quiet of the bay, drinking cognac." This drink was discovered while reading the blog entry from June, 1933. It was just called "Cocktail," so I decided to name it in honor of Hemingway's pal, Josie Russell.

Traditional recipe: 2 oz AppleJack Brandy (such as Laird's, or Calvados if splurging) ½ oz fresh lime or lemon juice ¼ oz Grenadine (preferably genuine pomegranate) Shake well with ice, strain into chilled cocktail glass. Garnish with twist of lime or lemon peel. Harry MacElhone's 1920s Paris recipe: 1 ½ oz Applejack or Calvados ¾ oz dry gin ¾ oz orange juice ¾ oz fresh lemon or lime juice 1/3 oz French vermouth 1/3 oz Italian vermouth Grenadine to colour (about 1/3 oz) Shake well with ice, strain into a chilled cocktail glass. Garnish with twist of lime or lemon peel. (Recipe adapted from Barflies and Cocktails, 1927 edition) This drink is featured twice in The Sun Also Rises. At the start of Chapter VI, Jake Barnes waits in vain at the Hotel Crillon for Brett to arrive, then consoles himself in the hotel bar with a Jack Rose. Whereas the standard recipe for the Jack Rose is pretty simple (a lime sour), Greene has unearthed a second, more complicated recipe, from the same place and time as the novel. They're both damned good drinks.

2 oz London Dry Gin 1 oz Rose's Lime Juice Shake well with ice, strain into chilled cocktail glass. Note: vary the amount of Rose's to make it sweeter or drier. The Gimlet appears to be Hemingway's go-to cocktail while on safari in Africa, along with the Whiskey & Soda and Campari, Gin & Soda. You'll find it in Green Hills of Africa (1935), "The Short Happy Life of Francis Macomber" (1936), True at First Light (1999), and its longer companion Under Kilimanjaro (2005). In "Macomber," the characters all enjoy a Gimlet back at the camp after a harrowing experience, where Macomber seizes up with fear at a charging lion. He later redeems himself, earning back his self-respect, but does it endure? And in Green Hills of Africa, just before enjoying a Gimlet, Hemingway was asked to recite "the actual, concrete things that harm a writer, to which he profoundly answered notes that the things that can harm a writer were: "Politics, women, drink, money, ambition. And the lack of politics, women, drink, money and ambition." I'll drink to that.

1 ½ oz. gin ½ oz. grapefruit juice ½ oz. fresh lime juice 1 tsp. simple syrup (optional) 1 sprig mint Gerald Murphy instructs (from a letter to Alexander Woolcott): The mint should be put in the shaker first. It should be torn up by hand as it steeps better. The gin should be added then and allowed to stand a minute or two. Tnen add the grapefruit juice and then the lime juice. Stir vigorously with ice and do not allow to dilute too much, but serve very cold, with a spring of mint in each glass. Serve in a chilled cocktail glass or wineglass. Gerald and Sara Murphy were wealthy American expatriates who, feeling stifled by American culture, abandoned New York for Paris in 1921. Gerald took up painting, and had a brief but significant artistic career. Soon, the couple began to make the acquaintance of the great writers, artists and bohemians of 1920s Paris. They started to spend summers in the French Riviera; it had been chiefly a winter resort, and they've been all but credited with inventing summer season on the Cote d'Azur. They eventually bought and renovated a home in Cap d'Antibes, naming it Villa America. Here, during the mid- to late Twenties, they were the focal point of a large circle, which included Zelda and F. Scott Fitzgerald, Ernest and Hadley (and later Pauline) Hemingway, Pablo Picasso, Archibald MacLeish, Cole Porter, John O'Hara, John Dos Passos, Dorothy Parker, Robert Benchley, Fernand Leger, Jean Cocteau, Philip Barry, Igor Stravinsky, and many others. The Murphy parties were legendary, as were Gerald's skills as a drinks-mixer. He was so intense about fixing a cocktail that one friend compared his solemn demeanor to that of a priest saying Mass. The Bailey is one of his finest drinks, sort of a Mojito meets Daiquiri, and possibly introduced to Hemingway the idea of marrying lime with grapefruit (see the Hemingway Daiquiris).