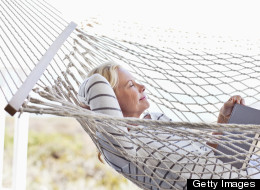 Bloggers have had much to say lately about the difficulties of working women who are raising children and/or managing dual-career marriages, as well as those who are planning to marry or to have children. They've paid less attention to women in their 50s, 60s and early 70s who are confronting work-family pressures, too -- but of a different sort. This age-span has come to be defined as the encore years. These are bonus years of healthy life expectancy after the period of career- and family-building -- a time when men and women can pursue meaningful engagement in often reduced forms of paid work or else in voluntary service. The concept of productive, active aging emphasizes the social value of ongoing public engagement in the encore years, embracing this age group as an untapped source of talented and motivated human capital that can be a key organizational resource, as well as a community resource for promoting the common good. How Americans spend their time during this life phase also matters for their health and well-being, because those who work or volunteer tend to be and remain in better mental and physical health than those who don't.
Recently, Sarah M. Flood, a researcher at the University of Minnesota, and I examined the amount of time that contemporary Americans moving through their encore years allocate to paid work. In an article published this month in the journal Social Problems, we report that women are less apt than men to be working for pay across this age span and more likely to use the word "retired" to define themselves. When we broadened our scope to include any form of public engagement (paid work; volunteering; informally helping out), we found that men are still more apt to be engaged than women, and the percentages don't match up until men and women are in their late 70s.
Why is this the case? One reason is that women experience poorer health, and health issues have been shown to push older workers out of the workforce. Women are more likely than men to experience involuntary retirement as a result of corporate layoffs or buyouts. Another key reason is women's family caregiving responsibilities, which encourage women to lean out of full-time work and even exit the labor market altogether. Ms. Flood and I found that women who care for a nonresidential child or grandchild or for an infirm older adult are about half as likely to be engaged in paid work than women without these obligations. Women with children or grandchildren under the age of 18 in their homes also have lower odds of working -- roughly one chance out of three -- than women who are free of such responsibility. Being married generally decreases women's engagement in and time allocated to paid work, whether their husbands are employed or not.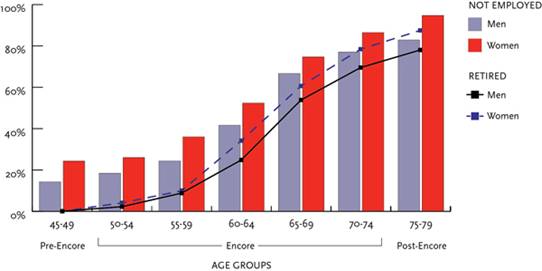 Charting the time allocations of women and men suggests that the encore life stage could become a new arena for gender inequality, in which women with caregiving obligations are selectively excluded from participating in public activities that society values. The bonus years of health and vitality producing an emerging encore life stage can promote public engagement only if women and men in this age group can find flexible jobs, openings for less-than-fulltime encores. Such opportunities have yet to be institutionalized and legitimized in either government or corporate policies and practices.

Our findings underscore this phase of the life course as a time of transition out of paid work -- a transition occurring more quickly for women. Drawing on the American Time Use Survey, data collected by U.S. Bureau of Labor Statistics, we show 86 percent of American men and 76 percent of American women between the ages 45 and 49 (pre-encore) are working for pay. Among those between the ages of 75 and 79 (post-encore), 83 percent of men and 95 percent of women are out of the workforce; moreover, 78 percent of men and 88 percent of women in their late 70s say they are retired. Advancing age is not the only source of pressure that keeps women at home during the encore years, however. The amount of time women can spend on activities in the sphere of public engagement depends on their ties to spouses, children and grandchildren, and infirm relatives, illuminating the family as a shaper of women's experience throughout the life course.
Earlier on Huff/Post50:
10 Great Ideas For Retirement Jobs
Several larger corporations such as Starbucks, Target and Land's End are able to offer even their part-time employees benefits such as health coverage and paid vacation time (head over to ABC for a full list).

For those with an entrepreneurial spirit and computer know-how, the Internet offers opportunities to bring in some cash from home -- at any hour of the day or night. Take Jose and Jill Ferrer, a retired couple profiled by AARP for supplementing a freewheeling retirement with their website, Your RV Lifestyle. By highlighting certain products related to RV living, the pair earns $700 a month, AARP reports. "And we know the potential is there to grow our website business further," Jill Ferrer says. Other ideas: Etsy.com allows the crafty to turn a profit from their hobbies.

Personal care and home health aid topped the Bureau of Labor Statistics' list of the fastest growing occupations in America. The time commitment may vary (between 10 and 30 hours per week, according to SmartMoney), but the median annual wage is around $20,000 for both occupations, according to the BLS.

Bartending is not just for twentysomethings -- and for social butterflies, this part-time gig offers opportunity to rake in extra cash, not to mention tips, with a minimal initial financial investment (a 40-hour certification course at the New York City Bartending School costs a little less than $600, for example).

Age discrimination is less of a problem in government agencies, reports The Fiscal Times. In fact, agencies such as the Department of Veterans Affairs and the Transportation Security Administration actively seek older workers. Visit USAJobs.gov to search for available positions.

If you've got an artistic flair or an interest in theater, makeup artists can make up to $40 an hour, and only work 20 hours a week on average, AOL Jobs reports. Disclaimer: qualifications may include formal training in cosmetology or theater, and a license is required to practice in several states.

What better way to scratch that globetrotting itch? If you're up for an on-the-go lifestyle, flight attendants also earn up to $40 an hour, making it a very well-paid part-time job.

The nonprofit sector can offer more than volunteer opportunities for retirees, and may be particularly appealing to those who "thought they wanted to change the world ... [but] put that on the back burner for 20 or 30 years while they climbed the corporate ladder," as Tamara Erickson, author of "Retire Retirement: Career Strategies for the Boomer Generation," told The Wall Street Journal. To get started, Idealist.org offers listings for available paid positions in addition to volunteer opportunities: applicants with years of experience under their belts are sure to be met with open arms. Even cooler, Encore.org offers paid Encore Fellowships to "match skilled, experienced professionals at the end of their midlife careers with social-purpose organizations" -- while earning a small stipend for part- or full-time work, midlifers can get their foot in the door to a fulfilling retirement job.

The pay may not be great, but if you're an arts lover, a history buff or a sports enthusiast, the perks certainly are!

"I studied hypnotherapy and cognitive behavioural therapy 3 years ago and now I have my own business, couldn't be happier" -- Huff/Post50 reader Lee Adley It's certainly a challenge, but as our amazing readers -- and the many men and women featured on our page -- can attest, going back to school and pursuing something totally different can be well worth the investment of time, money and energy.