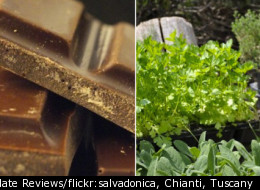 With a full year ahead of us, now is the perfect time to reset yourself when it comes to food and start making simple changes to our eating habits to make healthy eating less of a "resolution," a "sacrifice" or a "burden," and more of an easy, ingrained, natural part of everyday life.
Here, I discuss some uncomplicated ways to make those tiny adjustments to our food decisions that can stave off weight gain, make us feel more satisfied, thrill our taste buds and keep us healthier, for longer.
Simple Shifts to Healthier Eating in 2012
There's nothing wrong with asking your waiter to switch an accompaniment or two from your entrée or give you a side of some spinach or asparagus to go along with your eggs in your breakfast order. Most chefs are very accommodating and wouldn't mind using a small amount of ingredients sitting around in the kitchen to make you a happier, healthier customer.

Up to 6 teaspoons of added sugars can be found in many commercial brand yogurts. Don't fall for this trap and buy plain instead. Then use raw organic or organic honey, maple syrup and/or add your choice of fresh fruit or a small amount of cacao nibs for a crunch. Although yogurt with fruit "on the bottom" (and no additional sugars) may sound like a good option, there's nothing like the taste (and nutrient density) of fresh fruit. You'll soon notice you probably didn't need to have your yogurt so sweet in the first place.

I've talked about this at length but in 2012, try to eat 80 percent cacao content or higher chocolate bars as your go-to dessert of choice. You'll be amazed by how little satiates you (try a 1-inch square at a time), and how much sugar and processed milk fats you'll be avoiding.

According to a study released last month from the EWG, some cereals pack in as much sugar as a Twinkie. Take caution with cereals this year and transition to healthier, whole foods-based choices like homemade oatmeal, muesli or porridge as healthier, more satisfying substitutes. Here's a recipe for a Cinnamon, Banana & Farro Warm Porridge.

Get smart about "not from concentrate" and "fresh-squeezed" OJ in the refrigerated section, most of which is not only pastureized but in many instances has been stored for up to a year in tanks that vacuum out all oxygen from the juice, as well as its natural flavor, nutrients and fragrance. OJ shouldn't be a year-round beverage that tastes the same at any point in the year (a trait that occurs to do the addition of "flavor packs" by manufacturers). So instead, find optimal nutrition and uncompromising flavor of true orange juice by squeezing two to three oranges at home. It'll take you about three minutes. You can see just how quick it is here. Source: Civil Eats

One of the biggest faux pas of a "healthy" green salad may be the dressing poured over it. With added sugars and processed (often times GMO) oils, additives, and preservatives, some salad dressings are truly super processed food in disguise. Good news is, with just a few ingredients from your pantry like vinegars, oils, mustard and salt and pepper, you can make your own from scratch in minutes.

Fresh herbs like basil, parsley and thyme can help motivate you to make quick and healthy home-cooked meals that will thrill. Use basil with omelettes and on tomato sandwiches, and use parsley, rosemary and thyme with fast-cooking grains and sautéed vegetables. Store your herbs in a glass of water (like a bouquet) to make them last for days.

Watch Pooja discuss the easy and quick benefits of making OJ at home versus buying at the store.
For more by Pooja R. Mottl, click here.
For more on diet and nutrition, click here.
Pooja Mottl, a Green, Whole Food Chef and Healthy Lifestyle Coach, focuses on sustainable eating. She is a graduate of the Natural Gourmet Institute for Health and Culinary Arts. You can find all her latest recipes and other healthy living tips and tools at Pooja's Way
Connect, talk with me, and share on Facebook.
Follow Pooja R. Mottl on Twitter: www.twitter.com/poojamottl