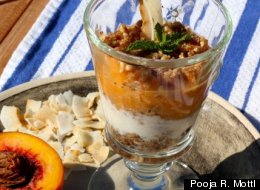 It's not too late! You can still enjoy the tastiest fruit and veggies from your local farmers' markets. In fact, the summer harvest is still at its peak and in just one visit to the market (with a few helpers to assist you in carrying the goods!), you can prepare several quick, healthful, and mouthwatering dishes to celebrate the Labor Day holiday weekend with family and friends!
Each of these recipes puts the produce center stage! By not doing too much or adding too much to each dish, the rich and unique flavors, textures, and aromas of each farm-fresh fruit, herb, and vegetable really shine through.
Simple, healthy, delicious, and beautiful! Enjoy!
5 Late Summer Farmers' Market Recipes
This combination of farmers' market fresh mint and cantaloupe is a pairing made in culinary heaven with minimal prep! Cantaloupe and Mint Granita Total time: about 3 hours Ingredients 1 ½ lbs (24 oz.) organic fresh, ripe cantaloupe chunks (about 2 small melons, cut) 20 leaves fresh mint and more for garnish (about 4 to 5 sprigs) 4 teaspoons organic, Grade A maple syrup (or to taste) Procedure 1. Place melon chunks and mint springs in stainless steel vessel and place in freezer for at least 3 hours. 2. Remove melons and, depending on temperature in your kitchen, allow melons to thaw at room temp for 3 to 10 minutes. 3. Remove mint from freezer and add mint leaves, slightly thawed melons, and syrup to food processor. Gently pulse until melons break down into a granita-like texture, making sure mixture does not become too thin. Using an ice cream scooper, scoop out granita, shape into balls, and plate. Garnish with remaining mint and enjoy immediately! Recipe by Pooja Mottl © 2009-2012 Pooja Mottl. All rights reserved.

Smeraldo or Romano Pole Beans With Heirloom Tomatoes Yield: Approx. 3-4 servings Total time: 15 minutes Ingredients 2-3 teaspoons pasture/grass-fed butter 13 oz. Smeraldo or romano beans, ends discarded, cut into 1-to-1.5-inch pieces 1 ½ tablespoon shoyu (or to taste) 2 teaspoons mirin 5 oz. heirloom or organic tomatoes, halved, then sliced lengthwise into ¼ thick pieces Fresh ground pepper to taste (several full turns of a pepper mill) Balsamic vinegar to taste (optional) About 16 fresh mint leaves (a few sprigs) Procedure 1. Over a medium-high flame, heat fry pan. When warm, add butter. When fully melted, add beans, mixing with wooden spoon or tongs to allow butter to fully coat. Then add in shoyu and mirin, and continue to saute just a minute or two more until beans are al dente or to taste. Make sure to not overcook the beans. Remove beans to serving platter. 2. Add slices of tomato and pepper and splashes of balsamic to taste if desired. Gently tear mint leaves and to top of dish. Serve immediately and enjoy!

Here's a great Labor Day treat! And you'll take advantage of peach season being in full swing. You won't want to pass this one up! Pooja's California Peach and Coconut Parfait Yield: Approx. 3 servings Total time: 15 minutes Ingredients 1 cup raw organic pecans ½ teaspoon alcohol-free vanilla extract 1 teaspoon organic coconut butter (try Nutiva's "Coconut Manna") 1 teaspoon organic maple syrup 2 large dates, deseeded, chopped (soaked in water/almond milk prior if desired) ¼ cup dried coconut shreds, plus a bit more saved for garnish ½ teaspoon plus a couple pinches sea salt 2 very ripe, fragrant peaches, skinned if preferred, seeds removed and quartered. 3 oz. organic plain yogurt (preferably pasture/grass-fed and local to you) Procedure 1. Add all ingredients except peaches and yogurt into a small food processor or Vitamix. Blend until mixture turns into small crumbles and all ingredients are sufficiently incorporated. You may want to stop blender and scrape down sides, then restart to ensure balanced blending. Remove pecan mixture and rinse blender. 2. Add peaches to blender and blend until smooth, but not too thin. Remove to another vessel. 3. To plate and serve, grab a parfait dish or glass mug. Begin by placing 3 tablespoons of pecan crumbs to bottom of dish, making sure the layer is even across. Next, add 2 tablespoons of yogurt, again making sure layer is even. Top this second layer with 2 tablespoons of pecan crumbs. Finish by adding 3 tablespoons of pureed peaches to top. Then garnish with sprinkles of pecan crumbs and coconut shreds if desired. Use same procedure to plate remaining parfait dishes. Enjoy immediately or chill for 15 minutes. Recipe by Pooja Mottl © 2009-2012 Pooja Mottl. All rights reserved.

OK, so this may seem like a no-brainer, but you'll be surprised by how many summers may have gone by without you enjoying this "fruiting berry" simply... frozen! A great way to stay cool with a healthy treat, and easy enough to take with you as a snack for the beach, the patio, or the pool! Summer Frozen Grape Taste Bombs Total time: 1 hour Ingredients Several bunches rinsed, seedless organic grapes (preferably from a farmers' market) Procedure 1. Place bunches in a large stainless steel vessel and place in freezer for at least one hour, preferably overnight. Open freezer, pull out vessel, and enjoy right away or while sitting on your chaise lounge at the pool or deck, or place into a Ziploc bag to take with you on all your summer day fun travels!

Use citrus to bring even more life to summer dill, cucumber and beets! Summer Beets and Cucumber With Orange Dill Yogurt Sauce Yield: 2 servings Total time: 15 minutes Ingredients 10 oz. organic beets (2 to 3), roasted*, cooled (peel on or off), quartered lengthwise, then sliced into ¼- to ½-inch thick pieces, again lengthwise 4 oz. small organic cucumber, halved lengthwise, then very thinly sliced on bias 1/8 to ¼ teaspoon fresh ground pepper 3 to 4 sprigs fresh organic dill, roughly chopped Orange zest* to taste (start with 1 inch square area using a microplane) To make yogurt sauce: 5 oz. organic greek yogurt 1/8 plus 2 pinches sea salt (or to taste) 4 teaspoons juice of organic orange Orange zest to taste (start with 1 inch square area using a microplane) Procedure 1. Add beets to serving bowl, then gently mix in remaining ingredients. 2. To serve, plate portion, then add dollop of yogurt sauce to top. Enjoy! Notes *How to roast beets ahead of time: 1. Preheat oven to 425 degrees F. Cut off green tops, bottom stem and wash beets, then quarter. 2. Place parchment paper on a baking sheet and lay beets on top. Season with sea salt, pepper, and olive oil (you may want to use your hands to dress beets with oil). 3. Roast in oven for 50 minutes or until fork tender. Remove and let cool.
Note: I bought almost all the ingredients for these dishes during an hour long Saturday visit to a San Francisco Bay Area Farmers Market. To find what's ripe and available in your area, you can check out the Seasonal Ingredient Map at Epicurious.com.
Feel free to connect with me anytime, share your musings, or find more healthy, delicious recipes at:
www.Twitter.com/PoojaMottl
www.Facebook.com/PoojaMottl
www.3DayResets.com
www.PoojasWay.com
For more by Pooja R. Mottl, click here.
For more on diet and nutrition, click here.
Follow Pooja R. Mottl on Twitter: www.twitter.com/poojamottl