In 2007, two months into the school year, a cumulative file for a new third grader named Alex arrived, addressed to me as the principal. Receiving student information after the school year had started wasn't unusual. However, my staff and I had already gotten to know Alex -- the student -- before Alex -- the file -- came across my desk.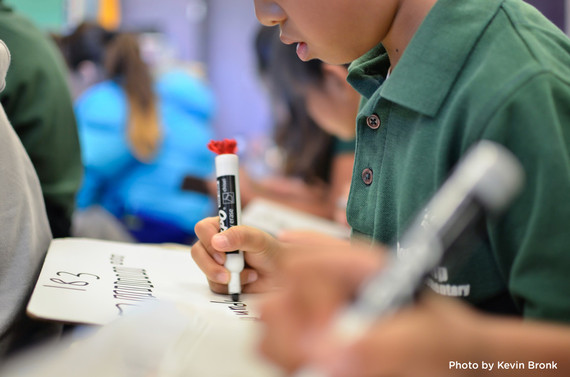 What we were surprised to discover in the file was that Alex's former school stated that he should be placed in special education day classes -- meaning 85 percent of his day should be spent isolated from his general education peers. As the principal, I took pride in knowing the names, personalities, academic levels and needs of each of my students. Alex didn't seem like a student who would be best served in a special day class -- not now, before or ever.
Many schools place kids in special day classes who are struggling (academically or behaviorally) because they see that setting as the only way to support those students. In some cases, that option may make sense. But all students, including students with special needs require -- and deserve -- the opportunity to collaborate and learn with their peers.
I had observed Alex struggle through an initial reading assessment, one instance which revealed that he was significantly behind grade level. As a result, my staff and I had designed additional methods of support for Alex when crafting his individual education program. We were confident that he could build his skills and ideally be performing at grade level by the end of the year -- within a general education setting.
After connecting with Alex's family, I learned that his mother had purposely delayed his file. She wanted us to get to know Alex and determine what he needed to be successful in the general education classroom. The isolation of special day classes hadn't been working for Alex, and his previous school had made it seem like that was their only option. She wanted something different for her son.
That was why she decided to move him to our school in San Jose, a charter school in the Rocketship Education network, where we focus on an inclusion model for students with special needs. We believe all students, with the right support, can thrive in a general education setting, regardless of learning differences. This is exactly what Alex's mother wanted for her son--to be included with and challenged alongside his peers.
That afternoon, my staff, Alex's family and I worked together to modify his individualized education program in a way that would ensure his success in a general education classroom with the appropriate support. The next two years involved a great deal of collaboration between Alex's family and teachers. It wasn't easy, but inclusion guaranteed him access to robust instruction as well as opportunities to gain social skills alongside of his peers -- benefits commonly recognized for children.
Alex is now in high school and thriving. In just a couple of years, he will graduate and be off to college. And incredibly, as a clear testament to his work and his parents' support, he is no longer classified as a student with special needs. He is exceeding grade level standards.
Would that have happened in a special day setting? I'm not sure. But, I do know that Alex has seen tremendous gains as a result of his mom trusting in a different approach, his own hard work, and the dedication of his teachers to ensure that he could grow both academically and socially along with the rest of his classmates.
In the years since Alex joined us as a third grader, Rocketship has pushed toward even better practices of inclusion. We have built systems that allow us to serve all kids -- including students with severe needs -- and personalize learning for each one. Across all nine of our schools, our students with the most severe needs are taught separately from the general classroom setting for less than 40 percent of their day. In traditional schools, these students might only share lunch time with the rest of their class.
Recently, New York announced that it is considering offering easier tests for students with special needs. This makes me worry that students like Alex who can excel academically with differentiated support will be left behind, rather than supported to succeed in the way that they are clearly able.
As educators, we should have the courage to revisit our approaches to serving all kids, including students with special needs, and be willing to boldly innovate so that we can offer students the support they need to succeed while being challenged. Most importantly, we should rethink our implementation of special day settings and instead work towards ensuring that all students have opportunities to cooperatively learn, work, and play together.
I am proud to lead an organization where all students are welcome, are included, and can thrive. I challenge all of us to look beyond the file -- I know if we do, we'll see someone special, just like Alex, who can achieve great things.