On Wednesday night, as the stunning Carla Bruni-Sarkozy continued her gradual take-over of most style sections of the NY papers, her presidential husband did his best to convince the U.S. that his love for the "most powerful country in the world" was deeper than ever in the Obama era.
As expected, he reiterated his strong disagreement with the too-high bonuses policy on Wall Street, but his first message wasn't about divergence with his great ally.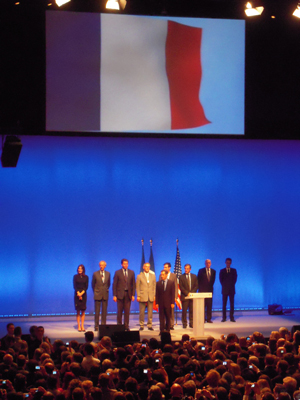 "From the bottom of my heart, I wish President Obama all the success in the world," declared the former BFF of the Bush presidents, before a packed room of French expats in Midtown Manhattan.
"It's nice to see an American president so interested in other countries," he added.
Desirous to persuade his nationals living in New York of the strategic importance of a good relationship between the two countries, he insisted: "It is very important for us to make sure that America has a good image in the world."
"I've had great satisfaction to go around the city and to see all those faces of Americans, who said "Vive la France" and who knew they could count on us."
Talking about the reintroduction of France in the NATO alliance, he made clear that, more than ever, it was his intention to perpetuate an old tradition of cooperation between the two countries.
On the whole, he only tempered his message of admiration for American society by the defense of what he called "French values."
On the day before the G-20 meeting in Pittsburgh, where he was expected to advocate stronger action from the world superpowers against the deregulation of the financial industry, he praised a "capitalism of responsibility" and controlled risks: finance mustn't be like "the roulette wheel," he said. Notably, without a resounding response, it being a room jammed with traders and other financial workers.
By his side, a very quiet, and supermodel-like Carla Bruni got an ovation whenever her name was mentioned. "She gives such a wonderful image of our country," concluded the proud but solemn husband who seemed to smile -- and relax -- for the first time in his speech.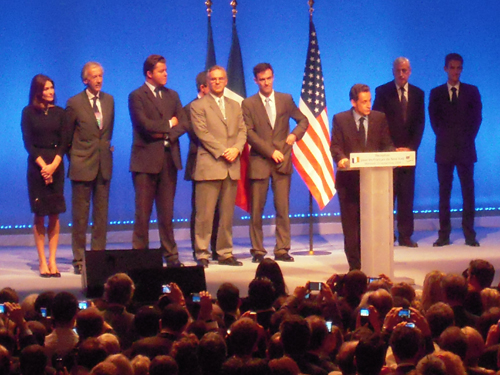 SUBSCRIBE TO & FOLLOW WORLD POST