1. Bite-Sized Bagel Balls at Bantam Bagels
Let's get something straight: There is only one true New York breakfast food. Don't even try, cronut; it's obviously the bagel. But now there's a whole new spin on the staple.
Meet the stuffed mini bagel ball.
A shop in the West Village, Bantam Bagels, is whipping up these little nuggets and possibly changing the entire game in its wake. (Yes, Momofuku Milk Bar also sells a variation, but this is a shop dedicated entirely to bagel balls.)
For the purists, there are plain, sesame and everything bagels filled with good old cream cheese or butter. (Four balls equal one full-size bagel.) But it's the loaded numbers that are the real drool-inducers. For example, the "Weekend Brunch" is an everything bagel filled with lox, tomato and red-onion cream cheese. "The Hangover" takes a cheddar-cheese-and-egg bagel and stuffs it with bacon-cheddar cream cheese, then drizzles maple syrup on top.
Stop in for a couple on-the-go bites ($1.35 each; 3 for $3.50) or pick up a smattering for your next brunch soiree (24 for $22; 48 for $42). To reheat, just toast in the oven for a couple of minutes and get ready to make some inappropriate noises.
2. Oatmeals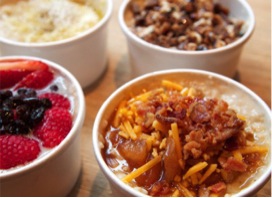 We've all heard about the heart-healthy benefits of oatmeal. But having eaten the bland instant business our whole lives, we would never normally consider it an exciting breakfast option -- that is, until we tried OatMeals.
The West Village bakery and storefront café takes the ever-popular toppings-bar concept and gives steel-cut oats its moment in the spotlight, no matter the time of day. Build your own bowl with either typical sweet toppings like fruit and chocolate or unexpected savory choices like cheese, pesto and, yes, even bacon (starting at $3.50).
PureWow's recommendation: Trust the trained pastry-chef owner, Samantha Stephens, and try one of her new signature bowls, such as the earthy Truffle RisOATto with truffle oil, cream, sea salt and Parmesan cheese, or the classic Strawberry Shortcake with fresh berries, jam, mini graham crackers, brown sugar and whipped cream.
3. Jennifer's Way Bakery
Gluten-free: The fad-diet buzzword may seem as if it's reaching critical mass. But for those who have true sensitivities and more serious diseases, it's still a challenge, even in a city like this, to find delicious alternatives to comforting goodies.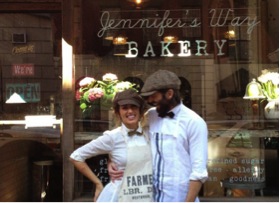 A bakery in the East Village, Jennifer's Way, is here to help.
You may remember owner-actress Jennifer Esposito from movies like Crash and Summer of Sam. But her latest role is manning a stand mixer.
After being diagnosed with severe celiac disease several years ago, Esposito began baking for herself, blogging and advocating for the condition. Now she's bringing her (surprisingly legitimate) culinary skills to the masses with a range of allergy-friendly treats.
Everything, from artisanal fennel-raisin bread to blueberry "pop-tarts," is free of any gluten, dairy, refined sugar, soy and peanut. And many treats (like the perfectly moist carrot-cake muffins) are also vegan.