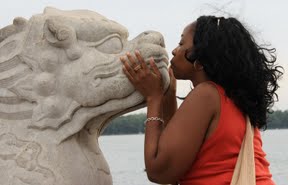 Educator Kamara Coaxum in Beijing, China
Educator and jewelry designer Kamara Coaxum felt like she was dying. After toiling away for years as a teacher in Tampa, Fla., she needed a way to break away from a life that was pretty uneventful.
Frustrated, Kamara voiced her concerns to a colleague who introduced her to the idea of teaching abroad. The notion immediately intrigued the avid traveler who then attended an international educators job fair. The period following was a whirlwind, whisking her away from Florida to distant Asia, all alone. Her experience is nothing short of inspiration for those want to combine their sense of purpose with their sense of adventure.
Quia: Where did you spend your time teaching?
Kamara: I lived in Abu Dhabi, UAE, for two years and Beijing, China, for four years.
Q: How did your experience begin?
K: I was dying being a teacher in Tampa. I made no money and felt that my life was just blah. I wanted to combine teaching with traveling and I'm not sure how. A colleague told me to talk to another colleague, who then told me about a job fair that was to be held in two months. Needless to say, I jumped on it!
Q: How did your friends and family react to your decision to live abroad?
K: My family and friends knew I was serious, but I don't think they thought I would follow through. My family was always happy and I think my friends were, but my friends couldn't wrap their minds around me needing something else out of my life. Very few of my friends have left the country and this was just so alien to them. My dad was worried, but he didn't let me know.
Q: How did you communicate while living in such an immersive environment?
K: In the UAE it was easy because locals were kind of snobby about speaking to [me] in Arabic. In Beijing, I'm not even going to lie, I surrounded myself with people who spoke Chinese and I also had a taxi book that had phrases and directions to places I wanted to go.
Q: What things did you do to make life "normal" for yourself?
K: I tried to settle into a routine -- dinner with friends, buying a car, and communicating with people back home frequently. I also made sure my home was nice and just the way I wanted it.
Q: How did you find friends/a support network?
K: The good thing about teaching overseas is that you arrive with other newbies. I really bonded with those people and they became my closest friends. I also made friends with other co-workers.
Q: How would you say the experience took you out of your comfort zone?
K: I moved to the Middle East as a single woman. Men leered at me, and African women hated me because they thought I should be covered. I learned how to be uncomfortable. I learned how to travel and enjoy being alone. I learned how to be friends with people I never thought possible. I threw myself into cultures that weren't necessarily welcoming to blacks and women.
Q: What is the biggest thing you learned about yourself during the experience?
K: I learned that I'm stronger than I thought. I learned to listen to my inner me, to trust myself. No matter what life throws my way, I can navigate it.
Q: What misconceptions would you like to put to rest about the places you've lived?
K: I have met people in Abu Dhabi who treated me and my family better then folks back home would have. My mom came to visit and she is a vegetarian. My friends made sure she had all her meals covered. No one here in the states would even offer to do that. People were beyond hospitable. They would give me the shirt off their backs. When my car broke down, the guy I was dating gave me one of his.
Q: What were the biggest challenges you encountered living abroad?
K: In Beijing, the communication was the toughest. I also struggled with their concept of saving face. I call it lying. Don't be dishonest in you dealings and try to make me take the blame for it. Expectations are not the same culture to culture.
Q: Would you ever consider leaving the United States permanently?
K: In a heartbeat!
Q: What advice would you share with someone who is considering living abroad? What would you say to someone who is afraid to do so?
K: Like Nike... Just do it!! It's the toughest experience you'll love!
****
Quia Querisma is a digital marketer by day, freelance writer by night, and a traveler by nature. Get her latest insights on travel and fashion on her blog, MyJetSetStyle.com.