Answer by Nicholas Stoller, Director/Screenwriter, Neighbors

I found it more difficult because you don't have as much perspective on it because everything is coming from you. I've found that with Neighbors (2014 film) and the projects that I'm considering now, I'm a little bit more interested to work with a script that someone else has written because I think I can bring a different perspective to that project.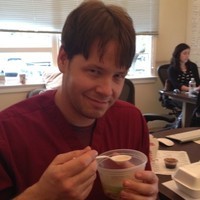 Answer by Ike Barinholtz, Actor, Neighbors, The Mindy Project

Acting in an ensemble film is great. When we were shooting some of the scenes in Neighbors, specifically in the frat house, you have so many different ingredients. You have Jerrod Carmichael, who is an amazing comedian. You have Dave Franco who is an amazing actor. You have Seth Rogen who is an amazing writer. So you have all of these different points of view blending together. Sometimes it doesn't work out and sometimes it does. Nicholas Stoller, Seth Rogen, Evan Goldberg, and James Weaver really put together a funny and different group of people. We had the young, old, stand-up, sketch, etc.

Answer by Jerrod Carmichael, Actor, Writer, Neighbors

Neighbors was my first movie. I'm lucky to have worked with such an amazing cast and on a film where people didn't compromise the integrity of the film just to get attention. The film was planned with the common goal to make something funny and to make something the audiences would love. The public loses interest if you don't have a camaraderie amongst the people you're working with.
You have these moments on set where you improve and learn a lot. Throughout filming we would all feed each other ideas that seemed to come from nowhere, but that worked really well. Luckily we had great writers with fast minds, so we all worked together like one well-oiled machine.
More questions on Quora:
SUBSCRIBE TO & FOLLOW ENTERTAINMENT
Get top stories and blog posts emailed to me each day. Newsletters may offer personalized content or advertisements. Learn more