This question originally appeared on Quora.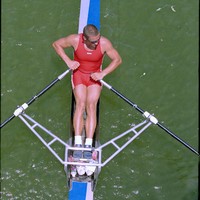 By Xeno Müller, Olympic Gold and Silver Medalist in Rowing, Coach, http://www.xenomueller.com/

During the Olympics, I did nothing but hang out and stay away from competition and people. We usually rented private homes. I never stayed at the Olympic village, partially due to the fact that the rowing venues were usually one hour bus travel away. That is valuable time wasted. Rowing is held over the first entire week of the Olympics, not just one day for some other athletes. The second week, I usually left because I wanted to go home to decompress with my family. We also never attended the opening ceremony, to avoid getting sick and breaking down our sleeping pattern. The entire preparation for the Olympics, you try to stay healthy with good sleep and food. In the opening ceremony, your are thrown together with a whole bunch of people you don't know. At one of the Olympics, the athletes all stood on the field, and a large cloth was pulled over them, and I remember some of my colleagues saying how much it ended up stinking below it. I don't remember which games that was. Mahe Drysdale lost his gold medal due to an intestinal bug that he may have collected when he walked the NZ flag into the stadium in China four years ago. We were told to chose between a medal or walking in during the Opening ceremonies. I was asked if I were interested in walking the Swiss flag in during the Sydney Olympics. I chose not to, because two days later I had to race my heat in the single scull. Before competition, I would train twice a day, seven in the morning and noon, which gave me the afternoon off from training, and I was able to spend it with my family.
More questions on Olympic Games:
SUBSCRIBE TO & FOLLOW THE MORNING EMAIL
The Morning Email helps you start your workday with everything you need to know: breaking news, entertainment and a dash of fun. Learn more