This question originally appeared on Quora.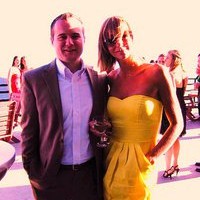 By Bonnie Boglioli Randall, Writer

Let me preface this by saying that I am not an Olympic athlete. However, my mother, Wendy Boglioli, is a gold and bronze medalist from the 1976 Olympic Games in Montreal. Having been coached by her during my childhood, listening to her stories throughout my years, and serving as her writing assistant, I can offer advice that she would give.
Most Olympic swimmers do experience nerves on the blocks and beforehand. My mother always says that without a few butterlies in your belly, you won't do as well. Inherently, nerves help to boost our adrenaline and give us a competitive edge. That said, learning how to control anxiety is crucial to world-class athletes so that it does not get in the way of their mental preparation. Today, many Olympic athletes and nations employ trainers that specifically help athletes cope with these anxieties. But, for the most part, learning how to work through the nerves days, weeks, and even months in advance is something that world-class athletes have been doing throughout their lives ... and certainly swimmers given that most start competing at a relatively young age.
The water temperature of the pool, the venue, the crowd cheering ... all of these are factors that Olympic swimmers I personally know (courtesy of my mother) do not seem to notice once they take the starting block. They may have time to swim in the pool prior to their event during training ... they may have time (or desire) to watch events as they unfold. Behind the scenes off the pool deck are hallways, training rooms, and the hustle and bustle of a world swim meet ... coaches, trainers, national representatives coming and going. Undoubtedly, there are few meets that can prepare swimmers for the frenetic pace around them though most of them experience it to a degree at national trials, PanAms, etc. But most of them listen to music, talk with their family, complete their training regiment as tailored to them ... and get LOTS of REST. Resting the eyes, even when not sleeping, allows them to focus on their race. They often use visualization to imagine what it will be like diving into the water and swimming.
Times have changed drastically since my mom's Olympic days in '76. At that time, the US Swim Team had men's coaches and women's coaches that were appointed by the USOC. Today, swimmers bring their own coaches with them ... an important distinction. They have the same familiar face telling them their daily training, their warmups, what to eat, what to think about, what to focus on, etc ... consistency is key! If they always eat a pre-race meal the night before, many will stick to it at the Olympics.
Also note that swimmers diving into the pool in London have already faced down some of their toughest competitors (let alone themselves) weeks ago at national trials. Though undoubtedly nerves are heightened on the Olympic stage, it all comes down to how well an athlete can remain in control of their mind and body and remind themselves that this race is like any other ... though they all aim to to PR (set a personal record). While top athletes (particularly those predicted to win medals) may have honed in their skills better to 'race their own race' and get the job done, underdogs can have a unique advantage if they feel they can swim their race without worrying about medaling. My own mother's gold came when she and her three team mates in the culminating 4x100 Freestyle Relay defeated the East German team who had, until then, swept every gold in women's swimming that year except for one (with the fall of the GDR came evidence that the team was systematically doped by their coaches and doctors to elevate the nation's status ... a sad story in the history of sport for everyone involved). Nonetheless, you can see that underdog victories do happen on the world's grand stage, and the ability of athletes to focus on THEIR RACE (ie. not who they are competing against) is the key to their victory. My mother again and again has written and said that she wasn't thinking of the East Germans when taking the block in that final event. If she had been, they might have lost. She and her team mates were thinking, 'Do you personal best.' They weren't worried who was in the next lane. Great athletes focus on themselves to find victory ... every time.
If a young person is interested in taking their swimming career to a new level (whether that be aiming for the Olympics, a collegiate scholarship, or simply a more competitive club team), the old advice is the best: practice, practice, practice. The more dives into a pool they make, the more times they stare down tough competition, the more personal records they set, and the more times they have to come back from defeat all equate to experience which can be harnessed for an event such as the Olympics.
More questions on competitive swimming:
SUBSCRIBE TO & FOLLOW THE MORNING EMAIL
The Morning Email helps you start your workday with everything you need to know: breaking news, entertainment and a dash of fun. Learn more