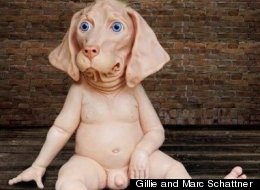 Are dogs more inspiring than people? That's what a wide range of contemporary artists seem to think, creating everything from figurative oils to larger-than-life sculptures, postage stamp collages to fool-the-eye face paintings with dogs as the subject. Here, some of the most amazing, hilarious, outrageous, and dog-crazy art around today.
Amazing Dog Art: You Won't Believe Your Eyes!
Wayne White, the subject of a new film called Beauty is Embarrassing, was the genius behind Peewee's Playhouse. His word paintings, such as the Dogs on LSD or rather LSD on Dogs, helped launch the fine art side of White's career.

Australian husband-and-wife artists Gillie and Marc Schattner often build huge sculptures of humans with dog heads -- or is it dogs with human bodies? -- in their work. Their most recent exhibit was inspired by research that showed the single most important thing you could do to have a happy life was to get a dog. Or a dog baby.

James Kuhn's genius face painting -- he posts his work, and the process behind it, online -- graces a full page of the book version of Rabid. You have to gaze at it a minute before the face comes into relief and you see that the dog's eye is in fact Kuhn's own and its butthole is, yeah, that's right, Kuhn's puckered lips. Ewwwww and fantastic, all at the same time.

Who can look at the Presidential butt when there's a cute dog in the corner? The Obama's dog Bo was immortalized first as a White House Christmas -- 80 volunteers spent 500 hours on the task -- and now in this portrait by Dan Lacey, who has also done a portrait of Betty White with pancakes as breasts. Somehow, we have the feeling that this one will never hang in the Oval Office.

Lucian Freud's last painting included his Whippet and frequent model Eli, pictured here on canvas and standing in front of it. Freud's daughter Bella uses a dog motif on tee shirts you can buy here, and his grandfather Sigmund kept a dog in his psychoanalysis office and would often berate patients by telling them the dog was not interested in what they were saying.

Photographer Martin Usborne's dogs -- and his people too -- are full of yearning, gorgeous and soulful, suggesting a drama playing out just beyond the frame. Don't go. Please don't go. I'm going to wait here, till you come back to me again....

Peter Clark makes dog collages of found material: stamps, maps, playing cards, buttons, wrapping paper, and labels. Scavenger trips to flea markets and second hand shops yield the makings of a gorgeous animal.

Dorothea Tanning was an artist and poet who just passed away this year at age 101, after a long career that included innovative work in a range of media from photography and collage, as with the piece above, to sculpture and theater design. This reclining woman gives new meaning to the old phrase, "What a dog."

Japanese pop artist Yoshitomo Nara frequently uses dogs in his work, which includes drawings, paintings, and fiberglass sculptures. His work can be found in major museums around the world but also on yo-yos.

Artist Daniel Peacock creates a universe of fantastical beast, many of them veering more or less toward dog-like form. This canine's soulful howl might be worthy of a recording contract.

Dogs have been the subject of art almost as long as art's been around. This ivory sculpture from the Metropolitan Museum is from the 14th century BC. Its mouth opens to reveal a tongue and two teeth.

A company called DNA11 will create a frameable portrait of your dog's DNA. Swab Fido's mouth, mail in the collected cells, and receive back a "meaningful masterpiece." The company does lizards too.
Follow Rabid on Twitter: www.twitter.com/@prsatran