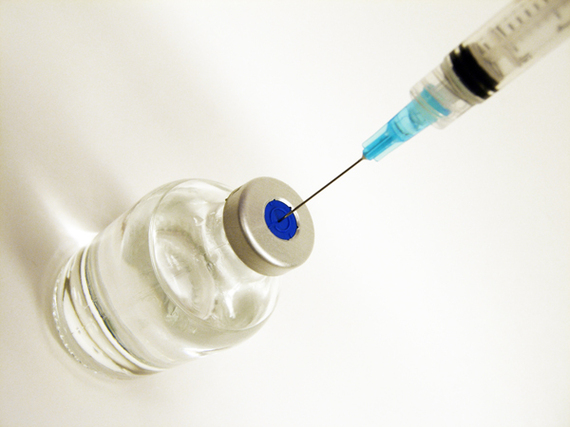 Last week I received an invitation.
The envelope was bright pink with pictures of palm trees and stuck out of my snow-covered mailbox like a glossy Easter Egg. Victoria's Secret's bikini catalogue! I couldn't wait to open it. Instead, there was a photo of a tropical island without models. "Sneak away to a special girl's night out," the card read, "Join us for an evening of Botox and margaritas." I was surprised. I wasn't expecting an evening at my dermatologist's.
A part of me was flattered. My presence was requested at a gala for banishing wrinkles. But I was confused. Do I look like I need a Botox party? What is a Botox party? Do fashionable crowds huddle around a keg of silicon or is it a down-home sorority thing -- an informal gathering of gals? Should I buy a cocktail dress?

I turned to my best friend, Mabel, for advice. Mabel has two kids, is CEO of a thriving business, and runs a Girl Scout troop for tweens. "Think of it as a modern Tupperware party," she explained, "Except you're not exchanging handy plastic containers, you're taking turns getting needles jabbed into your face--"
"Ouch. Who'd want to spend Saturday night doing that?"

Mable shrugged. "Some people want to defy gravity."
"But I like gravity. And drooping. Flowers droop."
"Only when they're dead." Mabel murmured, studying the photo. "Ooh. Look. They're serving margaritas!"
"I don't drink," I reminded her.
She sighed, staring at my forehead. "Maybe you should go. Consider it as research, you know, for your writing."
The next day, I showed the invite to my oldest daughter. "What do you think?"
"Is this another mid-life crises, Mom? You just got over the last one."

Without answering, Eliza "Googled" the word "Botox" and read the definition aloud, "Botox is a drug made from a toxin produced by the bacterium Clostridium botulinum. It's the same toxin that causes a life-threatening type of food poisoning called botulism." She emphasized the phrase "life-threatening food poisoning," several times. "Have fun, Mom."
"To Botox or not to Botox?" I pondered that night while staring in the mirror and counting my creases. Sure, at 53, I could use a spring-cleaning but maybe there was just a pinprick to be had, a "Botox booster." And then I remembered my grandmother Elizabeth's immortal words, "Every one has the face they deserve." But what did that mean? She lived to be 104 and never saw a dermatologist.
That Saturday night, since there was nothing on my calendar, I ventured to my doctor's office.
"You're here early!" Alicia, the receptionist, beamed. "Do you want to meet the new doctor? We hired a specialist from Long Island."
The office was strewn with paper flowers. It looked like a Hawaiian Luau.
"I'm going to mix Sangria. They were out of tequila."
The door opened and a man bundled in a winter coat carrying a 64-ounce Canada Dry Ginger Ale in one arm and a jug of Anti-Freeze in the other entered.
"This is Dr. Ehrlich," Alicia announced.
He turned to me setting the ginger ale near the punch bowl and the anti-freeze on the counter. "It's a pleasure."
"Why don't the two of you get started?" Alicia suggested. "For you, it's only 170 dollars an injection."
I performed a mental calculation: one furrowed brow, two crows' feet, marionette lines, and a newly sagging chin -- all for a grand total of approximately $1,000.
Dr. Ehrlich took off his mittens and started poking my cheeks. "Not too bad. You're pretty well preserved."
I stared at the bottle of anti-freeze. Was that for my forehead or Dr. Ehrlich's radiator? As he prodded, I thought about the lure of having Gisele Bundchen-like skin -- the way it used to be before raising two daughters, writing three unpublished novels, and surviving two marriages. As he tugged at my chin, I realized I had earned my wrinkles.
"Thanks but no thanks," I said.
"We can always order out for margaritas --" Alicia offered.
"No, but enjoy your party!"

As soon as I left the office, I felt years younger.

"So what happened?" Mabel asked when I went to pick up my Girl Scouts cookies. "Did you have fun?" She scrutinized my face. "You don't look different."
"I don't need Botox," I told her. "I'm going to do what Grandma Elizabeth did -- wear big hats and drinks tons of water."
Earlier on Huff/Post50:
Exercising does more than improve your exterior. Several studies have found an active lifestyle keeps your cells young, according to The New York Times.

These orange veggies are chock full of the phytonutrient alpha-carotene, which lowered the risk of dying from cancer and cardiovascular diseases in a study, according to The Los Angeles Times.

Sun worshippers, take heed: Between two and three million people are diagnosed with skin cancer globally each year, according to the World Health Organization. With May being Skin Cancer Awareness Month, Third Age has tips on how to avoid the "potentially fatal cancer."

A ring-a-ding-ding! Dr. Braverman of The Doctors suggests having sex at least two times a week to help "reboot the brain."

Studies suggest that foods rich in this fatty acid may reduce your risk of Alzheimer's.

Huff/Post50 recently reported on a study that had subjects do moderate exercise and use a computer, which resulted in increased memory function.

Glutathione is a rock-star antioxidant found in the body's cells that "neutralizes harmful free radicals," and keeps cells running smoothly, according to WebMD. To attain these benefits, eat a diet loaded with fruits and vegetables.

While there are conflicting reports on whether or not pets will add years to your life, it is confirmed that pets can ease stress and lower blood pressure, The New York Times reports.

A spoonful of sugar may make the medicine go down, but it also "changes metabolism, raises blood pressure, critically alters the signaling of hormones and causes significant damage to the liver," according to three doctors at the University of California at San Francisco. In a recent issue of Nature, they argued that the health hazards of sugar are similar to those related to drinking too much alcohol.
Follow Rachael Stark on Twitter: www.twitter.com/rachaelstark52