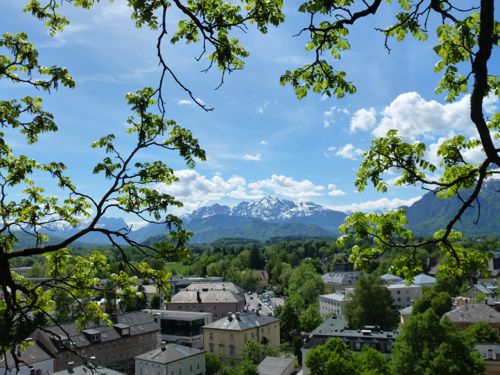 As I descended the cracked concrete path, my senses were piqued, anticipating an epiphanic ah-ha moment when I could justify the eight-hour flight and 11-hour train ride it took to get to this nondescript road. Truth be told, I was slightly embarrassed that I journeyed so far to chase after some piece of movie magic that I thought I'd be able to recreate here almost 50 years after this Austrian city was caught on film. So whenever anyone asked me why I was going to Salzburg, I "blamed" the movie musical The Sound of Music. Often, I was met with eyes popping with delight. But I had yet to find a moment that was truly worthy of that reaction.
I had already survived the almost 45-degree incline down from Hohensalzburg Castle, the regal centerpiece built in 1077 high atop Salzburg, and was now searching for Nonnberg Abbey -- the very place that Maria von Trapp was so moved by the hills being "alive with the sound of music." Her real-life disobedience in this Benedictine monastery in the 1920s led to her banishment as governess in the home of an Austro-Hungarian naval officer who she fell in love with while enchanting his family of seven children with music. Their family's global success sparked her to write The Story of the Trapp Family Singers in 1948, which was turned into two German films (Die Trapp Familie in 1956 and Die Trapp Familie in Amerika in 1958) and then a Broadway musical The Sound of Music in 1959 that led to Paramount's iconic 1965 film, which immortalized their family forever.
From the moment I set foot in Salzburg in May 2012, I realized I wasn't the only one who grew up do-re-mi-ing through my childhood. With five tour operators offering various versions of "original" tours, the city that gave birth to Wolfgang Amadeus Mozart in 1756, seemed to be triumphed by tourists looking to prance on the Mirabell Gardens' Pegasus Fountain or relive being 16-going-on-17 at the gazebo pavilion at Schloss Hellbrunn. Of course, I had reenacted all those stereotypical Sound of Music scenes already -- and maybe even topped them by also jumping up and down Mirabell's steps, splashing the water in the Residenz fountain, and weaseling my way into the lesser-seen Rock Riding School (tours offered seasonally, once a day at 2 p.m.), featured in the film's festival scene where the von Trapps performed their famous disappearing act from the Nazis.
But I needed something more. Something to show me that five decades later, Salzburg wasn't just a city full of movie props to play on. And something inside told me that I was about to stumble upon that moment. So as I passed through a thick archway on the path down the Festungsberg mountain, I was sure my mouth was about to drop open.
It didn't. All I found on the other end was a vine-covered wall. I looked back at my map. I was on the right path, yet it felt like I was heading deeper into the backstreets of the backside of the city. As I rounded a subtle corner, I fumbled through my bag for my research. It seemed like I was on the right track -- and in fact, I had also noted that in the month of May, the nuns of Nonnberg sing a 15-minute service at 7 p.m. I had the right month, but it was just shy of noon. There was no way we could stall here for seven hours. But at this point, maybe it would take that long to find it.
"This is it!" my friend called out.
I snapped out of my papers and looked up. I stood in front of seven concrete steps leading through an archway of a cream-colored stucco wall, reminiscent of the typical California tract homes I grew up around. I peeked through and looked both ways. A stone structure lay beyond the wall with an engraved sign that read "Benediktinen-Frauenstift Nonnberg." It all looked so, well, ordinary. Suddenly something caught my eye -- a black lantern that seemed to be placed off center on purpose. I took its haphazardness a clue and set off in the direction it pointed.
No more than a minute down the road, the scene changed. The concrete path opened up to an overhang where a single leafy tree dipped its branches purposefully, inviting me to gaze through its arms. I gasped. Even Monet couldn't have perfected this flawlessly framed scene. Just skirting the rooftops of the quieter Salzburg streets, the Alps' Untersberg Mountain stood in the distance -- a rich green ridge in the foreground nestled in the roots of the snow-capped peak just beyond it. The high noon's rays illuminated the scene, adorned with puffy cumulous clouds upon a baby blue sky.
As I soaked in the view, my shutter went off feverishly, trying to capture the moment -- sure I had stumbled upon the exact vision that had charmed Maria to run for the hills.
Suddenly, my ears heard a familiar sound. The film was so engrained in my head that I recognized the birds' chirping song from the opening scene. I chuckled to myself that it must be the exact same birds from the film. Nonetheless, I turned on the video function of my camera, now letting my ears guide me.
As if on cue, the church bell started ringing. Strong and bold. So similar to that in the film that, again, I was sure it was the exact bell with the exact bell ringer. I looked down the split-level road, recognizing the von Trapps' escape route from the film. But my visualization of the movie's scene was interrupted by my friend silently motioning to me urgently to follow her through the Abbey's gate.
I stepped past the cast-iron gate -- camera still rolling -- noting that it was from the scene where the von Trapp children had been turned away from seeing Maria, and crossed through a thin yet charming garden with such delightful yellow flowers that it seemed ironic they were set on gravestones.
Just at the 12th stroke of the bell, I stepped inside the church. No one else was inside, just us. As the bells rang again at a quicker pace, I instinctively looked upward to study the simple yet stately medieval ceiling that bridged the alter and the back wall, where five panels were tilted open.
And that's when the sound of music came calling.
Starting out slow and lightly, the voices of the nun's choir rang out from the open panels, reverberating into every corner of the chapel. My friends and I found one another's gazes -- all of our eyes wide with surprised delight. Were we really the only ones standing here in the oldest continuously running nunnery in the world, built between 713 and 715, and hearing an unscheduled performance by the choir that only sings for 15 minutes 32 times a year (in addition to the daily May concerts, there's a Christmas Eve 11 p.m. mass).
We silenced our footsteps and savored the moment as the voices settled into a low-lying Gregorian chant -- sounding haunting and enchanting all at once. Another group of tourists brashly opened the massive wooden door, unaware of what they had just stumbled upon. Oblivious to our looks of "stop and listen," we sighed as they quickly left.
Feeling so isolated, yet so a part of something great, I remembered back to the words of my college choir conductor who said, "Whenever you sing, whether it's a rehearsal or a performance, you're sending beauty into the universe."
I closed my eyes, picturing the nuns singing on the other side of the thick nunnery's walls, imagining that one of them was doing the same thing -- picturing the scene back in the chapel and wondering if her voice was being heard.
As the final note rang out about 10 minutes after it started, the silence was deafening and sent chills down my spine, realizing that I had come all this way in search for the hills that were so alive with the sound of music, but instead found that at Nonnberg Abbey, it was the halls that were truly alive.
Correction: This post originally incorrectly stated that Mozart was born in 1719, when in fact he was born in 1756.