It's often said fashion is full of contradictions. Clothes can project the image of both Madonna and whore, child and woman, protector and wrathful harbinger of war. And although the freedom to change your mind is a precious one worth fighting for, being a hypocrite does not fall under the same righteous protection.
This is where my problem with Forever 21′s religious leanings come into major play. With the Christmas season officially here and the holy holiday fast approaching, Forever 21 has released a brand new batch of religious tees.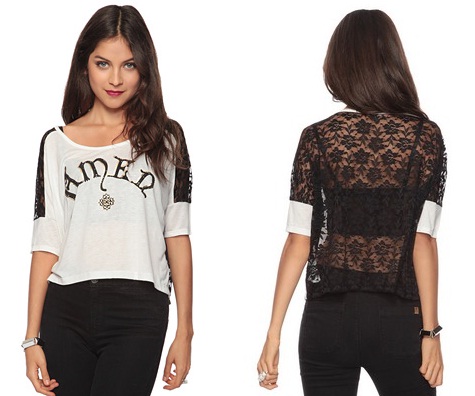 The family-owned retailer's religious leanings have been well documented and I have taken issue with their scripture on shirts and messages sent personally from God via burnout tee, but this fresh crop of tops jumped out at me because most of them were either styled with or sold right next to some of Forever 21′s skantiest club wear, on full display for anyone from club rats and good Christian girls to purchase and wear to the New Years parties.
Take a look at some of Forever 21′s most recent religious fashion offerings put into a little context.
Now, I know people say women can wear whatever they want. Yes, they can.
And just because you're dressed like a tarted up street walker on Saturday night and grind on a stranger's bulge to song lyrics that say "you's a sexy bitch" and "nothing you could compare to your neighborhood hoe" (keep in mind, he's trying to be respectful here), doesn't mean you can't come into church on Sunday morning and sing with the choir about the goodness of the Lord. You can do that, yes.
You can say you follow the holy tenants of the good book and say you abide by its rules and say you have Christ in your heart while you peddle sequin crop tops sold in photos by barely legal looking models. You can say you do all those things. But saying it and not living it also makes you a hypocrite. And saying it and making a hefty profit from it, makes you something worse.
What do YOU think? Is it okay to sell sex and religion in the same place? Let us know in the comments.
For more WTF from Forever 21, visit WTForever21.com.
SUBSCRIBE TO & FOLLOW LIFESTYLE
We're basically your best friend… with better taste. Learn more