My life contained everything I'd ever wished for -- a loving husband, two beautiful children, a healthy mind and body, and a safe and comfortable home.
Given such desirable circumstances, one would have thought I'd wake up every morning feeling grateful, happy, and content.
But that was not the case.
I woke up feeling the same way I did when I went to bed the night before -- unhappy, annoyed, and irritable.
Mentally, I could acknowledge my life's abundant blessings, but I didn't really see them or feel them because I was too focused on my life's abundant distractions. Too many commitments. Too many screens. Too many self-induced pressures to be all and do all. Too many unachievable standards. Too many to-do's and never enough time.
And when you're overbooked, hurried, and clinging to the electronic device, there's very little time to laugh, rest, play, and simply BE. And that's when the smile on your face tends to disappear.
Although I managed to plaster on a smile in public, my face wore a frown in the privacy of my home. You see, when you are living a highly distracted life, nothing -- not even the beautiful faces of your loving family -- can bring you joy.
The truth hurts but the truth heals... and brings me closer to the parent and person I want to be.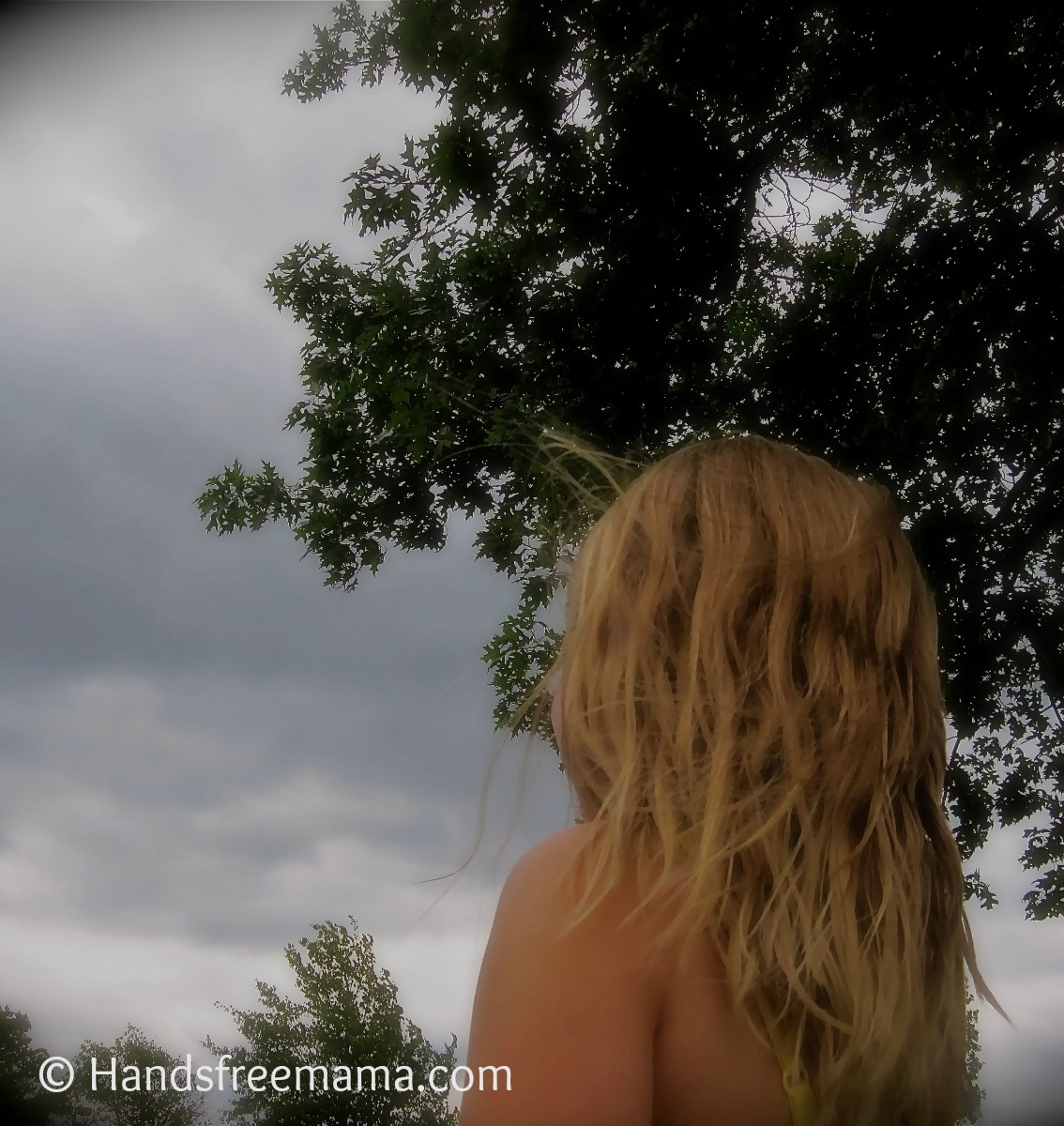 My outward discontent seemed to peak when it was time to leave the house. My children, then ages 4 and 7, knew I got a little crazy when I was trying to get everyone ready and out the door. My older daughter tried to help any way she could. Of course, her attempts to help made it take longer and were never good enough. I didn't try to hide my exasperation or annoyance.
I vividly remember getting in the car after one stressful departure. I glanced in the rearview mirror and saw my daughter picking her top lip nervously. As she pinched that tiny piece of fragile skin on her upper lip with wide eyes, I swear I could read her mind:
Mommy's mad.
Mommy's tired.
Mommy's stressed.
But there was more. I could practically hear how a young child would interpret her mother's unhappiness.
Mommy's mad at me.
Mommy's tired because of me.
Mommy's stressed because of something I did.
My older daughter's lip picking became the new routine when we got in the car to go anywhere. And much to my dismay, the habit slowly moved to other areas of her life. I attributed it to school worries, being shy, her daddy's work travels, and sibling jealousy. I read everything I could about this harmful behavior while hoping it was just a phase that would soon pass. But the lip picking didn't stop. At times, the tender skin on her upper lip would even bleed.
Around the time I felt we should seek medical attention for this problem, a light was shed on the issue -- a light that was more like a beacon of truth from which I could not hide.
In an especially chaotic rush out the door to go on a family vacation, I sat in the passenger seat fuming. Mad because I didn't have time to put the dishes in the dishwasher. Mad because we were late getting on the road. Mad because the garage door was acting up. I am talking trivial, insignificant, minor inconveniences here, but that was the state of a distracted woman who could no longer see the blessings, only the inconveniences, of her life.
And before we were about to pull out of the driveway, my husband looked at me as if someone he loved very much had died. In a barely audible whisper he said, "You're never happy anymore."
I wanted to defend.
I wanted to excuse.
I wanted to deny.
But I couldn't.
Because I knew he was right.
Where had that happy woman gone? The one who smiled at people she passed on the street just because. The one whose friends often spoke of her positive outlook on life. The one who felt happy simply because she heard her favorite song or had a pack of strawberry Twizzlers in her purse. The one who could laugh off mistakes because mistakes happen, and they are certainly not the end of the world.
Where had she gone?
And that's when I glanced to the backseat to see if my children had heard my husband's words. Staring back at me was my daughter picking her lip with worry the size of a small boulder weighing down her small shoulders.
And that's when an even more powerful question hit me.
Where had my happy little girl gone? The one who woke up with the most gorgeous bed head and good morning smile. The one who beamed at the words "sprinkler," "cotton candy," and "pet store." The one who laughed so hard tears came to her eyes. The one who licked beaters with sheer pleasure and danced happily to any song with a beat.
Where had she gone?
I knew.
I knew.
While choosing to make my own blessed life miserable, I had funneled my unhappiness straight into my daughter's once joyful heart and spirit. Her pain was a direct reflection of the expression I wore on my face.
This difficult truth was one of several powerful admissions that led to my Hands Free breakdown-breakthrough. I wasn't sure how, but I was determined to bring a smile back to my daughter's face; I knew I must bring it back to my own.
I began with one small step: looking for what was going right, instead of what was going wrong. I called it: Seeing the flowers instead of the weeds.
Yes, there was a messy room (weeds), but it was because my children had played quietly and cooperatively with each other (flowers).
Yes, her shoes were splattered with mud (weeds), but the joy on her face as she splashed in puddles was unforgettable (flowers).
Yes, she was out of bed again (weeds), but it was to give me one more goodnight kiss (flowers).
Yes, she had gotten out every pair of shorts she owned (weeds), but she'd dressed herself independently (flowers).
When I started looking for "flowers" instead of "weeds" in our daily life, the positives became more obvious, and I quickly gained a new perspective. I realized much of what aggravated me was trivial. Much of what was supposedly "ruined" were things that could be fixed or cleaned up. What mattered -- that we were safe, healthy, and alive -- were thoughts that began to overpower the negatives.
My eager-to-please, helpful older child looked different too. I saw her for who she was, not an annoyance or a bother, but a loving child with clever thoughts and ideas. For once, I could see all the things she was capable of doing -- not perfectly, but good enough for today. The tightness in my face relaxed and the smiles came more easily for both of us.
And now here I am three years into my Hands Free journey. Like any normal human being, I have moments of frustration, sadness, anger, and overwhelm... but these feelings are temporary, they are no longer the norm. I don't smile every minute of the day, but I smile a lot.
My older daughter is not so little anymore. One of her favorite activities is giving me a makeover. I sit crossed-legged in front of her and as she gently applies blush to my face, my daughter's perfectly plump lip is in my direct line of vision.
She doesn't remember picking her lip. That habit died soon after my new life perspective was born. But I won't forget. In fact, I don't want to forget the cost of distraction. It can pick your life apart until it bleeds you dry. And it can take the ones you love with you in the process.
But by letting go of the distractions that take your focus off what really matters, you begin to see clearly. You begin to see flowers instead of weeds.
By making it a daily practice to notice all that is good in your life, the joy in your heart has the tendency to overflow. And when it does, you are able to funnel that excess love and happiness straight into the hearts of those you most want to see smile.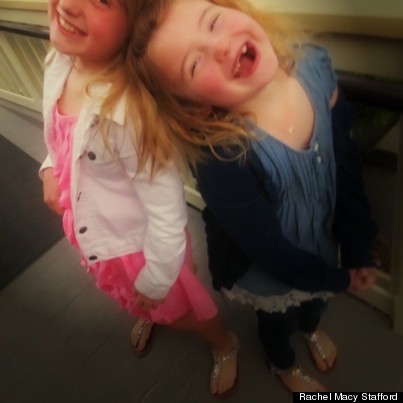 Rachel Macy Stafford's book, Hands Free Mama: A Guide to Putting Down the Phone, Burning the To-Do List, and Letting Go of Perfection to Grasp What Really Matters! is scheduled for release January 2014 and is currently available for pre-order.
Also on HuffPost:
You deserve a breakfast that doesn't come shrink-wrapped every now and again, and cooking it yourself will make it all the more scrumptious. (Get some eggcellent inspiration, here.)

...when it isn't her birthday. Make a list of all the reasons she earns the title of BFF: She'll feel appreciated and grateful to have you in her life, and writing it will remind you how lucky you are to have her, too.

Lace up your sneaks, leash up your love and GO. No matter how you decide to move, choose to leave your cell at home -- grant yourself this time to be present with your own thoughts, and not the thoughts of the Twittersphere.

You'll wake up refreshed and ready to tackle any problem that seemed impossible pre-snooze. (Want to take a nap at work? We're all for it! Find some tips, here.)

Google Maps has saved your life again and again, but it's dulled the wonders of wandering. Why not take a break from knowing where you're going and instead explore the undiscovered?

For a lot of us, our A.M. cup of coffee blends into the frantic "routine" of getting to work on time. Consider setting your alarm 10 minutes earlier to enjoy every aspect of your delicious morning ritual. (Some tips to turn your morning cup of coffee into a meditation -- it works for tea, too!)

Maybe you don't have time to unplug today. Fine. What about five minutes to sit? Good. Get yourself in this postion -- Viparita Karani, or Legs Up the Wall -- for just five minutes and feel the stress of the day evaporate.

Remember when Art was your favorite subject in school? Relive that release of creativity. (Sampling the Elmer's Glue is not encouraged.)

Try crafting a meal from your roots, whether it's from a page of your Grandma's passed-down recipe book or the extravagant birthday dinner your dad used to cook you as a kid. One rule: No looking up the steps online!

Preferably one with pages that you turn, not tap.

Dust off those boxes of fourth grade genius: No one could compete with your report on Ulysses S. Grant (or so said your No. 1 fan: Mom). Revel in that fantastic feeling of nostalgia -- you are sure to find some gems!

It won't be long until waterproof phones become the norm. For now, light a candle and take a nice, long tech-free soak -- you'll emerge relaxed and peaceful.

Talk about appreciating the present moment: Those ducks won't ignore you for their Instagram feed. You'll get their full attention in exchange for a little bread.

Pick a space in your home and get organized. Doing a bit of a home-cleanse will help you feel less chaotic on the inside.

Whip out a pen and start scribbling -- you might be surprised to see all that's on your mind, without the interruptions and distractions from your external gadgets.

Pick a crowded part of town and observe: People are always up to curious things that you won't notice unless your head's up!

Gather your gang for a night of culinary joy -- everyone should bring a dish, but leave their cells behind.

Spend some time doing something good for someone else -- you'll reap the many benefits of altruism, and maybe even dig up a new hobby.

Just because they recently swapped the iconic iron piece for a cat doesn't mean your favorite classics aren't worth a revisit.
Follow Rachel Macy Stafford on Twitter: www.twitter.com/handsfreemama