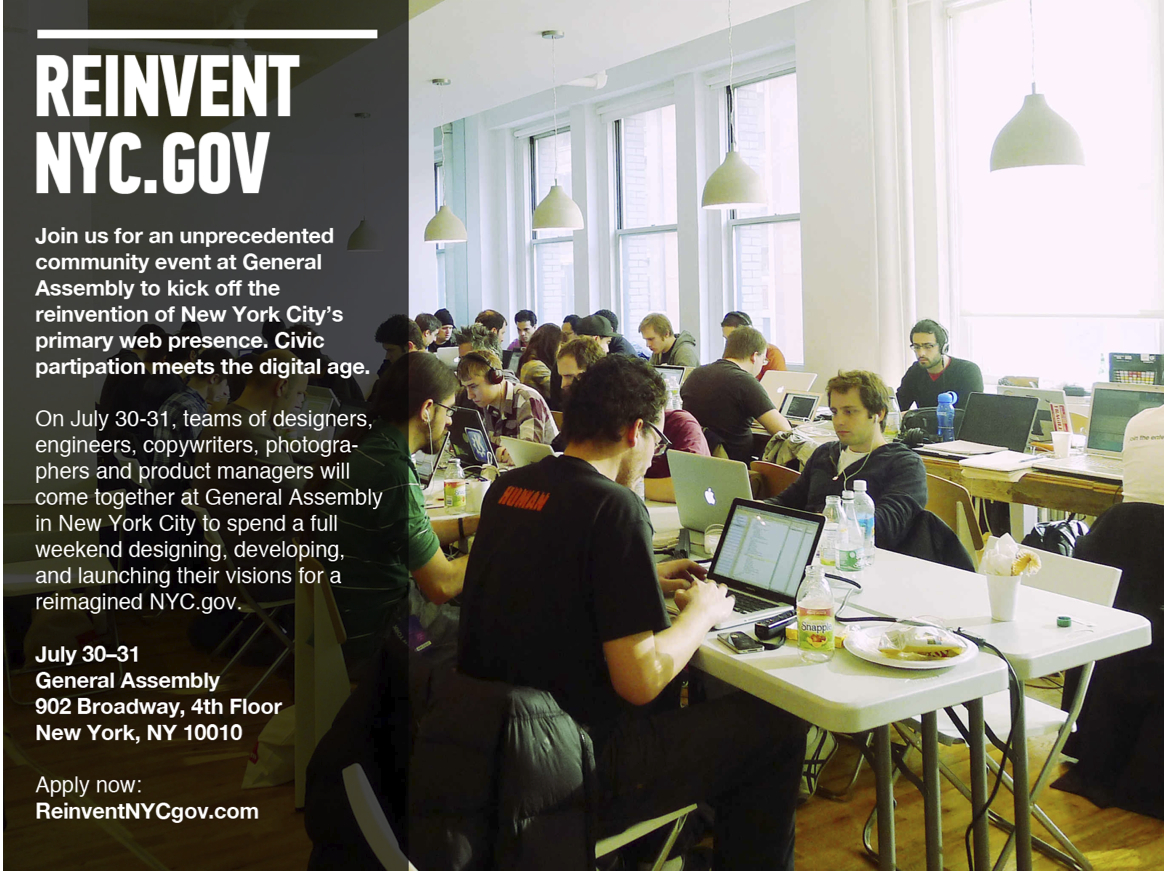 Today is the last day to sign up for Reinvent NYC.GOV, the City's first-ever hackathon. Civic-minded designers and developers who want to help improve NYC government are encouraged to apply here: http://reinventnycgov.com.
Why have we decided to invite the best and brightest of NYC's tech community to help us improve NYC.gov? Here's the backstory:
Some New Yorkers praised the scope of information offered and ability to pay bills and look up records online. Others suggested we had room for improvement. Comments included: "nyc.gov is a little hard to navigate/search," "nyc.gov could use a refresh," "nyc.gov is just too unwieldy," and, "while I used to get most of my information from the nyc.gov website, these days I get most from Twitter and Facebook accounts of various agencies." The refrain was clear: we have an opportunity to make nyc.gov more cohesive, user-centric and navigable, while integrating it with different communication channels such as social media.
1. It will bridge sectors, and connect the government and technology communities around a shared challenge.
2. It will encourage collaborative problem-solving and a more open government, by inviting developers to share their ideas for improving a major digital "public space" - nyc.gov has almost as many visitors each year as Central Park and should be similarly cared for.
3. It will create a mechanism for the public to share feedback and ideas for a website that exists to serve them.
4. It can serve as a model for other governments, helping to effect national and international change.
5. It will introduce creative and innovative concepts that could help to evolve nyc.gov to be more efficient and effective in serving and empowering New Yorkers.
6. It will provide both individuals and teams with face-to-face access to City decision makers.
7. It creates a precedent and platform for evolving government through open innovation and participation.
8. It will serve as the first step in a transparent design process. We want to gather as much input as possible and we need to move quickly to achieve our goals.
9. It helps remove subjectivity from the design process, by showing clearly what the public wants and needs.
What are your ideas for the future of NYC.gov? Tell us in the comments below or tweet using hashtag #reinventnycgov.

FOLLOW HUFFPOST