The one-of-a-kind Naeem Khan gown Michelle Obama donned for the state dinner stole the spotlight initially, but it was her show-stopping earrings that stole our hearts. The first lady borrowed the rose cut, amber, and tourmaline pear shaped earrings from Bochic, brainchild of New York-based David Aaron Joseph and Miriam Salat. To us, the decision to go sans necklace and wear these earrings seemed like the natural choice - how else was she to showcase those enviable arms and shoulders she works so hard on?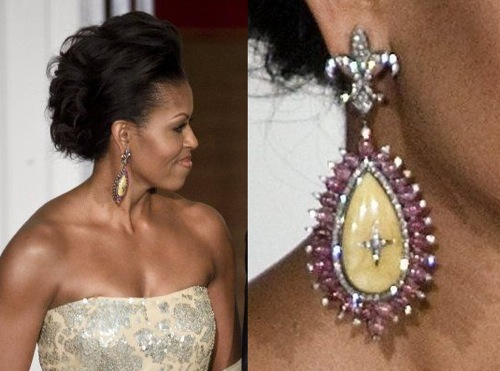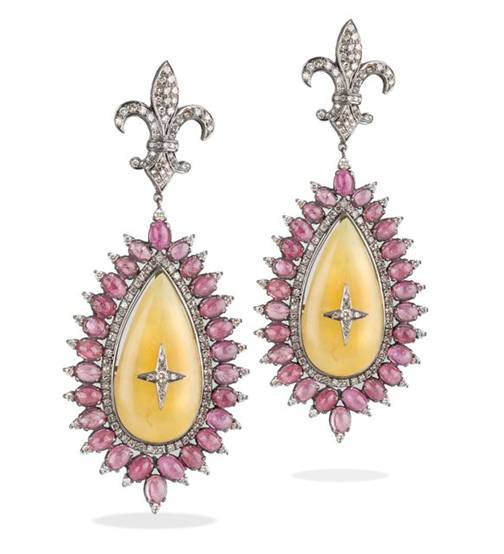 Never heard of Bochic? Well, just look to the wrists, ears, and necks of leading ladies such as Eva Mendes, Halle Berry, Angelina Jolie, Hilary Swank, and Sandra Bullock. From Cannes to Hollywood, these are just some of the high profile clientele that frequent the red carpet in in baubles designed by Joseph and Salat.
"We were very happy and honored that the first lady wore our earrings," said an elated Joseph, "She was styled very appropriately and the dress was fantastic. Her stylist did an incredible job on her -- from the hair, to the bangles, to the jewelry. She looked radiant and beautiful and it was right for the occasion."
Joseph and Salat both had backgrounds in the industry before the launch of Bochic in 2004. Salat was a former engineer who turned to jewelry-making to pay her way through grad school, selling her hand-made pieces on the streets of Soho. Her talent didn't go unnoticed, as her collection was soon picked up by department stores such as Barneys New York, Neiman Marcus, and Saks Fifth Avenue. Enter the British-born Joseph, whose family jewelry manufacturing business in London's Hudson Gardens made him very familiar with the traditional way of making fine jewelry. He also owned a gallery in Soho until 2001 where he both represented designers of fine jewelry and dabbled in design himself. The duo joined forces and haven't looked back since.
According to Joseph, the inspiration for the line was born while on vacation with Salat several years ago. "Bochic is the spirit of the bohemian chic woman -- it's the woman who travels to a lot of destinations, and it's someone who has an adventurous spirit. It's the jewelry she might find at the places she travels to or that she wears while traveling. She's not going to put in a safe -- she's going to wear it. It's all fine jewelry but it has more of a fashion element."
"I like the fact that Michelle Obama can be very down-to-earth and wear J.Crew. She's very natural and casual, and then when she needs to dress up she's very, very glamorous. The fact that she can do both also embodies what we're trying to say in our brand," Joseph continued, "The fact that someone can be natural and down-to-earth, but if she needs to dress up, she can. That's the idea behind Bochic."
SUBSCRIBE TO & FOLLOW LIFESTYLE
HuffPost Lifestyle is a daily newsletter that will make you happier and healthier — one email at a time. Learn more