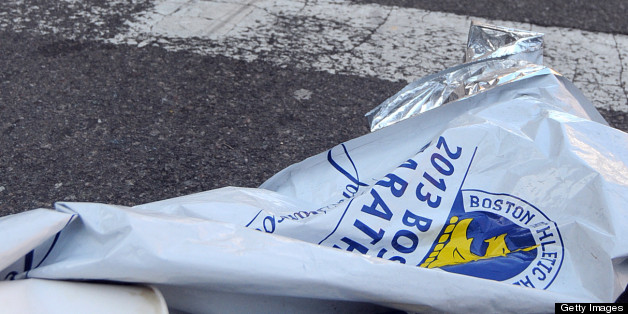 This is one of those nights when it's tough to get to sleep. I'm lying awake, going over and over again in my head about what happened at the Boston Marathon. My heart is racing; my adrenaline is through the roof. I try to make some sense of so many memories, so many moments, so much anguish, and, above all, so much relief. A thousand images pass through my brain, like still shots from a movie I never thought I'd experience in real life: police sirens, helicopter propellers, ambulances, horror... Mostly, the image that keeps repeating itself is the horror.
Human beings have an immense ability to transmit powerful emotions with just one look. The looks I saw this morning show uncertainty, panic, grief. Eyes that cut through you like knives, laying bare all the day's apprehension and worry. I suppose I must have worn the same look.
Until 2:50 p.m. the morning was a festive one for Massachusetts. There, on the third Monday of April, the state commemorates Patriot's Day, and the Boston Marathon is the icing on the cake of those celebrations. I recall people shouting excitedly for all of the 26.2 miles that separate the small town of Hopkinton, Mass., from Boston, Wellesley College girls asking runners for a kiss, and Harvard alums, following a century of race tradition, congregating just outside Boston's borders, welcoming marathoners to the city.
But all of those memories now lie buried beneath something that we'll remember for the rest of our lives. 2:50 p.m. on April 15th, 2013. At that moment my quadriceps were burning from their exertions and I was lamenting that today wasn't going to be my day -- I wasn't going to meet the time I'd set for myself. My thoughts were interrupted by a dry, metallic sound. Immediately afterwards, another one. Chaos followed. And people's faces: those looks of panic, of fear....
You don't know what to do or where to go. You wonder what happened. Information begins to dribble in, and the first news isn't at all encouraging: two explosive devices went off by the finish line. The finish line, where my wife is waiting to give me the kiss that I have received as my prize in each of the nine marathons I've completed. I wasn't going to get that kiss, nor the medal that recognizes us as finishers. But who cares about a damned medal! What I wanted was to find a phone to be able to get in touch with Nuria, to know that she was okay, to call my family and tell them that it had all been just a scare.
But my belongings (including my cell phone) were in a backpack just after the finish line in a cordoned-off area that I couldn't access. It was impossible to get in touch with Nuria. So you begin to walk in circles, to wander around without knowing where to go or what to do. You and thousands of other runners in the same situation. You try to look for solutions, but you don' t find them. You've been left without any resources, and you curse yourself for it.
Nuria and I are both searching for each other. Fortunately, in a jolt of good luck, we find ourselves with different groups of Spaniards that lead us to the same place: a downtown hotel that's serving as a meeting point for runners. There we find each other and hug.
Minutes before, while I was walking aimlessly, a runner had lamented that the race had been canceled, that he had been so close to the finish line and to hanging that medal around his neck. That damned medal. I don't want it. What I want is for all this to be over, so I can wake up from this terrible dream.