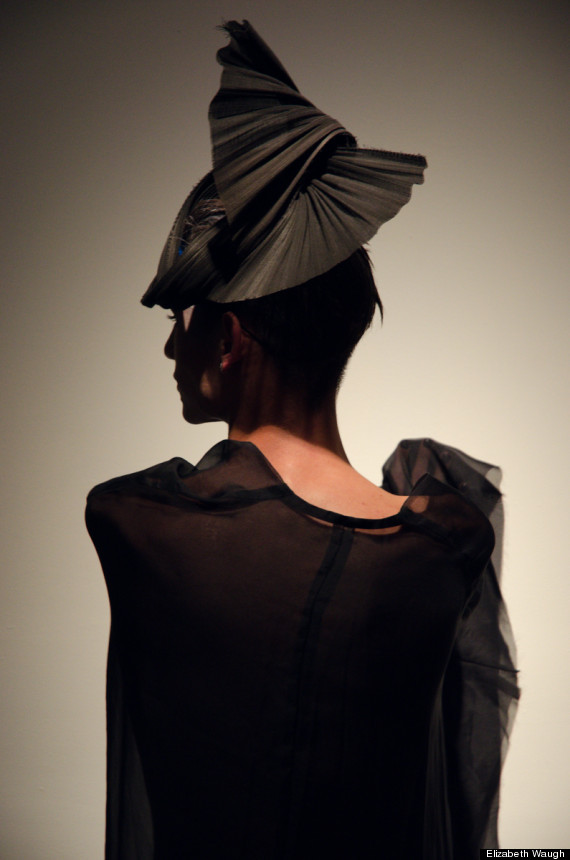 Fashion is art. Fashion is an outward expression of those fantastical ideas conjured up inside of each of us. Often we stifle the expression of our imagination because of societal norms. What's expected? What's accepted? What will resonate?
When asked to assist as part of the styling team to coordinate and create for the Beautiful Savage x Reverse Storefront Blend installation I jumped at the chance. Mainly because I understood the type of creative freedom that would come along with styling the installation. I am very careful to state that this was a fashion installation not your typical fashion show. Sure there were models, they walked and displayed each piece. But the pieces they wore were truly pieces of art. As a stylist, a writer, conceptualizer and all around creative I am constantly looking for opportunities to push boundaries, those set by others as well as myself. Blend gave me an outlet and an opportunity to do just that. The team of stylists, designers and artists worked in conjunction to awaken something different in every person that came in contact with the fashion installation.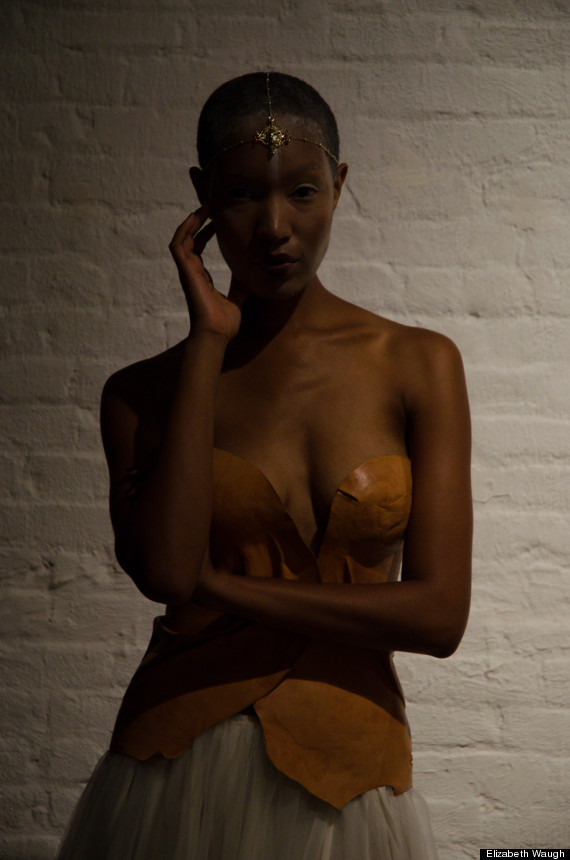 Each piece from the garment down to the accessories and the decision to have them walk with bare painted feet was a carefully thought out execution of a grander vision. Bridging the gap between art and fashion was truly the goal. When guests arrived the idea was that they were to experience not just act as onlookers. Each look hand picked by the team was executed in such a way that it conjured up emotions within the attendees. Whether those emotions be inspiration, awe, confusion or have a jarring affect on their thinking norms. Production was key in this. The way in which each model displayed the pieces on platforms against the walls creating the illusion of hanging art pieces. The aim was to give each attendee the opportunity to experience each piece at their own pace and make each person feel rather than just be.
A large part of executing the vision was due to the slew of independent designers chosen to participate in the show. Alex Kout NY, who created dark pieces with free flowing shapes that cover the body in a mysterious yet flattering way. Jie-Euen Choi whose pieces were architectural, which served as a structured extreme to Alex Kout's pieces. Eleen Halvorsen, who provided pieces that were knitted works of art. Her garments interjected this notion of beauty and romanticism in something that looked raw and unfinished yet was not. Hannah Goff whose play on geometric shapes and the use of non-traditional plastics and patterns added a futuristic yet playful feel to the installation. The accessory designers such as Jasmine Zorolu, Heidi Lee and Jade Chiu allowed us to polish off each look with an accessory befitting the feel of that install.
From the careful choice in production and flow, selection of independent designers, makeup/hair/styling teams to execute the vision, Blend truly became an experience that blurred the intersection between fashion, design and art.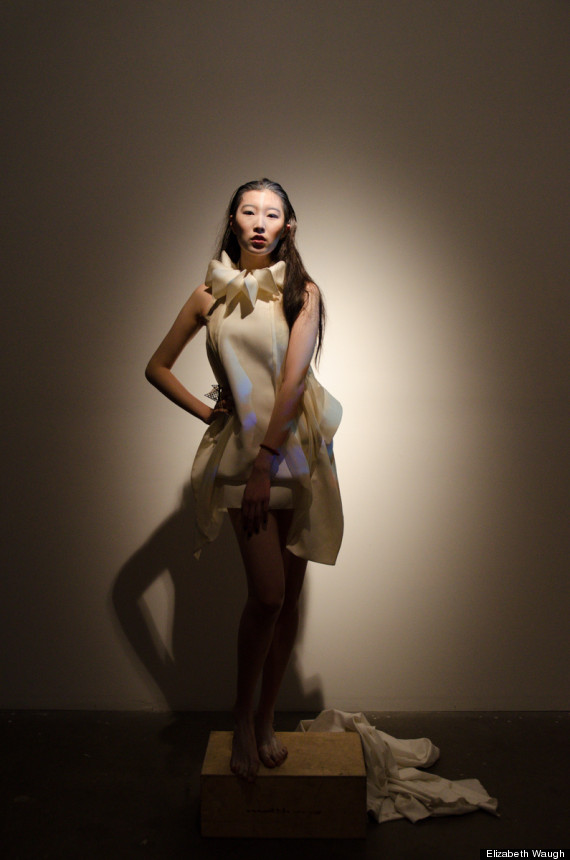 Photo Credit: Elizabeth Waugh
Participating designers included: Aleksandra Kolanko, Alex Kout, Eleen Halvorsen, Heidi Lee, Jade Chiu, Jedda Khan,Jie-Euen Choi, Hannah Goff
Visuals by: Naomi Meijia Wang.
Makeup by: Logan Slaughter, lead; Fiona Wills, 2nd lead; Amanda Dorfman; Jennie Dock; Elvira Gonzalez; Michelle Elizabeth; Virna Smiraldi; Lisa Barrios
Hair by: Fiona Wills, lead; Alyssa Gammo, lead; Kristin Talavera, lead; Elvira Gonzalez; Ashley Kiviat; Virna Smiraldi
Styling Team:
Lead: Rowshana Jackson
Assist: Rai Monique