In the mid-80s, I was in a band called the Congo Eels. We called ourselves a "garage-soul" band and had a record out on the Jim's Records label (owned by Jim Spitznagel, who ran Pittsburgh's finest record store, Jim's Records). Our record was getting played every Friday night on the Pittsburgh station WYEP which, at the time, was still a low-wattage community-supported entity. Concrete Window (Eric Tolchin), who was a friend of the band's and a close friend of Spitznagel, had a weekly show that would feature much of the better indie music of the day, as well as great classic picks.
We (the band) lived in Butler, Penn., which was 30 miles north of Pittsburgh, and it was often a struggle to pull in WYEP's signal, even on the clearest of summer nights. It became obvious that, in order to accomplish the youthful dream of hearing one's songs coming over the airwaves, we'd have to find a spot that was high enough to eliminate as many atmospheric barriers as possible between WYEP's little antenna and our waiting auto receivers.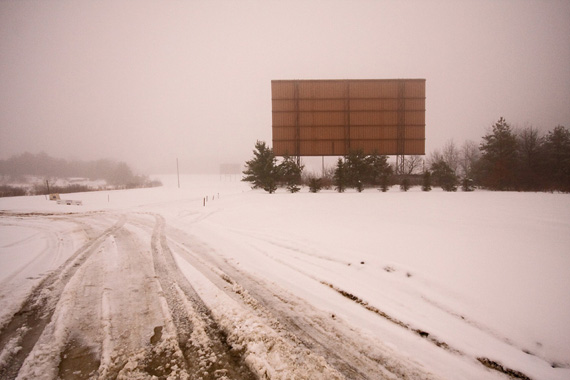 Pioneer Drive-in, Butler, PA
That spot was the Hilltop Drive-in.
The Hilltop Drive-in was located on, well, a hill. It was an older drive-in that had gone exclusively XXX sometime in the '70s, and while it's true that it served up a cinematic diet of strict porn, the experience was not without its charms. All summer long, cars would line up on weekends, waiting for the gates to open. Individuals, couples and groups would pull up with their coolers, lawn chairs and God knows what else (grain liquor? firearms? Ted Nugent 8-Tracks?), anxious to get on with the night's proceedings. During the intermission, the Hilltop would run well-worn, age-old concession stand cartoon shorts that only added to the sometimes surreal atmosphere of the place. During the intermission, it was always a bit of a gas to see who you'd catch in the concession area or sharing the restroom.
Oh, and I still have a clear-as-yesterday memory of a mustached woman selling me a hot dog.

Regardless of what this sounds like, I wasn't a complete teenage deviant. My weeks weren't planned around porn drive-in excursions. Aside from a few forays with my buddies and a couple of adventurous dates (whom I would hope would be overcome by hearing my voice growl out romantic garage anthems like "She's Death," "Laugh At Your Face" or "Wide-Open Heart"), it was a mission to hear the music, my band's music.
The Hilltop Drive-in ceased operations sometime in the late '80s, but the screen is still there, having gone dark over two decades ago. The remains of the old concession stand are still there, too, though heavily tagged and coming apart at the seams. It could possibly be from strip mining, but the whole area seems to be withdrawing into the earth.
There are those who would probably say it's a well-earned fate.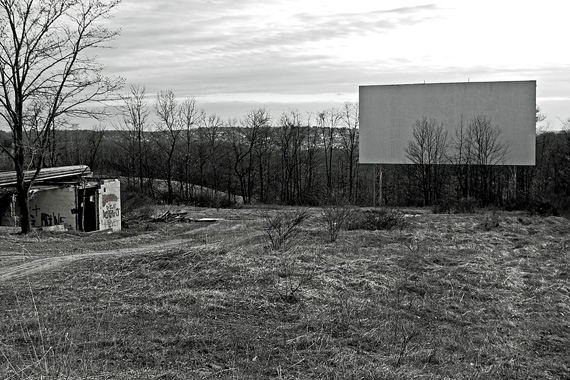 The remains of the Hilltop Drive-in, Butler, PA
The Search for Rust Belt Drive-ins
Some of the old Rust Belt drive-ins have survived and a few have even prospered, but most have long given way to Wal-Marts, airports, shopping centers and the like. When making photographic journeys throughout the region, I always try to research where one might be found. Ninety percent of the time, the structure has been erased, but occasionally, I'll luck into one.
I even occasionally run into one of the older large concrete screen complexes, which used to actually have offices and store rooms built into the screen itself. These days, it's not uncommon to find that those rooms have been converted into makeshift living quarters. Another semi-regular predicament is getting onto the property to shoot, only to see an old trailer clandestinely parked on the long-abandoned drive-in grounds. Sometimes, as I'm getting screamed at or barked at, I'll try to snap off a few photos.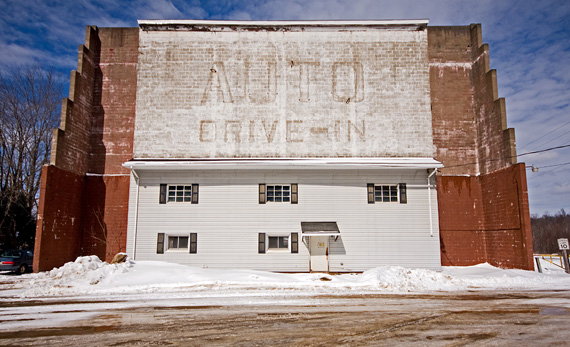 Auto Drive-in, near Titusville, PA
Sometimes, the old speaker stands are still present, standing like graveyard monuments to the now nearly ancient youth-rite of going to the drive-in. The sight of rusting swing sets is always rather poignant. I was a young child in the late '60s and early '70s, so I was able to ride the late wave of drive-in popularity in the Rust Belt.
I easily remember seeing all of those kids playing in front of the seemingly massive screen (I guess I was more into absorbing the vibe, rather than partaking); changing into my PJs; and then falling asleep in the back seat of my father's '71 brown Chevy Caprice, while Don Knotts and the rest of the Apple Dumpling Gang played out on the screen.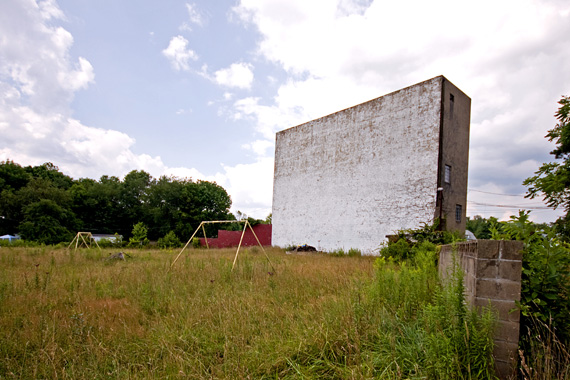 The Larkfield Drive-in, Grove City, PA
Soundtrack for the week's photo travels
SUBSCRIBE TO & FOLLOW LIFESTYLE
HuffPost Lifestyle is a daily newsletter that will make you happier and healthier — one email at a time. Learn more