Last week, I returned to Southwest Florida for the screening of my documentary film, Dreams for Sale: Lehigh Acres & the Florida Foreclosure Crisis, as part of the lineup at the inaugural 2011 Fort Myers Film Festival.
The trip was one of mixed emotions. While I was elated to present the film in the area I had originally visited for principal shooting almost 2 years ago, the sobering reality of Lee County's dismal improvement from the 2006-2008 nadir of the foreclosure crisis tempered my excitement.
Lee County, with its numerous sprawling, foreclosure-ridden suburban communities, has been at the unfortunate center of attention ever since the housing boom came to a screeching halt partway through 2006. The area has frequently earned the unwanted title of "foreclosure ground zero," and it is regularly thrown in with lists of other hard-hit economic fallout zones such as Las Vegas, Phoenix, parts of California, and the upper Midwest.
Back in 2009, when shooting Dreams for Sale, a few brave experts were suggesting that the bottom had already been reached and that recovery was just around the corner. And yet, two years later, the economic outlook in the hardest hit areas of the crisis remains grim. Although the national employment rate is beginning to tick upward, regional and local economies that were largely driven by construction and real estate (e.g. Lee County) will likely be last in line to see a measurable improvement. In the meantime, segments of these communities remain veritable ghost towns, with half-built homes and tattered foreclosure notices lining the grids of paved asphalt.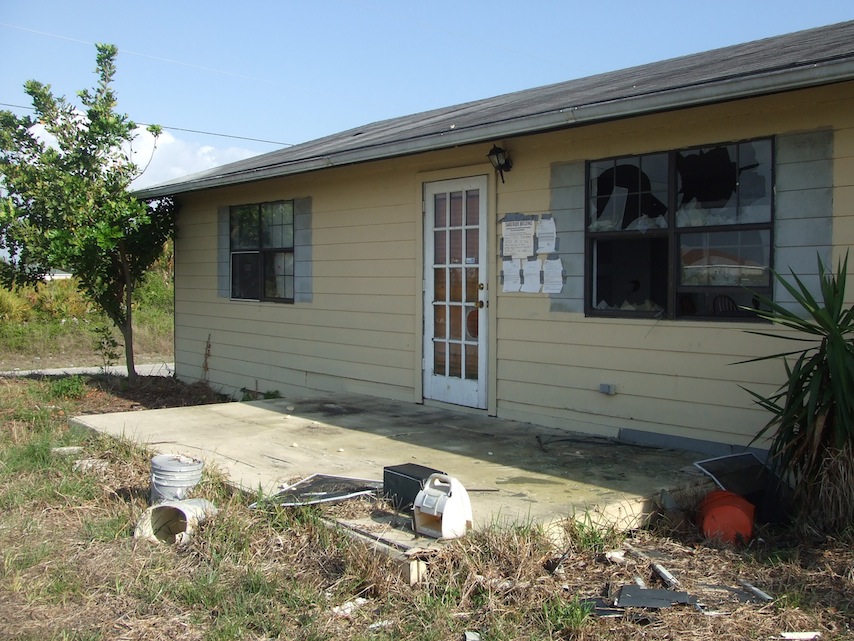 Recent statistics are hardly encouraging: nearly 1 in 3 homes in Lee County remain unoccupied, while home prices continue to sink to nearly pre-2000 levels. And although new foreclosure filings are markedly down from their 2008-2009 peak levels, the best reason experts can seem to give for the drop-off is merely that lenders have become more cautious in their filings due to criticism of their due diligence methods. Other experts still warn about a "shadow inventory" of millions of homes and commercial properties that are flirting with foreclosure and could trigger a colossal downward slide in values at any moment.
Individual stories of recovery, however, can be found amid the rubble of half-built homes and faded "For Sale" signs. At the screening, I met up with a woman who had recounted her heart-wrenching story on camera back in 2009: back then, she owed over $250,000 on her home and owed thousands more from a failed coffee shop venture. In two years, she finally managed to move out of Lehigh, obtain a well-paying government job and begin to pay down her debts. Other hopeful stories are undoubtedly out there, but the stagnant condition of the overall economy remains troubling.
One can only hope that the severity and breadth of the recent bust will give caution to future investors and force us to impose more responsible guidelines and regulations on our financial institutions.
Unfortunately, if history is any guide, this almost certainly will not be the case.
To watch Dreams for Sale in its entirety for a limited time, visit the official page and select the "Full Version" tab.
SUBSCRIBE TO & FOLLOW THE MORNING EMAIL
Start your workday the right way with the news that matters most. Learn more