Backyard Beekeeping: Tour de Hives (video)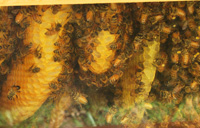 As awareness increases about where our food comes from, so comes the interest in growing food close to home. And this also includes providing a place for honeybees to make honey. A great way to learn is from others who have done the work themselves. Tour de Hives, a free event to those who participated, offered a chance to see working bee hives in a cluster of Portland, Oregon, neighborhoods, and to ask questions of their hosts to learn more about the bees, and urban beekeeping opportunities.
Originally posted on Cooking Up a Story.

Follow Rebecca Gerendasy on Twitter: www.twitter.com/cookingupastory