As The Week of Eating In hits hump day, I thought I would share an easy to prepare vegetable, one I've loved since the day I was first introduced to it: the artichoke. In this video, Michele Knaus shares some great tips how to prepare an artichoke for simple (and delightful) eating.
After steaming, just peel a leaf and lightly dip the meaty end in a side of melted butter with garlic or lemon and enjoy. Don't stop when you get to the heart - for that's the best part! And, if you're feeling adventurous, watch Michele make a favorite of hers: Artichoke Pesto. Either one celebrates this wonderful green globe!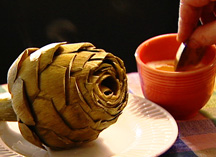 Originally posted on Cooking Up a Story.