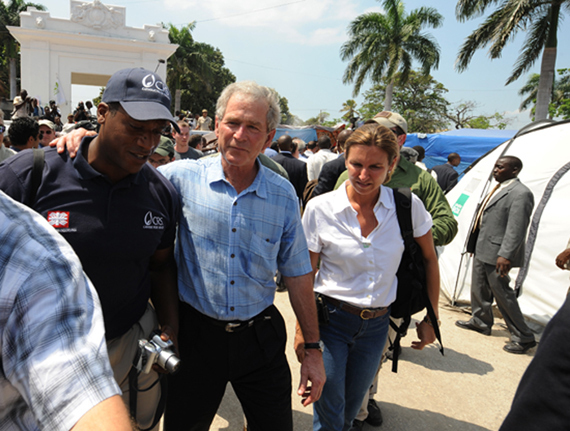 A Different Take On The George W. Bush's Hand Wipe
The video clip above appears to have been selectively slowed at the point that Bush touches Clinton's shoulder, making his gesture seem worse than it was.
On Jan. 12, 2010, a devastating earthquake left more than 230,000 Haitians dead and nearly a million homeless.

That very day, thousands of miles away, a legal drama was unfolding whose victims would be the same Haitian people. Despite the efforts of Swiss authorities, legal constraints prevented the return of stolen assets held by the family of Haiti's ex-dictator Jean-Claude "Baby Doc" Duvalier in Switzerland, money that could be used for recovery following the natural disaster.

Idaho Missionary Still In Haitian Jail As An Ex-Husband Seeks Sole Custody Of Their Children

From The Washington Post
Terry Silsby said he's concerned his ex-wife may continue the orphanage plans and take their children there.

"Statements made by my children also confirm that Laura plans to reside in the Dominican Republic. Both... have told me that Laura plans to take them with her to the Dominican Republic where she is going to set up residence," Terry Silsby said in the affidavit, The Idaho Statesman reported.
Haiti: 70 Days Later (PHOTOS)
Collected here are a handful of recent photographs from Haiti, a country still in need.
aHomeInHaiti:
FOLLOW HUFFPOST