In a typically sour grapes gesture, China has invented its own peace prize. The ceremony, held on December 9th, is a day ahead of the Nobel Peace Prize function honoring jailed Chinese dissident Liu Xiaobo.
It's called the Confucius Peace Prize, but it's actually the second such award created since the October 8th announcement of this year's Nobel Peace Prize winner that threw China's officialdom into hysteria. It seems China's philosophy is-if you can't beat them, copy them. Barely three weeks later, something called the World Harmony Award materialized as if by magic. The award group, the rather nebulous World Harmony Foundation, a private charity founded by a Chinese businessman, claim that the prize was intended to mark the 65th anniversary of the United Nations.
Sha Zukang, a Chinese national and the U.N. Undersecretary General for Economic and Social Affairs, (of the "I know you never liked me, Mr. Secretary-General. Well, I never liked you either," fame) traveled to China to personally to bestow the award-a glass plaque in the shape of a dove-on former Defense Minister and retired general, Chi Haotian, the man who supervised the Tiananmen Square massacre. With this kind of brazen behavior, it's little wonder that the UN's Human Rights High Commissioner, Navanethem Pillay, has declined to attend the award ceremony for Liu Xiaobo.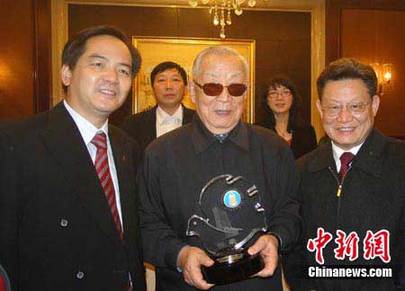 Tiananman general Chi Haotian holding his World Harmony award
presented by U.N. Undersecretary General for Economic and Social Affairs (on right)
Amnesty International estimates that more than 200 people have either been stopped from going abroad, detained, disappeared or been put under house arrest in China since the Nobel Committee announced Liu Xiaobo's win. The crackdown extends even as far as Inner Mongolia where rights groups report that police have detained the wife of Hada, one of China's longest-serving political prisoners. (Police also apparently promised Hada's son a job, a house and a "pretty girlfriend" if he agreed to disown his parents).
Among the disappeared are Ding Zilin and Jiang Peikun, founders of the Tiananmen Mothers group, which has appealed repeatedly for a public inquiry into the events of June 4th 1989. Ding and Jiang, whose 17-year-old son was killed in the massacre, are close friends of Liu Xiaobo and his wife, Liu Xia.
While Chi Haotian was rallying the troops that would end up murdering hundreds if not thousands of young men and women, Liu Xiaobo was calmly persuading students to leave the square. The death toll would undoubtedly have been far higher had he not been there.
While Liu Xiaobo's win has given the Nobel Peace Prize a new integrity (especially after the rather vacuous win by President Obama), when one thinks of Chi Haotian, "world harmony" are not words that immediately spring to mind. A speech attributed to him from 2005, applauds an online survey that reveals that 80 percent of those polled said they would fire on women and children. The speech also calls for biological warfare against the United States to secure "living space" for the burgeoning Chinese population. The source of the translated speech that Chi Haotian allegedly gave to China's top military brass cannot be confirmed, but analysts have noted that along with its Lex Luther rantings, Haotian's speech contains classic aspects of China's military strategy.
"Our military battle preparation appears to aim at Taiwan, but in fact is aimed at the United States, and the preparation is far beyond the scope of attacking aircraft carriers or satellites. Marxism pointed out that violence is the midwife for the birth of the new society. Therefore war is the midwife for the birth of China's century."
Not very world harmony-ish.
But for China's leaders, Haotian is harmony personified. Words like peace and harmony don't mean the same in China as they do in the West. In China, peace and harmony are synonymous with stability-keeping things exactly the way they are-and that's what Haotian effectively pulled off in the brutal crackdown of June 4th, when the heady spirit of regime toppling uprisings was crushed at the foot of the People's Monument.
Beijing interprets the Nobel Peace Prize's mandate, which talks about "fraternity between nations," as being about political stability, not about fighting for change. Liu was imprisoned because he wrote and publicized articles calling for a new and more open regime in China. In other words, because he was a threat to social stability.
It's not surprising that China's foreign ministry spokesperson described Liu Xiaobo's win as "a complete violation of the principles of the prize." In a statement that was clearly a retort to the Nobel Committee's choice, the awards committee announced that the Confucius Peace Prize had been created to "interpret the viewpoints of peace of [the] Chinese [people]," -- One thing is certain, their pick represents the viewpoint of the Chinese government.
China's peace prize choice, unsurprisingly, is no reformer, but a rabid fan of the status quo. And someone more different from Liu Xiaobo would be hard to find. Lien Chan is a former governor of Taiwan who served as China's Premier in the mid-90s. A staunch unionist, he is in lockstep with President Hu Jintao against the archipelago's independence. Chan tried to steal an election in 2000. After refusing to concede his loss, he claimed the results invalid and attempted to organize a recount, a move that caused violent riots in Taipei. The recount confirmed his loss. This is a guy who has a personal grumble with democracy.
Among the other nominees for the Confucius Peace Prize were Bill Gates, Nelson Mandela, and, bizarrely, Beijing's choice of Panchen Lama. In 1995, the Dalai Lama recognized a Tibetan boy as the 11th reincarnation of the Panchen Lama -- the second highest spiritual figure for Tibetans after the Dalai Lama himself -- but he was kidnapped by Chinese authorities at the age of six and hasn't been heard from since. China then picked and hand-raised it's own Panchen Lama. How he qualifies for a peace prize is unclear apart from being China's "public face of Buddhism" and presumably not swatting flies. He's only 20 years old and is rarely seen in public. But what he shares with Lien Chan and Chi Haotian is a loyalty to the present regime, having spoken out against the Tibetans who demonstrated in 2008, and given speeches on Buddhism and national unity.
So who else might be in the running as future recipients of China's World Harmony Award and the Confucius Peace Prize? How about Zhang Qingli, Party Secretary of the Tibet Autonomous Region? His contribution to peace and harmony includes overseeing the crackdown on Tibetan protesters in 2008 with indiscriminate shootings, beatings, torture, arbitrary detention and intimidation. Or maybe former Security Chief, Luo Gan, the mastermind of the "strike hard" campaigns, who protected peace and harmony by escalating executions and persecuting practitioners of the spiritual group, Falun Gong. Perhaps the award will go to Minister of Propaganda, Li Changchun, who keeps peace and harmony through information censorship and control, and who has been implicated in the Google hacking attacks.
With men like this to inspire us, can world peace be far behind?
POSTSCRIPT: The staff at Lien Chan's Taipei office have denied any knowledge of the Confucius Peace Prize. Without Chan's presence, the jury committee resorted to handing the award over to a 6-year-old girl on December 9 because "children symbolize peace and future".

SUBSCRIBE TO & FOLLOW WORLD POST