From selling T shirts to Indian food , stores along 53rd street in downtown Hyde Park show support for Presidential candidate, Barack Obama. Hyde Park, located on the South Side of Chicago is not far from Obama's home. Small shop owners share how they use their stores to support the candidate with OTB Photojournalist, Ali Ido.
Hyde Park Small Businesses for Obama
Sister Rose holds a button in her store at 53rd in Hyde Park. Photo by Ali Ido.

Sister Rose holds a t-shirt that she sells in her store in Hyde Park. Her store also sells African arts and crafts. Photo by Ali Ido.

Photo by Ali Ido.

An Arab American store owner supports Obama. Photo by Ali Ido.

Owners of Hyde Park restaurant, Rajun Cajun, support Obama. Photo by Ali Ido.

Rajun Cajun, a restaurant in Hyde Park, Chicago, supports Obama. Photo by Ali Ido.
Got photos from your local voting polls? Send them to us at campaigntrail AT huffintonpost.com. Resize your photos to 550 x 400 and provide captions.
For more Huffington Post coverage of the 2008 Presidential Campaign, go back to HuffPost's OffTheBus, check out Huff Post's Politics page, and our HuffPost bloggers' Twitter feed.
Sign up here to be an official OffTheBus Photojournalist.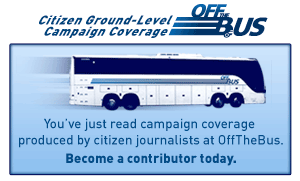 Follow Rebecca Shapiro on Twitter: www.twitter.com/rebeccashap