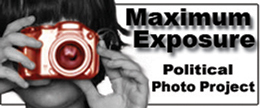 ---------------------------------------------------------------------------------------------------------------------------------------------
The 16th Street Mall located in the center of Denver has been a hub of activity during the Convention. Jacob M. Dahlke photographed the people of the area during the afternoon of Tuesday, August 26. Here he captures the protesters, street performers, chess players and passers-by that define the busiest street of the Convention and Denver.
View Slideshow Directory

Got photos or videos from Denver? Format images to 400 x 300 pixels and send them with captions to campaigntrail@huffingtonpost.com.

SUBSCRIBE AND FOLLOW
Get top stories and blog posts emailed to me each day. Newsletters may offer personalized content or advertisements.
Learn more