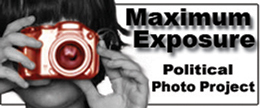 -----------------------------------------------------------------------------------------------------------------------------------------------
As Hurricane Gustav changes the tone and schedule of the Republican National Convention, St. Paul still welcomes the GOP and kicks off festivities on Monday, September 1. Maximum Exposure's Megan Baaske documents her arrival in St. Paul and attendance at a Johnson and Johnson sponsored event on Sunday, August 31.
Got photos or videos from St. Paul? Format images to 400 x 300 pixels and send them with captions to campaigntrail@huffingtonpost.com.
SUBSCRIBE AND FOLLOW
Get top stories and blog posts emailed to me each day. Newsletters may offer personalized content or advertisements.
Learn more