Redfin released a list of the "10 Best Neighborhoods to be Your Own Top Chef," which identified neighborhoods that are close to farmers markets and grocery stores, and that have a lot of homes for sale with cooking-friendly features such as gourmet kitchens. Here are five kitchens we're drooling over, each located in one of the neighborhoods that made the list.
North Center, Chicago


White kitchen cabinets are coming back in a major way, and this kitchen in North Center is a perfect example of how to pull off the look. The large island is painted a light gray color and is surrounded by black chairs, offering some contrast to the otherwise all-white color scheme. The gourmet stainless steel appliances are a must-have for any amateur chef, and the wine refrigerator is a nice touch. The custom drop-down lighting fixtures brighten up the room in a beautiful way.
Graduate Hospital, Philadelphia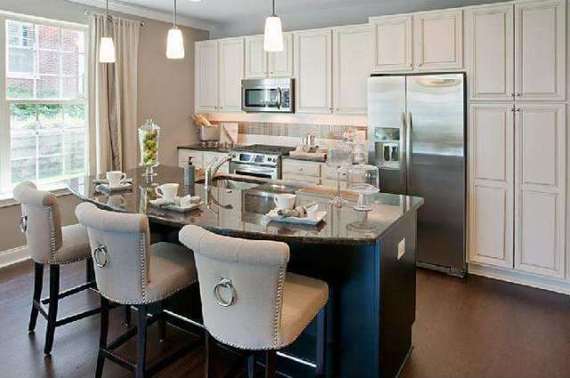 The kitchen in this Graduate Hospital-area condo blends neutral colors with a black island for a beautiful, cohesive look. The drop lighting and designer counter chairs give the room a luxurious, high-end feel. The off-white cabinets contrast beautifully with the hardwood floors and stainless steel appliances, while a jar of pears on the counter offers a pop of color.
Lakeridge/Kennydale, Renton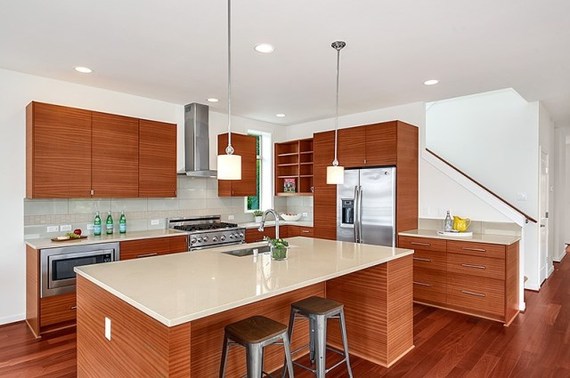 Proving that contemporary kitchens don't have to be all-white, this Lakeridge area home features wooden cabinets that blend beautifully with the home's hardwood floors. The metal bar stools at the counter match perfectly with the stainless steel appliances and fixtures. But perhaps the best thing about this kitchen is the amazing view of Lake Washington out the windows.
Downtown San Jose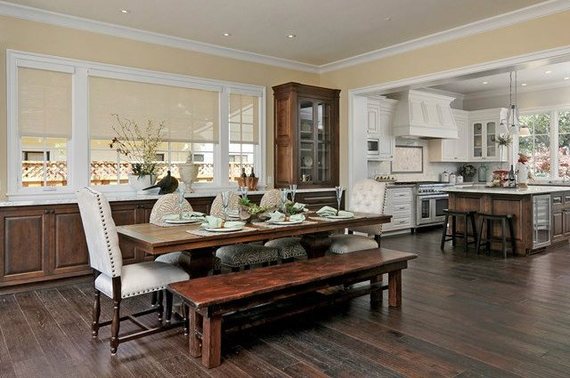 This beautiful home in downtown San Jose was built in 2014, but has the feel of 1920s-era construction. The rustic-chic dining area flows into the kitchen, which has a matching wood island and white cabinets that pair perfectly with the white crown molding. The cheery yellow paint is the perfect complement to the dark hickory floors.
Canton, Baltimore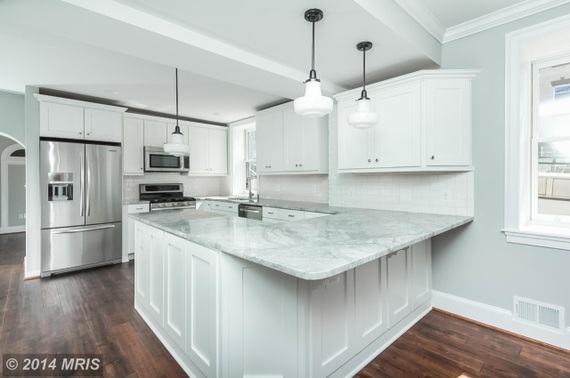 This Canton home was built in 1920, but has been recently renovated with an all-new kitchen. It's clear the homeowners took care to modernize the home while still retaining the 1920s character, with antique-looking lights, a subway tile backsplash and distressed hardwood floors. The light gray walls match perfectly with the marble countertops and white cabinets.