Eighteen-year-old Becky* dreams of being a model. She documents her progress toward achieving this goal on her Tumblr, where she routinely charts her measurements, posts pictures of her favorite runway stars, and experiments with different poses. Click through her blog and you'll see Becky glancing coyly over her shoulder in a low-cut tank-top, curtsying in a demure party dress, and looking straight at the camera in a bikini, hands on her hips.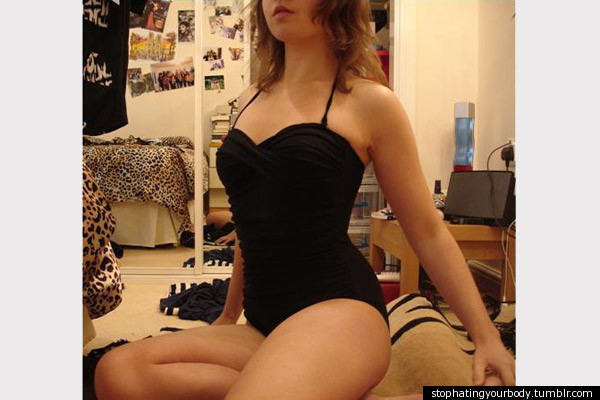 Like many teenage girls--about one out of every 100 in the U.S.--Becky has struggled with anorexia in the past. But now she's striving to love her body by gaining back the curves she once starved away--and she says she's able to keep going thanks to support from girls she's never met.
"It scares me sometimes but i think once I reach my goal i will be very confident in my curvy...dare i say SEXY body," Becky recently wrote on the Tumblr "Stop Hating Your Body." She included a photo of herself in a pin-up-style swimsuit that she thinks "really shows off my curves that I have (mainly thighs atm)," and opened up about her issues with anorexia, the disease that landed her in the hospital for seven months last year. "My goal now is actually to gain even more weight and get to a size 12, eventually applying to be a plus-size model," Becky wrote. "Love your curves, girls, and don't get rid of them...you may regret it! I know I do!"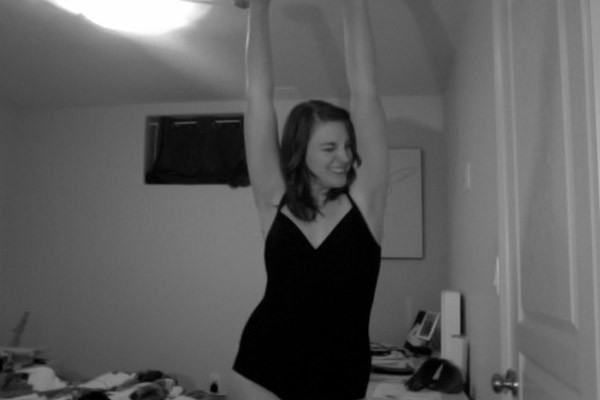 Image via Stop Hating Your Body.

Teenage girls have used social media to chronicle their struggles with body image since the dawn of the Internet, and the strength of the Web-based pro-anorexia movement--forums in which girls obsessed with being dangerously thin post photos of gaunt models, share slogans such as, "Size zero, or die trying," and swap tips on calorie restriction--has concerned health-care professionals for more than a decade. "On a fundamental level, anorexics are seeking friendship and support; and frightening as it may be, the [online] pro-anorexia movement gives that to them," wrote Janelle Brown in a 2001 Salon article titled, "The Winner Dies." Many girls still seek that sense of community through "Thinspo" (short for "thinspiration") blogs, still ever-present a decade later despite multiple attempts by advocacy groups and politicians to take them down.
But scores of body-positive websites with a radically different message have recently sprung up--some directly in response to "pro-ana" sites, others as a reaction to the pressure teenage girls feel to look a certain way from the media or their peers. Some focus on full-figured ladies, such as "Curve Appeal" and "Big and Better," while others, such as "Stop Hating Your Body," celebrate women of all sizes.
The blogs are carefully and lovingly moderated by their creators--usually young women themselves--who sift through hundreds of pictures and stories submitted by girls like Becky. Most pose for their photos half-naked in stockings and lingerie, in string-bikinis, or in no clothes at all. The words accompanying the images are just as uncensored; these young women are brutally honest about their struggles, motivated about the future, and overwhelmingly grateful for the online body-positive community. Every contributor on Stop Hating Your Body ends her post with the words, "BE BRAVE: JOIN THE REVOLUTION!"
"I always hated how I looked," a 16-year-old wearing white skinny jeans and a huge smile on her face divulged on Curve Appeal. "Everyone would say, 'If you were skinny you'd be beautiful'...I'm starting to accept that this is me and I have to deal with it. All girls around the world are going through this, you are not alone. I'm a size 12, for references!" Another, who submitted a photo of herself in a red bra and underwear along with her weight and measurements, wrote, "After four years of self-hate, suicide attempts and bulimia, I have slowly started to accept myself and each time I look at the lovely ladies here, I love myself just a teeny bit more."
The girls gush about the support they receive online--posts always garner at least a few dozen "reblogs," "likes," and comments. "Without all of my beautiful Tumblr friends, I would hardly be able to look at myself in the mirror in the same way I do," wrote a young woman on "Redefining Body Image" in a post that got almost 600 notes. Becky's bathing-suit post received more than 100 notes.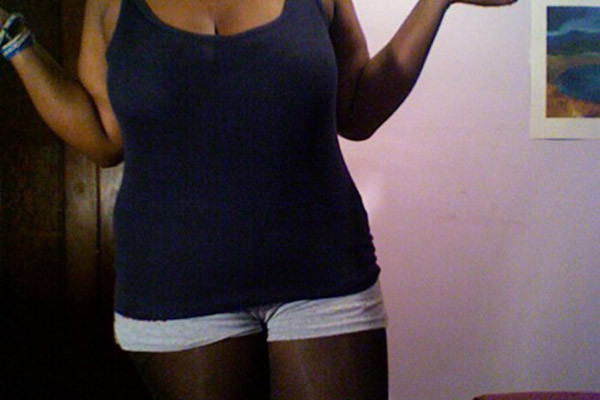 Stop Hating Your Body is one of the most popular and well-organized body-positive Tumblrs; it boasts an extensive FAQ, strict commenting rules (no "cruel remarks" allowed), and a T-shirt store. Twenty-year-old Annie Segarra started the blog in October 2010, after some body-positive content she posted on her personal blog unexpectedly went viral (a video of Segarra jumping around in her underwear "ranting about body acceptance" now has more than 100,000 views on YouTube). Segarra said Stop Hating Your Body now has more than 32,000 followers, and that she's been asked to speak about body-image issues at schools around the country.
Becky discovered the body-positive blogosphere by accident while searching for pro-ana sites during a rough patch after she was released from the hospital. She said the blogs inspired her to chronicle her own journey, and to encourage other girls to love their curves through becoming plus-size models. Her Tumblr, "Aspiring Plus Size Girl," currently has around 200 followers.
"The response I get [online] is such a boost," Becky said. "It really makes me want to continue on my journey, even when I am really struggling." Occasionally she receives hateful comments--someone will tell her she looked better skinny, or that she's not nearly curvy enough--but Becky said they don't bother her. She usually tells off the anonymous critics on her Tumblr, therefore receiving more words of support from nicer commenters.
But despite glowing reviews from Becky and her peers, heath-care experts are concerned that some body-positive websites send mixed messages to their constituency--particularly by allowing girls to post their specific measurements (which many do), or fixate on certain body parts.
"These websites represent a ground-flow of young women who want to find peace with their bodies, but the messages--'I love myself, but please accept me'--can be confusing," said Elizabeth Scott, psychotherapist and Co-Founder of The Body Positive, a national body-image program for women. "These girls want community, and they want to be told they're beautiful, which makes sense, but focusing on measurements or specific body types is troubling."
For the rest of the article, please visit Refinery29.
SUBSCRIBE TO & FOLLOW TRUMP'S FIRST 100 DAYS
How will Donald Trump's first 100 days impact YOU? Subscribe, choose the community that you most identify with or want to learn more about and we'll send you the news that matters most once a week throughout Trump's first 100 days in office. Learn more