Day three of StarChefs.com's International Chefs Congress kicked off with the finalists of the International Pastry Competition battling it out on the main stage. The task, to create and present an entremet, miniature chocolate showpiece, and bonbons. The three finalists, Ron Paprocki of Gordon Ramsey at the London, NYC, Ian Gresik of Drago Centro, LA, and Chris Ford of Trummer's on Main in Clifton, VA, calmly rushed to get their creations on the judging tables.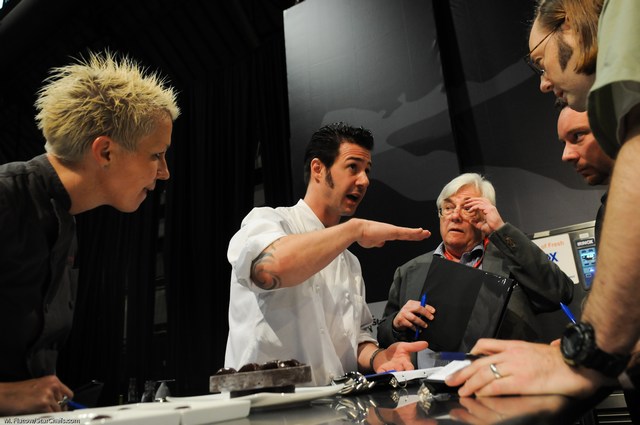 Judges left to right: Elizabeth Falkner, Johnny Iuzzini, Jeffrey Steingarten, Albert Adria and Wylie Dufresne (M. Flatow/StarChefs.com)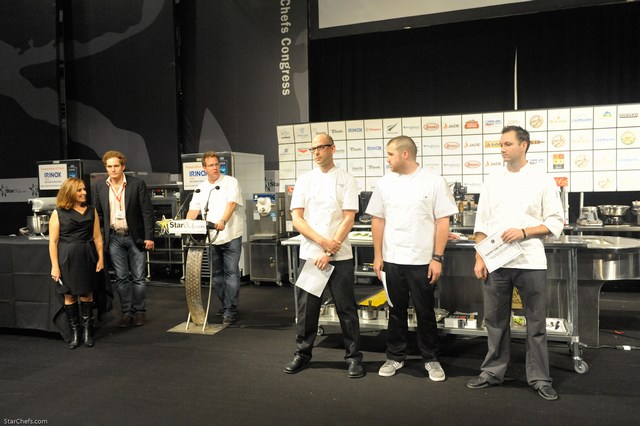 Emcee Keegan Gerhard, Antoinette Bruno, Will Blunt, and the three finalists. (M.H. Turkell/StarChefs.com)
The winner was Ron Paprocki, and when I spoke with him after the competition he said it was one serious challenge, but without the bickering and drama. "We all helped each other out actually," said Ron. "It wasn't like on TV where people are stealing pea purées and having huge arguments. We all just had fun with it." When I asked how it felt to be judged by Albert Adria, pastry chef/co-founder of elBulli, he replied "Well that did make us pretty nervous!"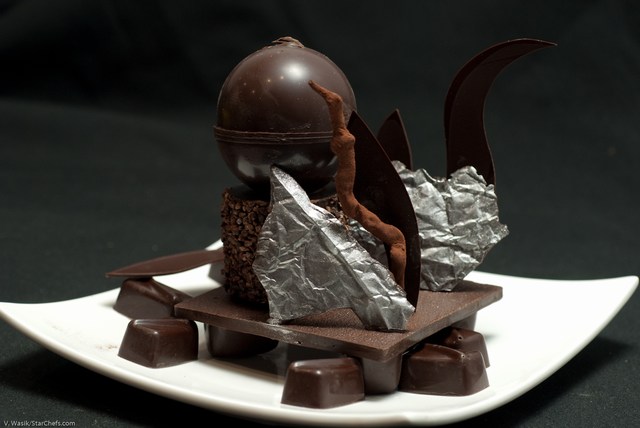 Winner Ron Paprocki's Belcolade Chocolate Showpiece with Mint Crunch Bonbons (V. Wasik/StarChefs.com)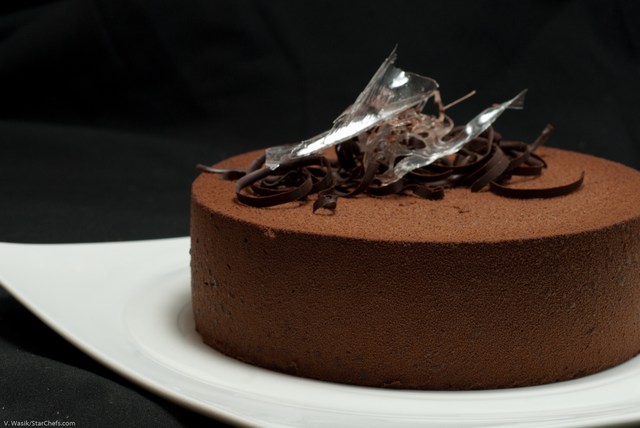 Winner Ron Paprocki's Entremet, Belcolade Chocolate Dacquoise with Salted Chocolate Cream and Passion Fruit Gelee (V. Wasik/StarChefs.com)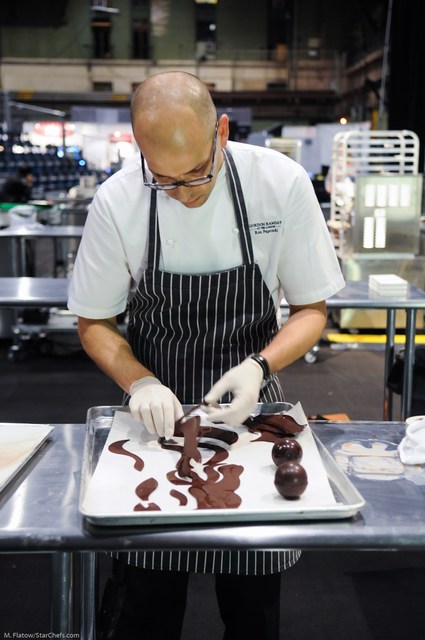 Winner Ron Paprocki (M. Flatow/StarChefs.com)
Now I'm a big fan of Food Network Challenge, so having the opportunity to watch Keegan Gerhard emcee the Pastry Competition was a lot of fun. I had wanted to interview him for Huffington Post, so when I spotted him roaming the Products Fair, I rushed over then politely stood and waited ten minutes for him to wrap up a conversation. It was obvious I wanted to chat with him, but after patiently standing there, with my press badge clearly visible, the guy totally dissed me. Keegan Gerhard literally turned his back and waddled away without a word.
I did have the chance to talk with Antoinette Bruno, Editor-in-Chief of StarChefs.com, outside the Unified Brands booth at the Products Fair, where she shared a cool story about how the chefs and product designers interact in unique ways at the ICC. "Two years ago at ICC, Rick Moonen was hanging out with Michael from Unified Brands and he told him what he though would make a great piece of kitchen equipment for his fish restaurant. Well, Michael listened to Rick's ideas and the result is this piece of equipment. This is the only event where chefs and manufacturers get to have that kind of creative exchange."

Unified Brands Michael Williams accepting his award presented by Bob Collins of TriMark USA. (M.H. Turkell/StarChefs.com)
The winner of this year's Innovation and Technology Award for Heavy Equipment, Unified Brands did have one dream piece of equipment over which all the chefs were drooling, a workstation with a temperature controlled surface, refrigerated drawers, covered easy-access trays, and a hide-away sous-vide machine. Unified Brands got a lot of attention at the Products Fair, especially when three time James Beard Award nominee for Best Chef in the South Derek Emerson of Walker's Drive-In and Local 463 Urban Kitchen in Mississippi, and Iron Chef champion Neal Fraser of Los Angeles, swung into action on the workstation, preparing sous vide salmon for the hungry crowd.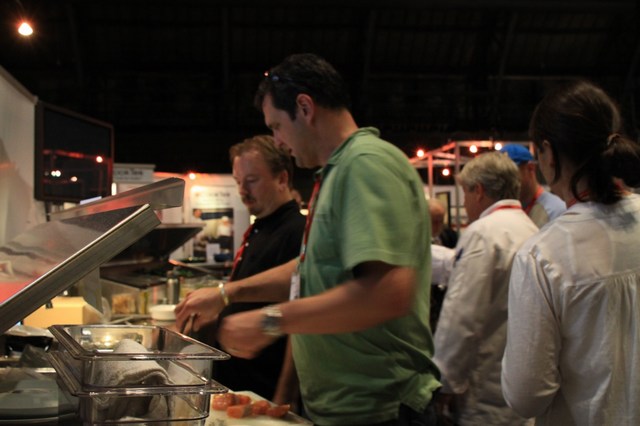 Chefs Derek Emerson and Neal Fraser prepare sous-vide salmon on the Unified Brands award-winning kitchen equipment. (Regina Varolli)
The best was indeed saved for last. As the day, and the event, drew to a close, they brought out the big guns. Albert Adria of elBulli fame hit the main stage to share films about elBulli, the making of his book Natura, and his latest restaurant venture, Inopia Classic Bar--an extraordinary tapas bar in Barcelona.
I caught up with Albert before his demo for a quick chat (and he didn't turn tail on me!). Referring to being the last presenter, he said, "I'm a little worried, won't everyone be gone by then? The seats probably won't fill up." I was struck by his genuine humility, here was the biggest name at the event, and he had the smallest ego. I replied, "But you're Albert Adria, people will wait! There won't be an empty seat in the house." He shook his head and laughed, "I hope so, people don't like to hang around so late."
In an email to me, Will Blunt, Managing Editor of StarChefs.com, shared my sentiments on Albert Adria. "I think that Albert's rare balance of ambition and humility should be viewed as a positive model for present and future industry leaders trying to contend with the double edged sword of celebrity chef stardom."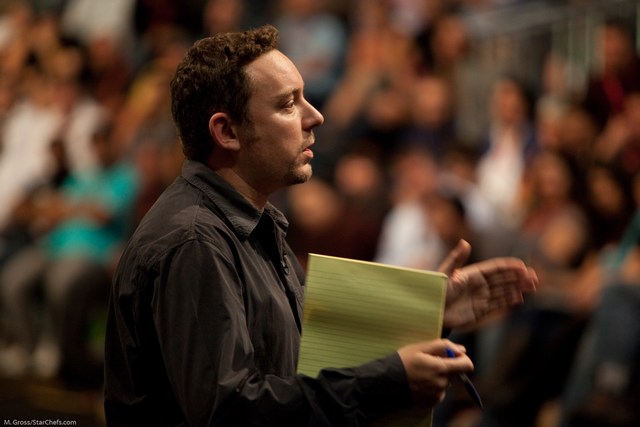 Highly acclaimed pastry chef Albert Adria address the crowd. (M. Gross/StarChefs.com)
The films unveiled the magic of Adria's talent and techniques. Complete with sleek editing and original soundtracks, the films whisked us through the kitchens and dining rooms of elBulli and Inopia. At times letting the reels run and asking for the high energy music to be blasted out the speakers, at other times asking to lower the sound so he could talk over the films, Adria kept us captivated. The film on the making of Natura was awe-inspiring, Albert Adria truly is a genius at pastry. Finishing up on this year's theme of Art vs. Craft, Adria told the audience, "What we do is art." Enough said.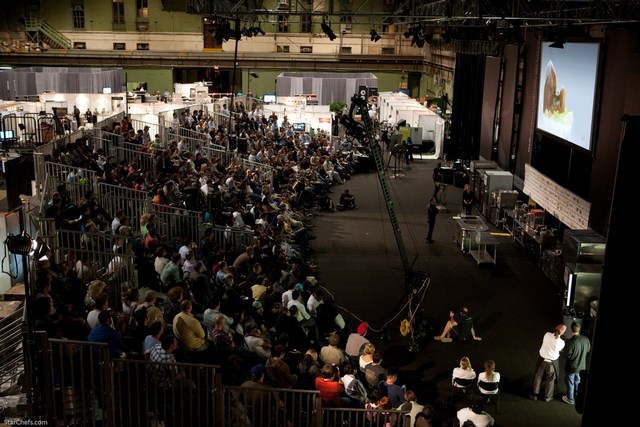 A packed house for pastry chef Albert Adria. (C. Leonard/StarChefs.com)
Although we have to wait another year for the ICC to roll through town, I did manage to get an exclusive confirmation from Will Blunt on one, huge, headliner for next year's event. Equally talented and humble as Albert Adria, pastry chef Pierre Hermé has been confirmed as a presenter for the 6th ICC, and as a judge for its 2nd Annual International Pastry Competition (and you're hearing it here on HuffPost first). Known in the industry as "the god of pastry," this will be Hermé's second appearance at the StarChefs.com International Chefs Congress, and yours truly will be counting the days!

SUBSCRIBE TO & FOLLOW THE MORNING EMAIL
The Morning Email helps you start your workday with everything you need to know: breaking news, entertainment and a dash of fun. Learn more