If I had to use just one work to describe the week-long LuckyRice Festival in NYC, it would be "Wow." From the bustling Night Market under the Archway in DUMBO, Brooklyn to the glitzy Grand Feast at the Mandarin Oriental Hotel, to the Talk+Taste cooking demonstrations at Astor Center, I just kept saying "Wow" over and over again.
Despite a chilly, rainy day, the outdoor Night Market didn't see a diminished crowd. With over 30 booths of savory Asian finger (and chopstick) foods, the crowd under the Archway didn't seem to mind the fact that by 8pm, it was elbows-to-elbows. Thankfully I had arrived early, during the one hour VIP access, and I raced around every booth tasting all the Night Market had to offer before the long lines sprouted.
Of everything I had, my favorites were the Rice Noodle with Asian spiced Bolognese from Chef King Phojanakeng of Umi Nom in Brooklyn and Kuma Inn in the Lower East Side. I also had a near perfect Shu Mai from Red Egg in Chinatown, a "Bib Gourmand" restaurant in The Michelin Guide 2010 and 2011. My other favorite was an organic beef hot dog topped with Asian Sesame Slaw by Asia Dog in Nolita. It was the only item I actually had to pay for, but this humble hotdog was well worth the paltry $3.00.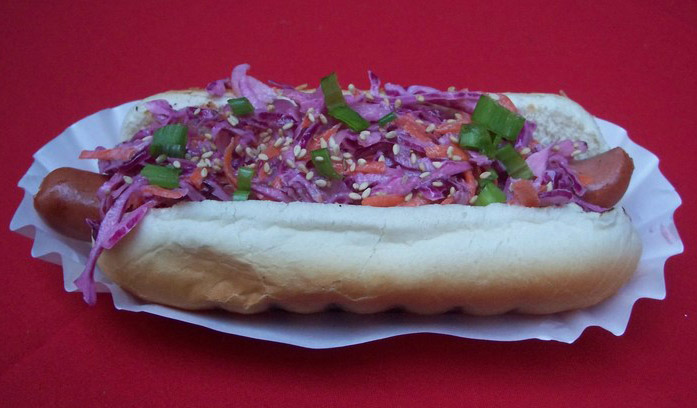 Organic Beef Hotdog with Asian Sesame Slaw from NYC's Asia Dog (Regina Varolli)
From comfy boots and a big coat for the Night Market to a Japanese designer cocktail dress from A Uno in Tribeca, I arrived at the Grand Feast in high heels with even higher expectations. By the end of the night I wasn't let down, despite my pained feet.
One of the best treats at the Grand Feast were the Parisian macarons in Asian inspired flavors like Yuzu, Chai, and Jasmine, from Pastry Chef Damien Herrgott of Bosie Tea Parlor in West Village. At just 23 years old, Damien Herrgott was the opening pastry chef of the first Pierre Hermé in Paris, and he went on to open two more. So it's no surprise they're the best macarons in NYC, and not just by my taste, but by so many of the guests who returned repeatedly to the Bosie booth and carried on about these little mouthfuls of perfection being the best they'd ever had. The proof was in the fact that Chef Herrgott said he gave away 1,400 macarons in under two hours, being the first of the over fifty booths to run out of food.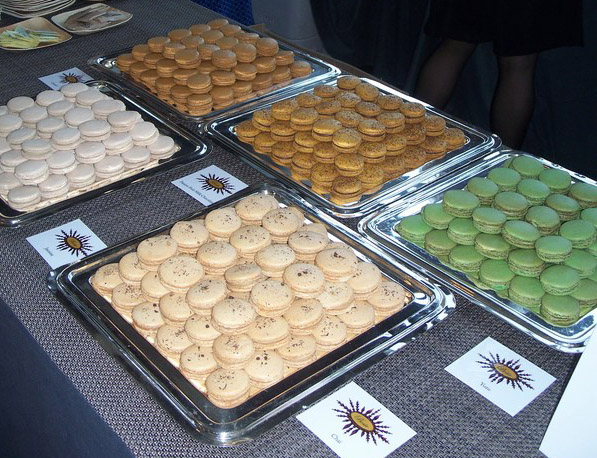 Marvelous Macarons from Pastry Chef Damien Herrgott of Bosie Tea Parlor (Regina Varolli)
Right next to the Bosie Tea Parlor booth was En Japanese Brasserie and their Red Miso Braised Washugyu Beef Cheeks. This deceptively simple dish proved to be another of my favorites, the beef cheeks were melt in your mouth tender and perfectly spiced. Although not the most beautiful plate in the room, to me it was one of the tastiest, and I must have had at least five of them.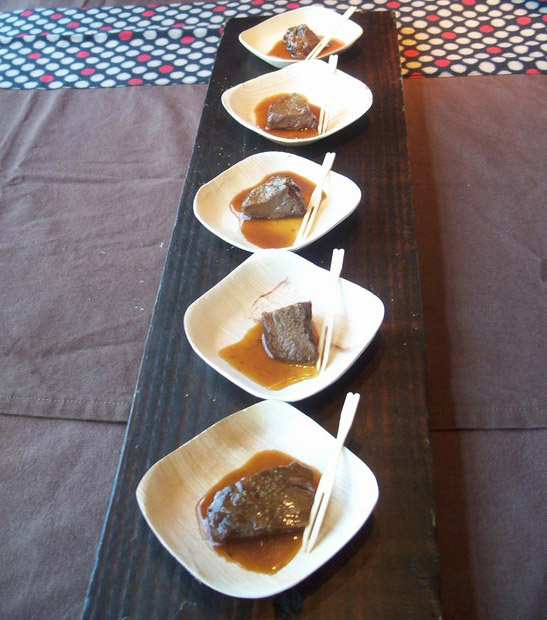 Deceptively Simple Braised Beef Cheeks from En Japanese Brasserie (Regina Varolli)
Brad Farmerie of PUBLIC, and a contestant on Food Network's Next Iron Chef, had me coming back to his booth again and again for his Pork and Black Pudding Pie with Hoisin and Five Spice Sauce. This flavor packed little concoction looked like a little meat cupcake, which I kept calling it all night. For someone like me, you just can't go wrong with something that resembles a cupcake, is full of flavorful meat, and is wrapped up in flaky pastry. Wow.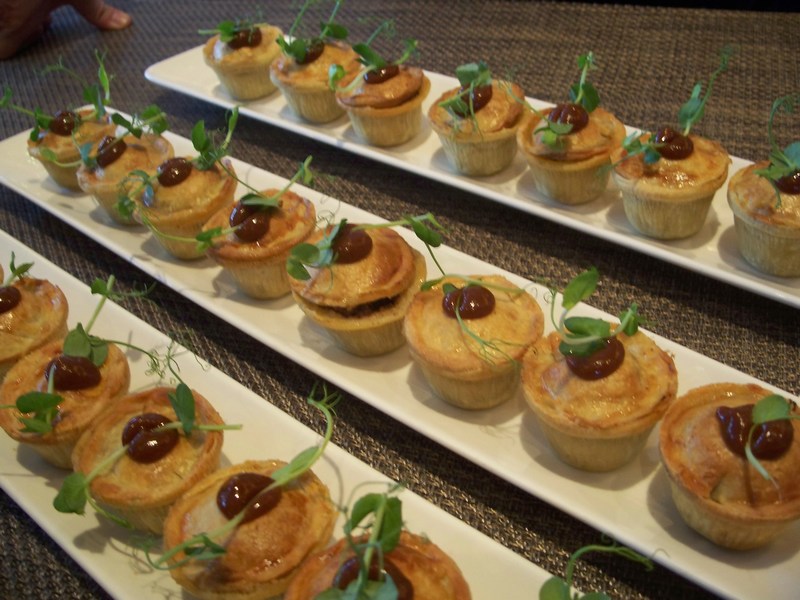 "Meat Cupcakes" by Brad Farmerie of PUBLIC (Regina Varolli)
Across the ballroom from PUBLIC, and on the other end of the culinary spectrum of Asian styles and flavors, was the Lobster, Shrimp and Black Olive Dumpling from Chef Joe Ng of Red Farm. This soft and delicate mouthful was served in a mini martini glass and was displayed beside an adorable collection of tiny figurines made by the chef out of colored flour and water. When I asked Chef Ng why he went to the trouble to create such a display, he replied, "It's kind of cool for the presentation. Plus I wanted to show that a chef can do more than just cook."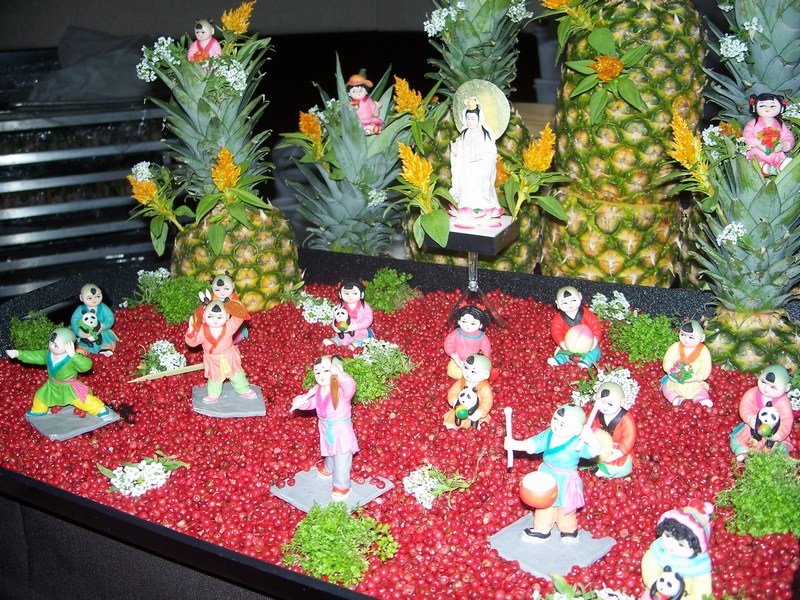 The Multi-talented Chef Ng's Hand-Made Figurines (Regina Varolli)
Another of my top picks was a traditional Macanese dish called Minchi, brought to the Grand Feast by Chef David Wong from Macau. Not the prettiest of plates, Minchi made up in taste what it lacked in style. A well spiced (but not spicy) dish of ground beef and pork and perfectly friend tiny potato cubes over rice, Minchi called me back a few times, making me glad the chef ventured thousands of miles to treat us to this version of traditional Asian cuisine.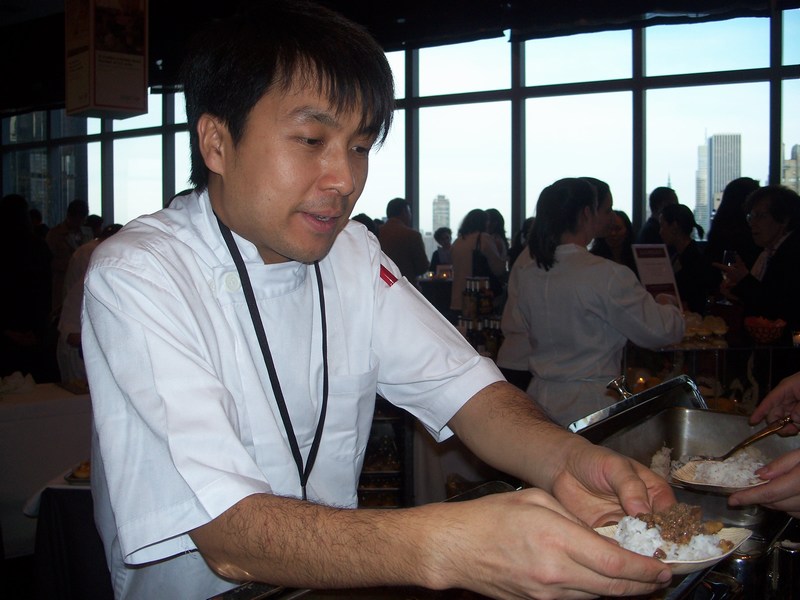 Macanese Chef David Wong serves his Minchi (Regina Varolli)
The Grand Feast was all about big names and big flavors, among the chefs present were the camera loving Daniel Boulud, a quieter than usual Iron Chef Masaharu Morimoto, People Magazine's "Most Beautiful" Chef Todd English, and Top Chef All Stars' Angelo Sosa.
The LuckyRice Talk+Taste took me downtown to the Astor Center and four fabulous cooking demonstrations where guests not only watched the dishes created from start to finish, but also got to savor a plate full of everything on the menu.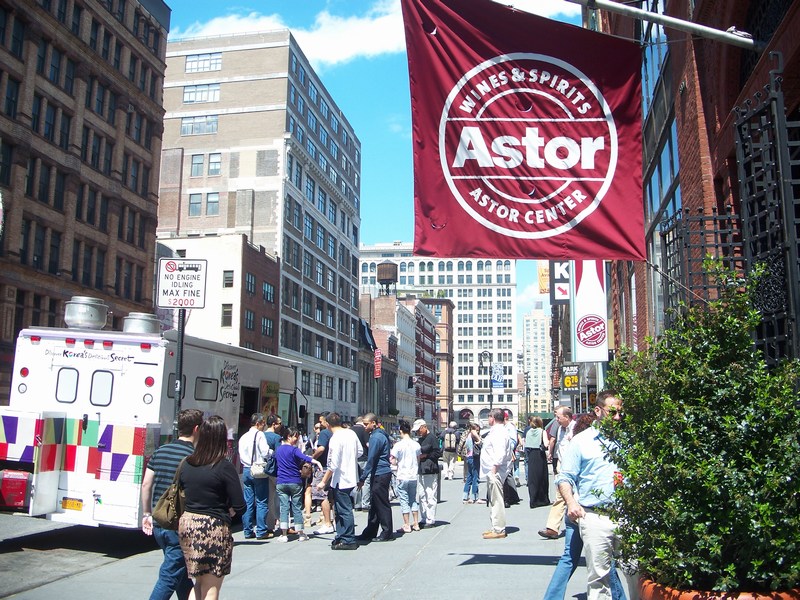 Discover Korea's Delicious Secret, A Food Truck, outside the Astor Center (Regina Varolli)
Ching-He Huang of The Cooking Channel's Chinese Food Made Easy kicked off the demos with a super tasty Vegetarian crispy bean curd roll and steamed chicken with Chinese mushrooms, goji berries and dried lily bulbs. The bubbly and endearing Ching was the perfect host as she introduced the remaining three chefs: Angelo Sosa who cooked shrimp belacan over rice, Jennifer Maeng who prepared traditional Korean Bibimbap, and Ming Tsai of Blue Ginger with his black bean orecchiette with spicy pork and broccoli.
It must be said that Ming Tsai, long time host of PBS's Simply Ming, is more than a talented chef. He's as funny as any stand-up comedian I know of, and he had the audience doubled over in laughter with his quick wit as much as he had their mouths watering with his aromatic food.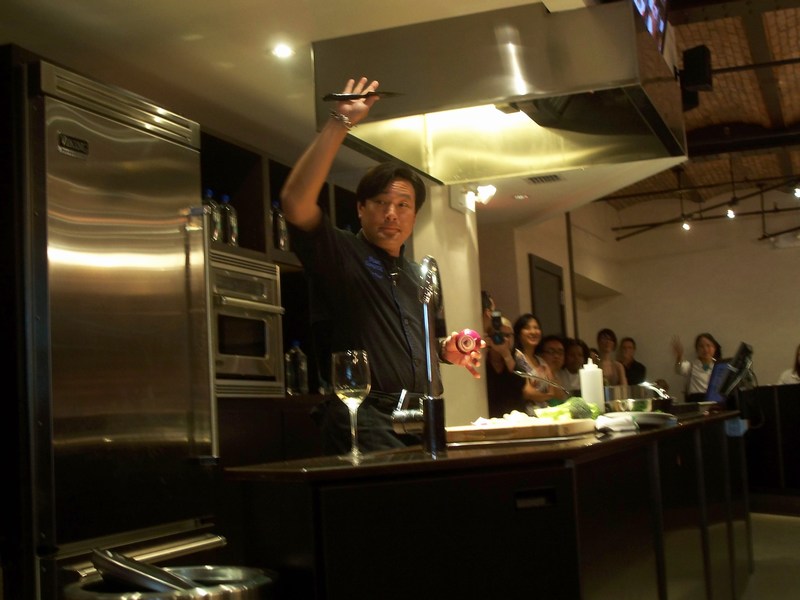 Chef-Comedian Ming Tsai (Regina Varolli)

The Cooking Channel's Ching-He Huang (Regina Varolli)
I give a well-deserved bow to Danielle Chang, the brains and beauty behind the LuckyRice Festival. In a city with so many culinary goings-on, one can't make it to everything, but the Asian culinary extravaganza that is the LuckyRice Festival has earned a permanent place on my annual must-do list. If you love Asian food, it deserves a place on yours, too.

This Blogger's Books and Other Items from...
FOLLOW HUFFPOST