Just in its second year, the LuckyRice Festival is already one of New York City's hottest food festivals. Created by Danielle Chang, who told me she "wanted to give people a way to consume Asian culture through food," the LuckyRice Festival features eight different gastro events spread over seven days and nights in May. This year, the LuckyRice Festival is going to be even more lucky for a couple of my Huffington Post readers, because Danielle is holding a ticket raffle just for you, giving away two VIP tickets to the Grand Feast on May 6!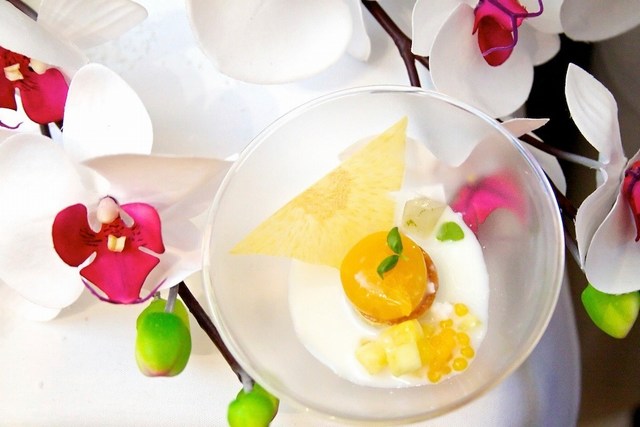 A Grand Feast dessert from Restaurant Daniel (Photo by Julie Qiu/Peek and Eat, courtesy of the LuckyRice Festival)
The Grand Feast is being held in the ballroom of the Mandarin Oriental Hotel, a swank venue overlooking Central Park. The Grand Feast is a dream spread of Asian culinary creations from chefs who are traveling to NYC from all over Asia, mixing it up with celebrity chefs from the states. Among the many restaurants providing world-class fare at over 30 booths are Daniel Boulud's Bar Boulud, Pichet Ong's Spot Desert Bar, Matsuri and Kittichai.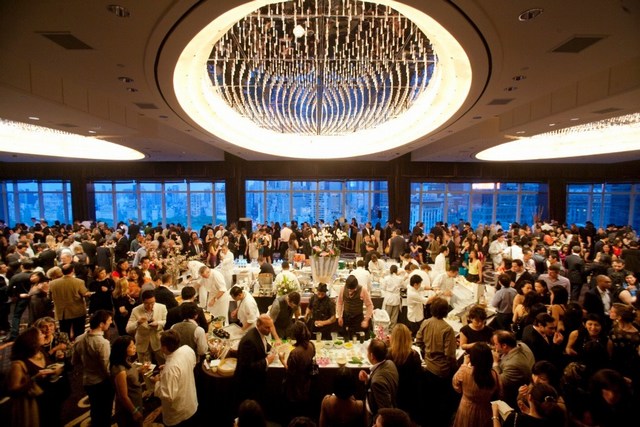 The Grand Feast (Photo by Richard Patterson, courtesy of the LuckyRice Festival)
Although it's one of the premier events, the LuckyRice Festival isn't just about the Grand Feast. There's also a Kick-Off Dinner hosted by Top Chef Masters Anita Lo on May 2 and an Opening Cocktails reception on May 3, featuring creative concoctions and tasty treats from the likes of David Chang's Momofuku, Restaurant Daniel, wd~50 and Pegu Club. And it's important to note that a portion of the proceeds from the Opening Cocktails party will benefit the Red Cross in Japan, for relief efforts following the devastating Earthquake and tsunami.
The outdoor Night Market on May 4, hosted by Asian icon David Chang of Momofuku, transforms the historic Archway in DUMBO, Brooklyn into an Asian food market extraordinaire, offering guests tasty street foods from the culinary hotspots of Asia. Aiming to make the experience as close to the real thing as possible, the Night Market draws huge, hungry crowds happily lost in the aromas of Asian foods cooking outdoors.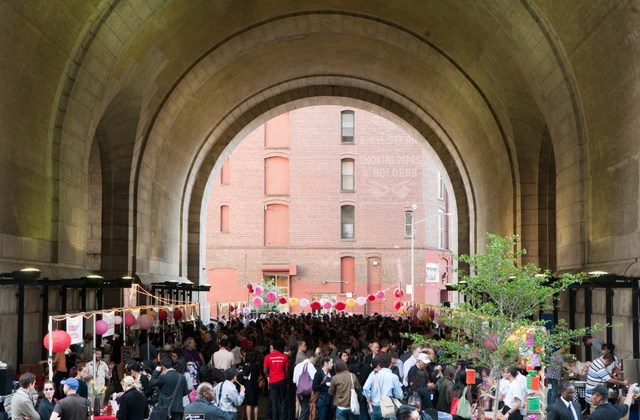 The Night Market (Photo by Richard Patterson, courtesy of the LuckyRice Festival)
On May 5, the LuckyRice Festival opens the doors of the famed James Beard House for its Marvels of Macau dinner. Starting with cocktails in the garden and living room, the dinner offers five courses of mouth-watering Macanese cuisine paired with Portuguese wines, as Macau is a former Portuguese colony. Also on May 5 is an Omakase Dinner created and hosted by heavy weight Iron Chef Masaharu Morimoto, followed by a separate after party where Morimoto will have the chance to show off his lighter, fun-loving side.
The more upscale La Fête Chinoise, hosted by Daniel Boulud and Susor Lee, is held at Restaurant Daniel on May 7. Opening with creative cocktails and tasty Chinese appetizers, the evening peaks with a Chinese influenced feast that's both prepared and hosted by the talented Daniel and Susor.
The LuckyRice Festival wraps up its seven days of Asian food heaven with Talk + Taste, a cooking demonstration and tasting hosted by the Cooking Channel's Ching He-Huang, featuring one of my personal favorite chefs, Ming Tsai of PBS's Simply Ming.
Other names to look out for at the event are Eric Ripert Chef/Owner of Le Bernardin, the legendary Jean-Georges Vongerichten (whose Vong in Hong Kong was one of my best dining experiences ever), Top Chef Masters winner (and recent host to Obama) Marcus Samuelsson, and firebrand bar chef Albert Trummer of Apotheke. Last year every one of the events sold out, so don't wait too long to decide if you want to go or you just might not get the chance. I'll be on hand to cover several of the events for my HuffPost readers (including the Grand Feast and Night Market), so if you can't catch up with me there, I'll catch you up on the events here!
Last but not least, my HuffPost readers can enter to win an exclusive raffle for 2 VIP tickets to the Grand Feast. Just click on this link they set up especially for you and follow the instructions on the page. Entry is open until April 17. If you aren't the lucky winner, this event is well worth the price of tickets, which vary by venue, and the proceeds all go to great causes -- relief for Japan and support for NYC's City Harvest charity.
Check out this slide show of images from last year's LuckyRice Festival, and good luck winning those VIP tickets!
Images from Last Year's LuckyRice Festival in NYC
This Blogger's Books and Other Items from...