"It's history! It's literally history! I get goosebumps just thinking about it!" So exclaimed an ecstatic Chef Gavin Kaysen at the Sirha in Lyon, France, when Executive Sous Chef Philip Tessier and Commis Skylar Stover of The French Laundry clinched the Silver Bocuse at the Bocuse d'Or.

With only 5 hours and 35 minutes on the clock, Tessier and Stover took to the kitchen for the performance of a lifetime, played out in front of a jury of 24 illustrious chefs, an audience of 2,500 horn-blowing fans, and enough international media to make the press pit feel more like the mosh pit at a metal concert. Undaunted by the time pressure, noise, unfamiliar kitchen, and gravity of the competition, contestant and commis "did the best food ever" in a carefully choreographed kitchen dance.
It was a dream team. Tessier and Stover were coached by Bocuse d'Or 10-year veteran Chef Gavin Kaysen, Michelin three-star Chef Grant Achatz provided additional coaching, and culinary giant Thomas Keller headed up the team as President of the Ment'Or BKB Foundation which supports Team USA.
Immediately following the Awards Ceremony, I asked coach Gavin Kaysen about Philip Tessier's cooking, he grinned, eyes wide, "With everything Phil did, he'd look up at me and say, 'This is the best one I've ever done.'"
"The thing with Phil's platter and with his food," explained Kaysen, "is that there were no firecrackers just for show, it was all about taste, everything on the platter got plated and served."
Phil Tessier was "in a vapor world" following the awards ceremony. Having spent "the better part of a year training part-time and six months full-time," he said he couldn't have asked for everything on the ground to go any better. "I knew we had a really strong chance, we got a lot of really amazing feedback the first day, which was very new for us."
Though not a part of the voting jury, Grant Achatz "tasted every fish and every meat from every country." When he said this, I asked "And....?" He laughed, "You know, it's a lot of food!" Then he continued in a more serious tone, "It was pretty clear that we had won day one by a wide margin. The food was perfectly cooked, perfectly seasoned. I think really what it came down to was the food that Philip and Skylar put up was just delicious. It was the best tasting food, in my opinion, of the entire Bocuse d'Or." He described the dishes as "Super clean, composed, and thought-out. Not too much on the plate to crowd anything, everything stood out." He sported a satisfied grin, "Clearly the jury reacted to that."
Each country competing is represented by a jury member, and this year Chef Thomas Keller wore that toque. Keller did a great deal to help Tessier and Stover, not the least by allowing them the time they needed away from The French Laundry kitchen to practice. Completely composed and perfectly professional, when it came time to taste the dishes coming out of the Team USA kitchen, Keller kept cool, though clearly he cared a lot about how his fellow jurors were reacting.
Of day two of the competition, the day of the Awards Ceremony when USA wasn't cooking, Tessier said he might have actually been more nervous. "We spent the whole day waiting, watching the other teams compete, looking at their food, it was almost harder than yesterday." For Kaysen, the wait was not so bad, "Until like an hour before the Awards Ceremony, then I couldn't feel my heart. But that's fine!"
The third place Bronze Bocuse having been announced, taken by incoming favorite Team Sweden, the moment of truth came when Emcee Vincent Ferniot handed the envelope to Grant Achatz, with a playful flourish and a dramatic delay to heighten the suspense. Of the choice to give him the envelope, Chef Achatz was amused, "Shall we say it was really convenient that I got to read that they had won the silver?"
When Team USA heard Achatz make the announcement, they exploded, along with the entire house. Team USA had been the buzz for the whole competition, and the perceived underdogs had just defied their previously poor pedigree.
Having spearheaded the Ment'Or Foundation, and Chairman of the same, Chef Daniel Boulud became the personification of excitement when he heard our guys had taken the Silver. Seated up front with other luminaries and corporate sponsors, Chef Boulud bounced out of his seat and began cheering and snapping pics on his phone. He waited until the Bocuse d'Or winners were announced, Team Norway, and awarded their fifth Gold Bocuse, then, when the moment was permissible, he pressed his way to the podium.
Understandably overwhelmed by the reality that was just sinking in as he stepped off the podium, a somewhat speechless Thomas Keller said, "It's... it's hard to describe how I feel." When I said that he had worked very hard for this he replied, "They worked very hard. Everybody worked very hard. And it's good to see that they got there, it really is. We did it for Paul." He went quiet for a moment, and I glimpsed in his eyes a flash of sadness, the ailing Paul Bocuse was unable to attend the Awards Ceremony that day. So I told Chef Keller how proud I felt to see him and the others up on that podium for the first time. He smiled, soft-spoken, "Thank you, I'm so proud of them too. Phil was just extraordinary."
Speaking with a gleeful Phil Tessier, his arms wrapped around his Silver Bocuse, I didn't ask him how he felt, I asked instead how the shiny statue felt in his hands. Laughing, he replied, "It's heavy!" As we talked it became clear that no one person on this team was going to take any individual credit, and perhaps that's why they made it so far. Though the Silver Bocuse was his to take home and place somewhere "safe" and "prominent," Chef Tessier could only say, "You don't get here alone, that's for sure. It was amazing to have the support of the Ment'Or Foundation and Thomas and everyone that helped us along the way. And Skylar really came through, I'm really proud of him!"
He had just made history for the USA and Philip Tessier acted as humbled as he was happy. "To be here, with everyone," he said as he looked around, shaking his head at such an incredible number of distinguished chefs under one roof, "is such an amazing experience. I couldn't be more proud. I saw the food coming out of the other kitchens, really amazing food coming from the Scandinavian teams as always, so, to come through and take silver is really an honor."
The silver was had by an incredibly narrow margin... "We were only nine points behind Norway," said Grant Achatz, almost in disbelief. "Nine. Nine. Think about that, only nine points off..."
No doubt as the post-Bocuse whirlwind winds down and the guys have rested up, Tessier and the team will think a lot about those nine points, perhaps looking to 2017, and the chance at gold glimmering in the distance, finally within reach.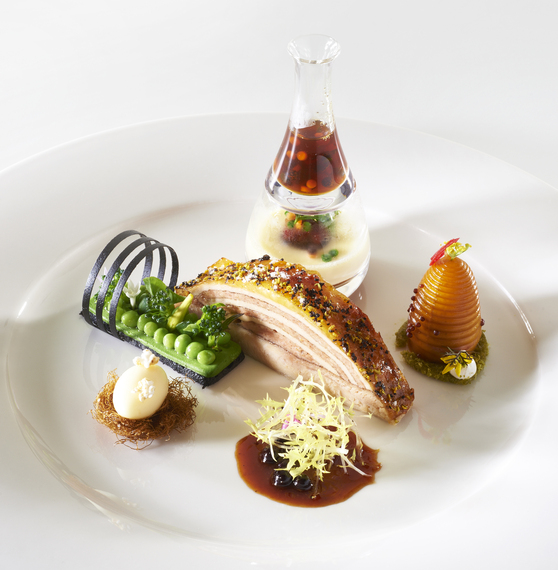 Meat Plate:
Barrel-Oak Roasted Guinea Hen
Sausage of Guinea Leg Confit, Sweet Corn Mousse, and Black Winter Truffle
Sweet Pea Garden
French Laundry Garden Blossoms & Herbs, Sugar Snap Peas and Black Trumpet Mushroom Panade
"Beehive"
Smoked Foie Gras Boudin, Napa Valley Honey, Pistachio "Pain des Genes," Wild Fennel Buds and Topaz Wine Glaze
Black Truffle Consommé
Ragout of Gizzard & Heart "Confit," Olive Oil Custard and Flowering Cress
White Corn "Nest"
Buttered Corn Pudding, Crisped Corn Silk and "Petit" Popcorn
Preserved Chanterelles
Salad of Frisee and Garden Blossoms, Pickled Huckleberry and Foie Gras Jus
(Photo courtesy Sirha)
This Blogger's Books and Other Items from...
SUBSCRIBE AND FOLLOW
Get top stories and blog posts emailed to me each day. Newsletters may offer personalized content or advertisements.
Learn more