The Art of The Chocolatier, From Classic Confections to Sensational Showpieces, by world-renowned pastry artist Ewald Notter, has brought a bit of contention into my home. My boyfriend, a professional pastry chef, and I keep grabbing it out of each others hands, vying for who gets to spend time with it. It's a testament to the fact that Notter succeeded in his quest to create an instructional book about chocolate that is accessible enough for non-professionals and challenging enough for professionals.
The 400 page hardcover book is full of beautiful images and step-by-step photos, and details everything you need to know about working with chocolate -- and I mean everything. From equipment to tempering and other basic techniques, to recipes for hard candies, soft truffles and other bonbons, to decorating and creating showpieces, The Art of The Chocolatier is one thorough book.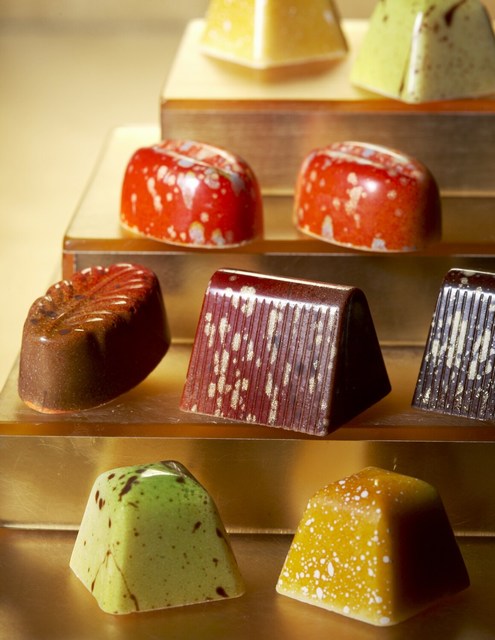 Coconut Rum Pralines (Photo by Lucy Schaeffer, Courtesy of Ewald Notter)
Surprisingly, Notter -- a master of chocolate and sugar -- didn't have the idea to write the book himself. He happened to be doing a chocolate demonstration for the American Culinary Federation when an editor from Wiley Publishing approached him, asking if he would be interested in the project. He said "Why not?" and proceeded to write a sample chapter that was then sent out to schools across the country.
The feedback was all positive. Not only did instructors already know who Ewald Notter was, they really wanted to see a book by the chocolate master himself. So he took on the challenge.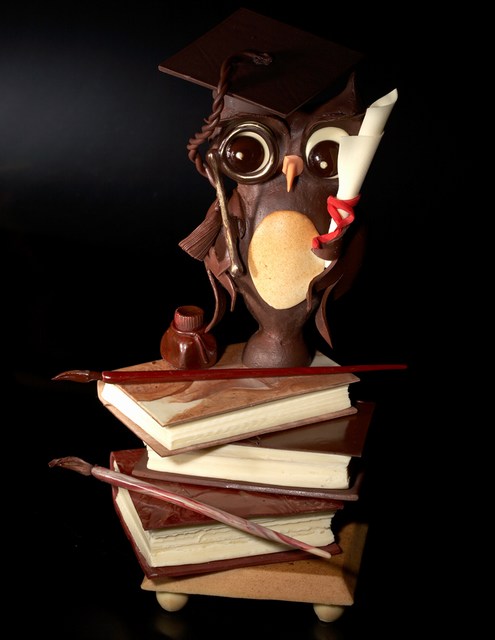 A Perfect Graduation Showpiece (Photo by Lucy Schaeffer, Courtesy of Ewald Notter)
When we talked about his work on the book, he told me, "I didn't know when I started that it was going to be so intense. The difficult part was to make a book that both professionals and non-professionals could use. It was also difficult to describe in detail techniques I do every day because I've come to take so many things for granted."
But Notter broke a finger on his right hand and had to work with his left hand for a while. This unfortunate event actually helped him to better describe things because being a rightey, using his left hand to perform techniques like piping brought him back to working like a beginner.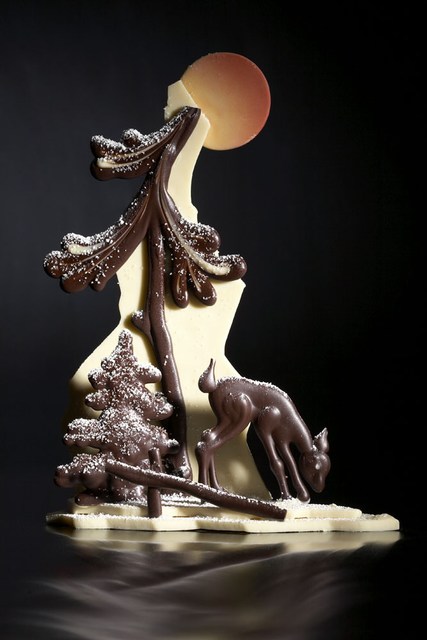 Chocolate Piping Technique (Photo by Lucy Schaeffer, Courtesy of Ewald Notter)
Ewald Notter, founder of the Notter School of Pastry Arts in Orlando, Florida, began his career many years ago in his native Zurich. Not really knowing what he wanted to do as a career, he had the opportunity -- as most school kids do in Europe -- to do a few brief internships in various businesses, one of which was a pastry shop.
"I really enjoyed my work at the patisserie and I knew that was what I wanted to do." So he started a three-year apprenticeship, saying, "It wasn't a prestigious place, but I learned to work there, and that's what's important." After his internship Notter worked for several years in the industry and trained at the highly acclaimed Confiserie Spruengli in Zurich, where his talent for sugar was quickly recognized and rewarded. He began to teach and soon opened his first school, the International School of Confectionary Arts, at the young age of 27.
During his ten years of teaching and working with sugar, Notter won 15 gold medals in competitions across Europe and Asia, and authored two books, The Textbook for Sugar Pulling and Sugar Blowing and That's Sugar.
But, said Ewald, "After ten years of working with nothing but sugar, I got burned out. So I decided to go back to chocolate."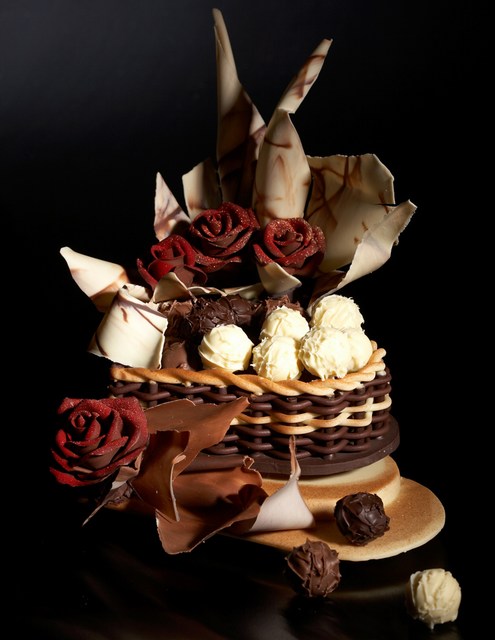 Woven Basket and Modeling Chocolate (Photo by Lucy Schaeffer, Courtesy of Ewald Notter)
Notter moved to America in 1992, where he reopened his school in Gaithersburg, Maryland. After having competed all across Europe and Asia, he hit the competition circuit in the States, racking up one title after another. In 1999 and 2000, he won the gold at the Amoretti National Pastry Team Championships in Beaver Creek, CO. In 2001, he was the team captain for the only U.S. National team to ever win at the Coupe du Monde de la Patisserie in Lyon, France.
"Me and the other team members had just been competing against each other at Beaver Creek knowing we would be on the same team for the Coupe du Monde. We only had six months to prepare, but we met often at my school where we practiced and planned a lot. I think we had an advantage only having six months. Today you get a year or a year and a half, and this can confuse the process with too much time to think up new ideas and get too much feedback."
Notter worked on both the chocolate and sugar showpieces in Lyon, as well as the tasting. His sugar show piece made history, earning the team 699 out of a possible 700 points.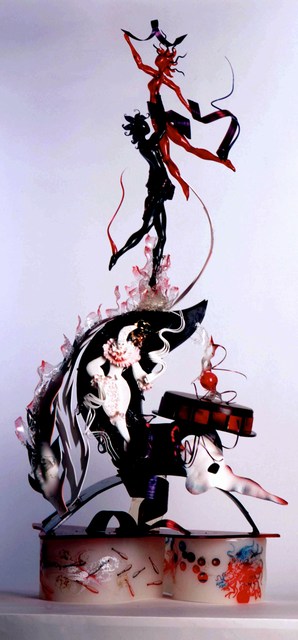 Ewald Notter's Sugar Showpiece for Team USA at the 2001 Coupe du Monde. (Photo Courtesy of Ewald Notter)
After the recent launch of The Art of The Chocolatier, Wiley publishing came back to him with another idea. Now he's currently writing a textbook on sugar, while continuing to teach at his school and also traveling the world doing chocolate and sugar demonstrations as well as continuing education classes.
"It's important to get out there and see what other people are doing. There's always some new technique or equipment everywhere I go. So even as a teacher, I'm always learning new things when I travel."
A long time admirer of his work, I'm so glad Ewald Notter accepted the challenge of writing this book. The Art of The Chocolatier is a must have for anyone wanting to learn how to work with chocolate. It's simply the most thorough and most mouth-watering book of its kind that I've ever seen. Just beware... If there's more than one person in your house who loves chocolate, you may have to buy two copies, or fight over who gets to read and work from it!
Chocolate Showpieces from Ewald Notter's The Art of The Chocolatier