Students from some of America's top law and graduate business schools gathered in New York City for some pretty stiff competition. It wasn't academic, though. They congregated at the French Consulate on New York's Upper East Side to participate in The Left Bank Bordeaux Cup U.S. selection, a wine challenge where the two winning teams continue on to Château Lafite-Rothschild in Pauillac in June to sip and sniff off with other finalists from Europe and Asia.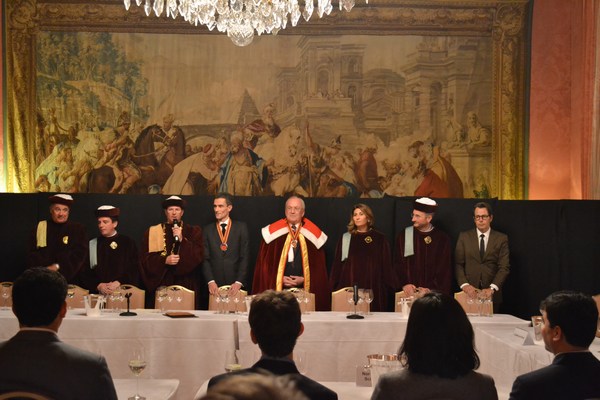 Left Bank Bordeaux Cup Judges (Regina Varolli)
Sponsored by the Commanderie du Bontemps de Mèdoc, Graves, Sauternes, et Barsac, The Left Bank Bordeaux Cup -- previously knows as 20 Sur Vin -- was the brainchild of Baron Eric de Rothschild, who started the competition in 2002 for French students. Not intended for students of wine, rather, 20 Sur Vin was open to students at France's most prestigious graduate programs, students who were also members of the university wine clubs. Rothschild saw the contest as a way to enable the future elite of his country to develop an appreciation for the Great Growth wines of Bordeaux's left bank. (A brilliant marketing idea, no less.)
In 2004 the competition opened up to England and Oxford, and Cambridge quickly proved their wine knowledge by taking 1st and 2nd place (respectively) in the first year they entered the competition. One can imagine how this made the French teams feel, but no doubt the Brits were beaming.
By 2011, 20 Sur Vin went international, inviting students from the top law and business schools across Europe, Asia and North America. In their first year participating, the foreigners again took top honors, with Harvard Business School taking 1st, Chinese University Hong Kong 2nd, and Wharton 3rd, tying with Nyenrode Business Universiteit Netherlands.
This year I had the pleasure of attending the U.S. selection at the French Consulate, where the participating schools were Harvard Business School, Northwestern Kellogg School of Business, Stanford Graduate School of Business, both Columbia Law and Business School, Yale Law School, University of Pennsylvania -- Wharton, and University of Chicago -- Booth School of Business.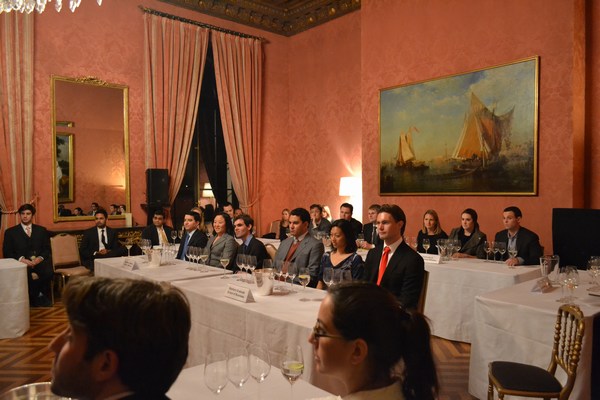 Left Bank Bordeaux Cup Competitors at the Consulat Général de France à New York (Regina Varolli)
In an opulent salon on the second floor of the Consulate, the competitors were dressed in suits and seated in teams, facing the long table of judges in their appropriately scholarly-looking robes. Despite the seriousness of the competition and the high level of difficulty of the questions, the judges nevertheless maintained a sense of humor, and the students seemed to appreciate the occasional comedic break.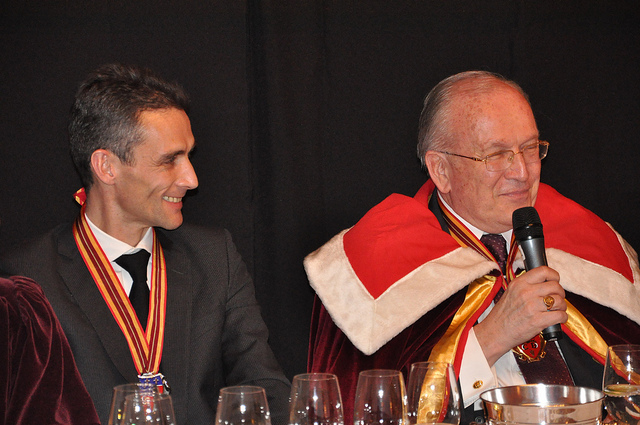 Judges and Hosts sharing a laugh, left to right: Philippe Lalliot, Consul Général de France and George Sape, President of the Commanderie de Bordeaux and member of the Commanderie du Bontemps (Photo Courtesy Consulat Général de France, New York)
"I was pretty nervous coming into the competition," said Yei Sung Kim, a student from the Kellogg School of Business team, "but the moderator really laid on the humor."
The questions were tough, leaving a lot of highly knowledgeable members of the wine media shrugging their shoulders and scratching their heads.
"We expected it would be difficult," said Olivier Verschelden from Belgium, also a member of the Kellogg team, "but we practiced a lot since October."
Which made me think, here are these students who obviously have a lot to study just to get their degrees, and yet they've made wine such a serious hobby that they made time to prepare for The Left Bank Bordeaux Cup.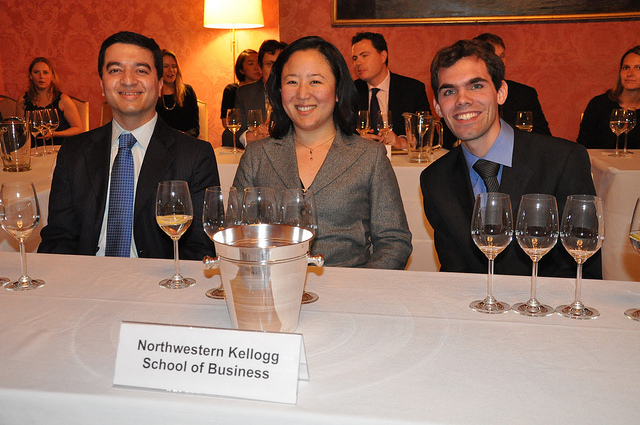 Team Northwestern Kellogg, left to right: Amit Patwardhan, Yei Sung Kim, and Olivier Verchelden (Photo Courtesy Consulat Général de France, New York)
Yei Sung Kim, who is not only earning her MBA at Kellogg, but a law degree as well, told me, "I neglected a lot of studies for the event. It's hard to practice and do wine tastings and then go back and study!"
I was curious what got these students into wine to begin with, and it turned out their replies when asked were as diverse as the wines of Bordeaux's Left Bank.
Cat Chang, team member of Stanford Business School, said her dad was the one who sparked her interest. "He was really into wine," said Chang, "and he used me as his outlet for sharing what he was learning. I also worked for a little while at a winery in Napa."
Another team member from Stanford, John Fogelsong, said "I really got into wine just from going out to nice dinners with friends. I really enjoy the social aspect of it also, living in Northern California, we go to wineries a lot year round."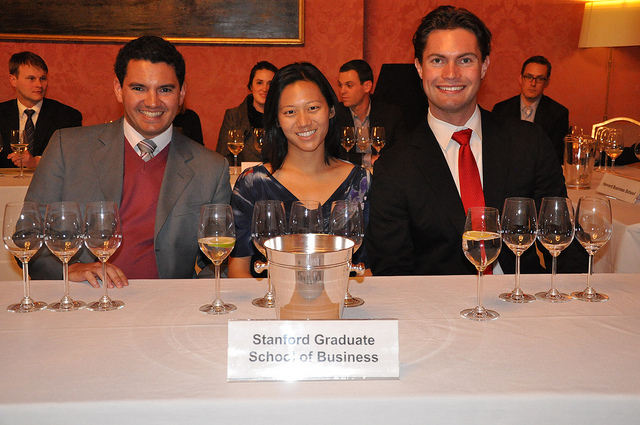 Team Stanford, left to right: Alejandro Ayestaran, Cat Chang, John Fogelsong (Photo Courtesy Consulat Général de France, New York)
Ryan Bunn, team captain for Kellogg got into wine because of a previous job. "My old boss was really into wine, and he'd have us over to his place to share wines with us. I traveled a lot with that job too, so when I was at airports I'd pick up wine magazines and learn about wine that way."
Kellogg's wine club -- amusingly called "Cork & Screw" -- is one of the most popular at the school, as is the club at Stanford. Cat Chang of Stanford said there are 260 wine club members.
The activities of the wine clubs vary, but they do center around tastings, as you would hope. John Fogelsong of Stanford told me that a lot of the wineries from California and Oregon meet with the club and conduct presentations and tastings. But, Fogelsong said, "We once had Chateau Margaux from Bordeaux come out, and they did an amazing presentation. That's what really got me into French wines and made me interested in The Left Bank Bordeaux Cup."
For both teams Stanford and Kellogg, expanding their knowledge of wine, specifically Left Bank Bordeaux, was a big factor in participation, which was largely based on dedication and availability.
Kellogg Team Captain Ryan Bunn said, "for all of us, the consistent driver was gaining more knowledge about the wines." Bunn, who was the only first year student from Kellogg, said he wants to join the team again next year, though not as captain because he wants the opportunity to actually compete.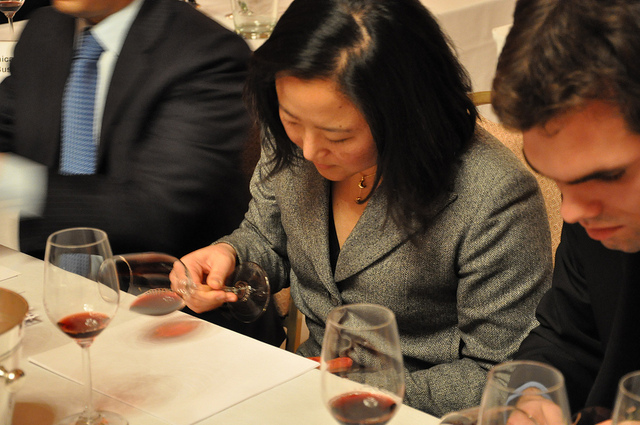 Team Kellogg during the blind tasting portion of the competition (Photo Courtesy Consulat Général de France, New York)
Of the experience overall, despite neither Kellogg nor Stanford advancing -- the winning teams were University of Pennsylvania Wharton and University of Chicago Booth School of Business -- the competitors still found the event well worthwhile.
"The event was fantastic," said Olivier Verschelden. "All the wines were excellent, but also the dinner and atmosphere were very prestigious."
Stanford's Fogelsong said, "I was impressed by the level of professionalism and sophistication of the event and the amount of work they put into it. As well we just had a lot of fun with the tasting." Cat Chang, Fogelsong's teammate, added, "It was really awesome to have the opportunity to be in a competition like this. Unless you're training to be a sommelier, you don't get these kinds of opportunities. Plus, the Consulate were wonderful hosts!"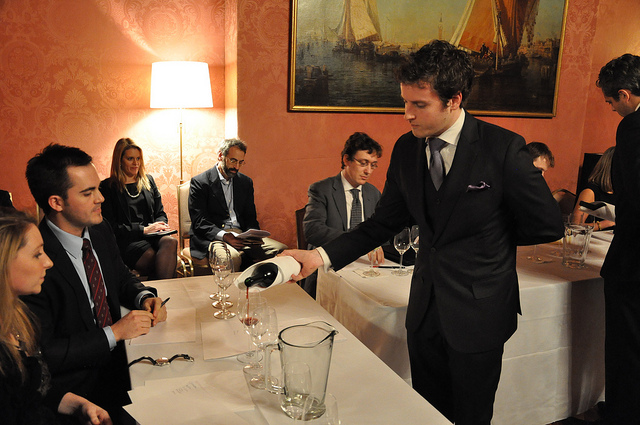 Pouring Left Bank Bordeaux wines for the blind tasting (Photo Courtesy Consulat Général de France, New York)
Speaking to me about hosting the competition, Phillip Lalliot, Consul Général de France, said "I was glad to host the representatives of the most prestigious American Universities' wine clubs for the second year. I was impressed by the talent they demonstrated, both in the tasting contest and in the theoretical questions. It is indeed far from common to meet people who can, for instance, answer a question such as 'How many fourth growths are there in the 1855 classification?'"
Lalliot went on to say "The brilliant students' talent demonstrates the great interest which young generations find in one of the fundamental elements of the French heritage, as well as the vitality of my country's culture. I believe it is through these kinds of initiatives that the French-American friendship will continue to be nourished. I hope this tradition we began last year at the Consulate will carry on for many more years to come."
When I asked the members of teams Kellogg and Stanford if they would encourage their fellow wine club members to go out for The Left Bank Bordeaux Cup next year, all of them gave a resounding yes, with a few caveats...
"I would start preparing today, and get a sponsor for the team to help with the cost of buying all the wine," said Kellogg's Yei Sung Kim. "Train a lot, and well in advance, and do a lot of blind tastings with your teammates," added Kellogg's Olivier Verschelden. And Stanford's Cat Chang said, logically so, "Drink a lot of Left Bank Bordeaux wines!"
SUBSCRIBE TO & FOLLOW THE MORNING EMAIL
The Morning Email helps you start your workday with everything you need to know: breaking news, entertainment and a dash of fun. Learn more