Dessert Professional magazine's celebration of the Top Ten Pastry Chefs in America proved itself the closest thing to a dessert orgy that this girl has ever had the pleasure of attending. The ten 2011 honorees commandeered the kitchens of The Institute of Culinary Education in NYC, where they presented a plethora of sweets that showcased the very reason they were being honored.
One chef who went all out and left no doubt as to why he was chosen by Dessert Professional was Oscar Ortega of Atelier Ortega. Born in Mexico City, Ortega studied pastry arts in Italy, worked in France and the UK, and then came to the U.S. where he continued to sharpen his skills under such masters as Ewald Notter. Ortega organized a national Mexican pastry team to compete at international competitions, participated in the World Pastry Team Championships, and captained Team Mexico at the 2007 Coupe du Monde de la Pâtisserie in Lyon, France.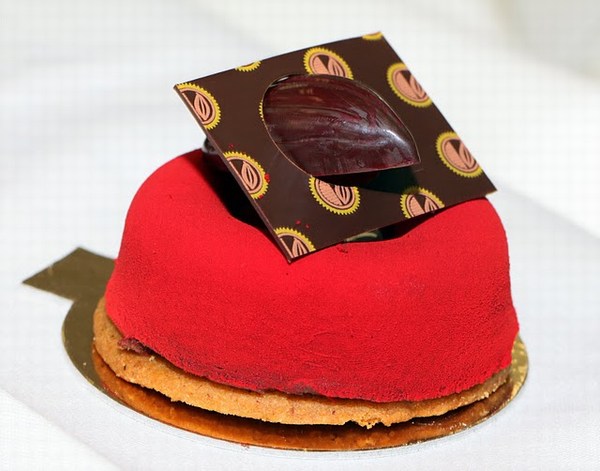 Oscar Ortega's Chipotle infused chocolate pudding with caramel atop a pâte sucrée (Photo by PapaRaji, Courtesy of Dessert Professional)
As they say, the proof is in the pudding -- and in Oscar's case, proof of his talent was in the pudding, pastry, and chocolate. When I asked him why he went so crazy, giving us the largest selection of desserts at the event, even including bonbons from his line of chocolates, he told me, "When they asked me to make one plated dessert for 300 people that reflected what I do in my restaurant, I thought, first of all, I don't own a restaurant, I own a pâtisserie. And I do 45 petits gâteaux, 35 chocolate bonbons, 9 entremets, 9 entremets glacés, macarons, viennoiserie... So I felt that to bring just one thing wasn't cool. I wanted everyone to see what I do in my pastry shop."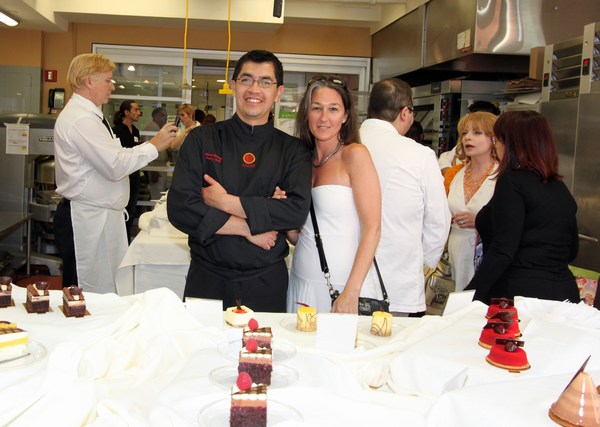 With Oscar Ortega, proudly presiding over his very pretty pastries (Photo by PapaRaji, Courtesy of Dessert Professional)
That pastry shop, Atelier Ortega, is way off the culinary beaten path, in the ski resort town of Jackson Hole, Wyoming. When I asked Oscar what he thought of living in such a remote place, he mused, "It's paradise here. I'm at my home and I see mountains out my windows. I'm a pastry chef first, but I'm also an artist, and in order to create and realize a vision, I think you need to have a good life. And in order to have a good life, you need to be in a place you love to be." Then he said, "Actually, just now as we're talking, there's a moose outside walking by my window. It's really incredible here!"
Going from extreme in selection to extreme in one dish, I give you Ron Paprocki of Gordon Ramsay at The London in NYC. With ten exceptional elements on one tiny plate, this work of modern pastry art included a Valrhona Caramelia chocolate mousse, chocolate sablé, milk jam, yogurt powder, chocolate dacquoise, aerated chocolate, salted ganache, house-made graham cracker crumbs, chocolate sablé crumble, and Quark ice cream (whew, out of breath).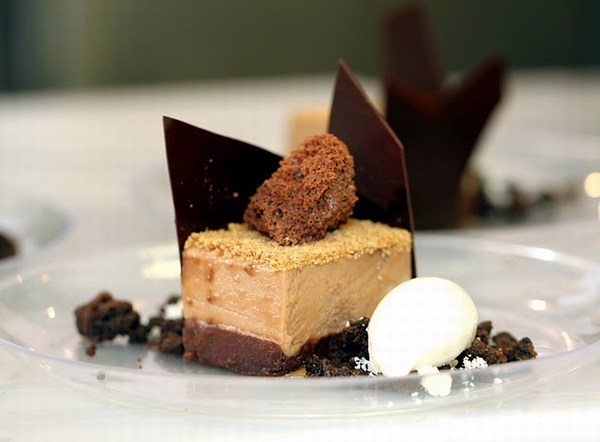 Ron Paprocki's plateful of paradise, currently on the menu at Gordon Ramsay at The London in NYC (Photo by PapaRaji, Courtesy of Dessert Professional)
It was funny though, Ron arrived late to the venue, and he laughed as he told me, "I was just planning to plate everything à la minute and then I get there and everybody had these elaborate displays and all I had was my work table with some silverware and clear plastic plates on it, and I thought, oh man this isn't very showy. So I was a little taken aback. Then as things progressed throughout the evening and we were plating everything up, people started coming up and swarming around the table, so I felt a little more at ease."
Another of my favorites was a playful pairing of sophisticated technique with simple pleasure. French-born Jerome Landrieu, director of the Barry Callebaut Chocolate Academy in Chicago, gave us a delightful mini chocolate waffle cone filled with individual layers of poached Mexican mango, Cacao Barry single origin Venezuelan dark chocolate cream, a Piedmont hazelnut caramel, topped with a sphere of Exotic Faux Sorbet (passion fruit, mango, and coconut coulis with alginate to give it a sorbet texture) enrobed in milk chocolate and caramelized hazelnuts.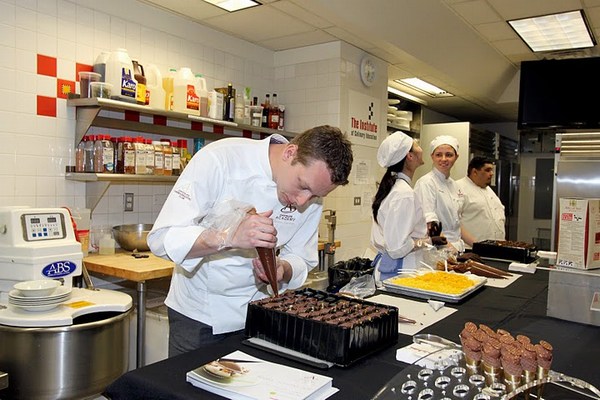 Jerome Landrieu piping his sophisticated yet childlike chocolate waffle cones (Photo by PapaRaji, Courtesy of Dessert Professional)
Of his clever little dessert, Landrieu told me he wanted to evoke a feeling, "As little kids we all loved that last bite of the ice cream cone, so I put the caramel in the bottom to recreate that. It's also the way I like tasting, step by step, so you feel all the different components. That's why my dessert was in layers. I like to be surprised by flavors, textures, and temperatures."
Another honoree who wowed the crowd was Sylvain Leroy, President of Team USA for the Coup du Monde 2011, and Chief Technical Advisor at Paris Gourmet. His delicate desserts in clear cups displayed both beauty and diversity.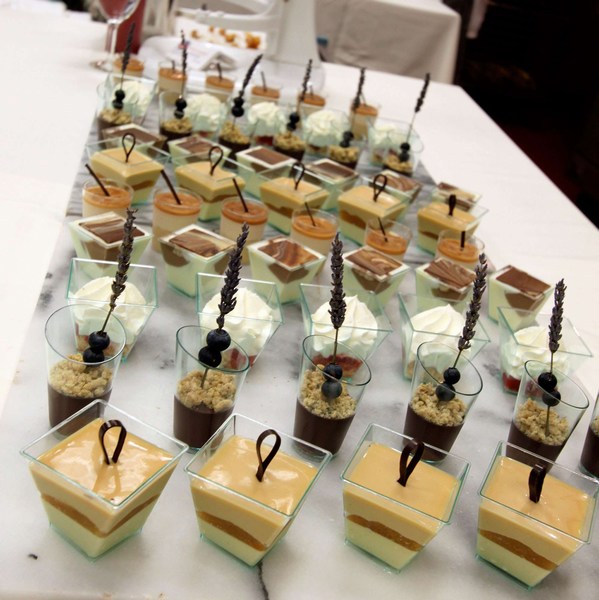 Sylvain Leroy's dessert terrines (Photo by PapaRaji, Courtesy of Dessert Professional)
To my eyes, the most visually stunning plated dessert of the evening came from Antonio Bachour, Executive Pastry Chef of Quattro at Trump Soho in NYC. Bachour's perfect panna cotta served with peach sorbet, pearls of peach and Morello cherry, a cherry sphere, and sugar cellophane, was outright MoMA worthy.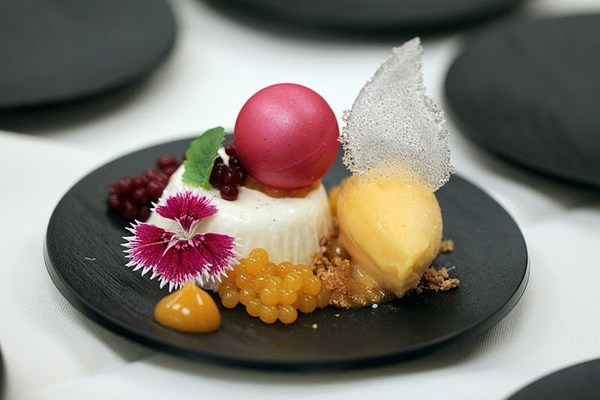 Antonio Bachour's beauty in dessert form (Photo by PapaRaji, Courtesy of Dessert Professional)
Matthew Stevens, co-editor of Dessert Professional (along with Tish Boyle, author of The Cake Book and The Good Cookie -- both of which are well worn residents of my kitchen), has the enviable job of organizing this event. Matthew took over ownership of Chocolatier magazine from his father, the founder, about three years ago, and he merged Chocolatier, Pastry Art & Design, and Frozen Desserts magazines together to create Dessert Professional.
Of the Top Ten selection process, Matthew told me they look for more than talent. "There has to be something else to distinguish you in the industry. And we like to be geographically and occupationally diverse. We always have educators and people who mentor and are involved in the industry, and we consciously always choose at least one woman."
When I asked Matthew what distinguished some of this year's honorees, he explained, "We chose Jerome Landrieu because of his stature as the Director of the Barry Callebaut Chocolate Academy. He really educates a lot of people, and what he chooses to put into the curriculum at the school creates a lot for the industry. Barry Callebaut is a huge force in chocolate, and people look to the school a lot."
Of Oscar Ortega, Matthew said, "Nobody is more enthusiastic, willing to help out, to do whatever is necessary, from competitions to events, to support the pastry and chocolate industry than Oscar. He's an omnipresent pastry chef. His level of enthusiasm is off the hook, he energizes everybody who works with him. Oscar is an extraordinary chocolatier and pastry chef, and I had a hard time deciding whether to honor him as a Top Ten of Pastry or a Top Ten of Chocolate, I had to ask him what he preferred."
Speaking of Ron Paprocki, who was the cover boy of the December, 2010 issue of Dessert Professional following his win at the inaugural StarChefs.com International Pastry Competition, Matthew noted, "It really was his meteoric rise in the industry. He burst onto the scene and all of a sudden he was everywhere."

Dessert Professional holds this deliriously decadent industry-only event every June, and although I left the celebration seriously tweaked on a massive sugar high, racing to Shake Shack in desperate need of a beefy burger and salty fries, I won't hesitate to down two dozen desserts before dinner again next year.
Slideshow: Dessert Porn
Dessert Professional's Top 10 Pastry Chefs in America
(Photos by PapaRaji, Courtesy of Dessert Professional)
Dessert Porn from Dessert Professional's Top Ten Pastry Chefs Celebration