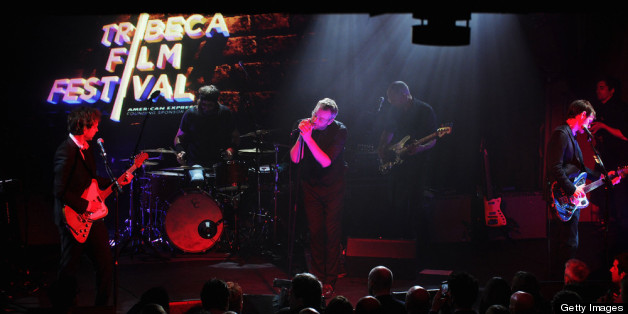 On that cataclysmic day when Bernie Madoff was arrested, his loyal personal secretary Eleanor Squillari was convinced they had made a mistake. Life at the "lipstick building," headquarters of the largest scale Ponzi scheme in financial history was wholesome and nurturing. They were family. But when she phoned Bernie to ask what gives, he was abrupt and perfunctory. And that's when it hit her: this was for real.
That's the story Eleanor Squillari wrote in Vanity Fair, now told in a new riveting documentary, In God We Trust, premiering at the Tribeca Film Festival, directed by Victor Kubicek and Derek Anderson. Interview subjects --journalists, Madoff employees, and victims -- talk about what they knew of Madoff's empire, especially as far as who knew what about the "investing" of funds for an elite clientele, and the goings on at the mysterious 17th floor where no one dared tread. Having defied Bernie's order to destroy all documents, Squillari was later able to help the government's investigation by piecing together information from her copious records, continuing with her own "war room" of inquiry. It's an awesome paper trail, mindboggling in its numbers. And, the business would continue today, if not for the crash of 2008.
In attendance at the premiere were Eleanor Squillari, newly married and now living in Florida, and Madoff son Andrew, barely recognizable as he is undergoing chemo. He was with his girlfriend Catherine Hooper. You may remember the couple from their many television appearances for her book on the subject. They stayed in the audience for the Q&A at the SVA Theater, when many questions were asked: How much did Ruth, his mother, know? Or, were he and his brother Mark who famously committed suicide also involved? While the story of Bernie Madoff's crime fascinates in its complicated enormity, In God We Trust provides a coherent narrative of events that begs more questions than it can answer. A follow up might include interviews with Madoff's mistresses, and hookers. But when it comes to the storied money, of who knew what, where and how, in whose account can we trust?
SUBSCRIBE AND FOLLOW
Get top stories and blog posts emailed to me each day. Newsletters may offer personalized content or advertisements.
Learn more