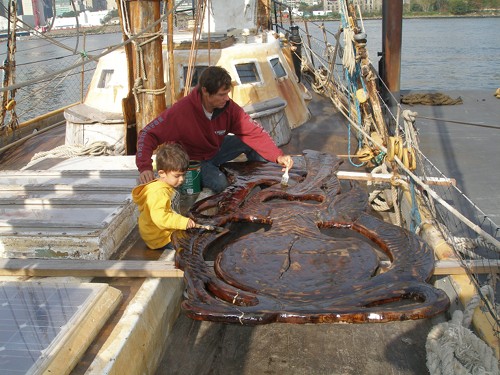 Darshen and I are busy at work varnishing the "Wave God." I salvaged this chunk of tropical hardwood on the island of Dominica in the Caribbean after a hurricane blew it down many years ago. Carving this piece of wood was a powerful experience in which I called the Gods to protect me. I swear I have heard it talking to me in a clear voice.
Once when I was going through a moment of anxiety, it said, "I'll take care of you." It has had a wild life. Living on the schooner for many years with the winds of the world blowing through its eyes, mouth, hair and hands. The schooner carried it in the rigging until the Roaring 40's roared and on a calm day I dropped it onto the deck. Throughout the voyage as I walked the deck I also walked the full length of its face. Feeling its wood beneath my bare feet, I always paid my respects. After many years out in the sun the wood grayed and cracked and because the grain in the wood curves so wildly the cracks grew bigger. Though we are in port now we still need to be guided and protected more than ever. So he will remain on duty through the winter. I decided to refinish the "Wave God" to stabilize him so he doesn't weather and crack further. We soaked him in epoxy and varnish and now he shines lustrously in the cool fall sun.
Darshen doesn't do much playing with toys. He is too busy helping his Daddy work and I take the time to sit with him and teach him. Once a wind storm blew a tarp loose that was covering some paintings. The rope tie downs were snapping in the wind. Darshen and I smothered the flailing tarp and I gave him a rope to pull on. He was a sight to see as he got a fierce look on his face and pulled as hard as he could. It looks like he really enjoys being a sailor even though he is still wearing diapers.
SUBSCRIBE AND FOLLOW
Get top stories and blog posts emailed to me each day. Newsletters may offer personalized content or advertisements.
Learn more